Here are the Books the Bookstr Staff Are Thankful For
This Thanksgiving, we at Bookstr wanted to pay homage to the books that we are thankful for. 
Nathaniel Lee, Editorial 
DragonballZ (Manga) by Akira Toriyama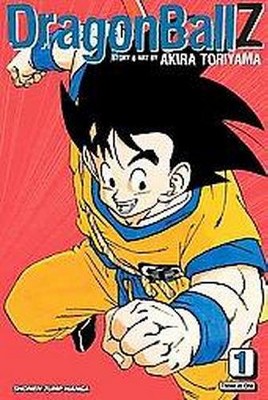 Image via Amazon
This incredibly popular Japanese Comic (a.k.a Manga) is a Science Fiction Martial Arts series about the man Son Goku, Earth's greatest warrior who has saved the planet from a threat in the past. After his heroic victory Goku is married and begins raising a family; everything is going great in his life. Until, he receives a surprise visit from a stranger. It's then revealed that this stranger is Goku's long lost brother, who's from another planet! When his new-found brother turns out to be a ruthless killer, Goku must fight him to save his family and the entire human race. 
I will forever be grateful for the manga version of the series because it introduced me to comics and graphic novels. I must have spent my entire childhood around the manga section at Barnes & Noble as a kid because of it. It was also the only way to know what was going on whenever I missed it on TV...

-Nate
Adam Ahmad, Editorial 
Percy Jackson and the Olympians Series by Rick Riordan
Image via Know Your Meme
Rick Riordan's New York Times best selling series follows the boy Percy Jackson who learns that his father, who he grew up not knowing, is Poseidon, God of the Sea; making Percy a demi-god, half-god, half-human. From this point on Percy meets and befriends other demi-gods as they join forces and journey through mythological adventures of epic proportions!
As a kid, I never really got into reading 'Harry Potter', mainly because I figured I could have just watched all the movies and figure out the plot from there. However, I did love reading all of Rick Riordan's books. It all started at the famous Scholastic Book Fair in third grade, when I bought 'The Lightning Thief' because I thought the cover looked badass. Turns out the story is even better and ultimately timeless. Percy and his friends helped me grow up, and taught me SO FUCKING MUCH about mythologies spread across the world. Educational, exciting, and emotional; these books were my childhood escape!

-Adam
Jaclyn Appelgate, Editorial
Naruto by Masashi Kishimoto
Image via Amazon
Taking place in a fictional world based off feudal Japan, where Ninjas and the mystical powers of Ninjutsu are a part of the way of the world, the young Naruto Uzumaki is a Ninja in training who excels at pranks and childish antics, but is serious about one thing: becoming his village leader! From trials and struggles Naruto and the friends he makes down the road grow together and find their way through the crazy chaotic Ninja world that they live in. 
Growing up the manga Naruto made a huge impact on me. It not only got me into writing and creating overall, but also inspired me to believe in myself and overcome all my obstacles just as Naruto does.

I have the series to thank for starting me off on my chosen journey, and also for all my interests and hobbies. I never really got into Nerdy culture until after I started reading the manga and watching the Anime. I never even knew about how great comics could be, but the Naruto manga introduced me to the art of the graphic novel, which has become a huge passion for me!

As Naruto always says, "I never give up. I go back on my word" That's his way, and it has become mine as well.

-Jaclyn
Alex Nolos, Editorial
A Little Life by Hanya Yanagihara
Image via Goodreads
This captivating novel tells the story of four friends from College as they strive to build their careers and hold on to their friendship. As they go through their failures and successes, they struggle through complicating relationships, addiction, holding onto success, and pride. 
This book brought me out of my severe post-graduate reader's block. I think it took me about two weeks to finish all 700-something pages. The book's plot is emotionally ravaging, but after the marathon of cerebral reading I did in school, it was a relief to read something that got straight to matters of the heart. Yanagihara's prose is gorgeous, and I'm now in the middle of reading her other book, The People in the Trees, which is also very good. 

-Alex
Daniel Dragonetti, Video
A Song of Ice and Fire Series
Image via Amazon
The huge hit series which is another that has taken the world by storm! Taking place in a fictional Medieval based universe about the cut-throat power struggle between kingdoms and royal families.
While the HBO show is fantastic, and I'm grateful for all the bad ass Daenerys scenes, I would have to say I am more thankful for the book series, specifically the first book in the series, "A Game of Thrones." Besides the feeling of pride I felt from maxing out my reading skill level and plowing through the 293,000 word book, the story itself helped me come to terms with who I am as a person. The revelation came to me early on in the novel, when Tyrion Lannister, is comforting Jon Snow. Both are seen as outcasts of their families. Jon Snow, for being a bastard, and Tyrion Lannister for being a dwarf. While Jon Snow yearns for others to see him as more than a bastard, Tyrion tells him to accept himself for who he is.

    "Never forget what you are," Tyrion tells the young bastard, "for the rest of the world will not. Make it your strength. Then it can never be your weakness. Armor yourself in it, and it will never be used to hurt you."

    For the rest of the novel, the reader sees that Tyrion lives his life this way. Anytime someone brings up the fact he is a dwarf, that he is different than the norm, he simply brushes it off. To Tyrion, his dwarfism is just another characteristic, and it does not make him the lesser man, despite what others might claim. By accepting this about himself, he has taken away the power others had over him.

    Like Jon Snow, I followed Tyrion's example, and accepted myself for who I was, turning what I perceived to be a weakness, into my greatest strength. I will forever be thankful to George R.R. Martin and his witty Lannister dwarf, for helping me come to terms with myself.

-Danny
Every one of us has that book or a number of books that has made an impact on us. This holiday season we are thankful for them!
Featured Image via The Holiday Spot