Good news for all you drug-addled gonzo journalists scouring the mountains of Colorado, near Aspen: you can now rent the cabin that Hunter S. Thompson lived in during the latter portion of his life.
The property is up on Airbnb for $550 a night. Thompson's widow, Anita Thompson, is renting out the lodge to support the Hunter S. Thompson scholarship for veterans at Columbia University. Thomson referred to the cabin located on Owl Farm as his "fortified compound."
He spent his days there drinking, taking drugs, shooting guns, and, of course, writing. It was also the location where he took his own life on February 20th, 2005. In true Hunter S. Thompson fashion, his ashes were later fired out of a cannon on the property, making it his final resting place.
For all those seeking to spend the night, a one-paragraph email explaining why you want to stay is required. The cabin itself is furnished with a bar and Thompson's personal writing desk. The Owl Farm compound is surrounded by mountains and makes the perfect place for aspiring writers to contemplate their work (with or without the aid of psychodelics).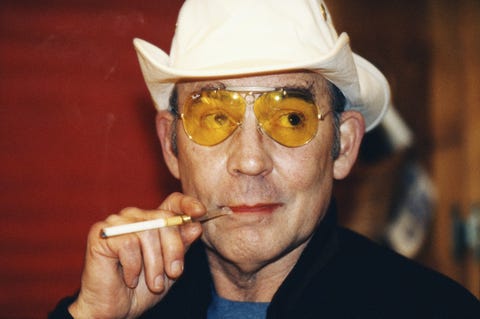 image via esquire
Thompson, known for his manic, drug-infused writing style dubbed gonzo journalism, was a frequent contributertor to publications such as The Rolling Stone and ESPN. His books Fear and Loathing in Las Vegas and Hell's Angels saw major success and established Thompson as one of the major countercultural writers of the 20th century. If you find yourself in the need of some gonzo inspiration check this place out!
Featured Image Via Inside Hook