If you are like me, I consider children's books as wee stories filled with confounding illustrations. I have been obsessed with children's picture books since I was a little girl. I would spend hours flipping through pages of my favorite books and staring in awe at all the detailed and original illustrations followed by their cozy words of comfort. I would wonder, "How could someone be so talented and create such staggering stories?"
Now that I am in my twenties, I should move on to more adult chapter books and forget the silly picturebooks. But how can I when there are so many children's books to read? Though I love my silly romance books and classic thriller mysteries now and again, I still find myself in the children's book section whenever I go to my local bookshop. I cannot help it, but I love children's books so much. Every time I open one up, I feel inspired to make one of my own!
My name is Erin, and I am an aspiring children's book writer. I have been working with kids all my life, and I am a huge reader, so why not combine my two hobbies? After years of obsessing over thousands of children's book collections, I am finally writing my own! I have worked in many children's settings such as schools, camps, and crèches, and I want to make a book that will impact kids like the ones I have worked with. In this article, I will discuss a few books that stuck out as the most inspiring for my writing career. I hope that those other adult children's book fans out there will appreciate some of my mentions!
Jon Classen is a former artist for big projects such as Coraline, the movie, and the famous stop-motion animation from 2009. Classen now writes and illustrates his own children's books. Do not get me wrong, I love all of Classen's work. But I Want My Hat Back is one of the most adult-friendly books I have read. The story follows a bear looking for his missing hat. When I first found this book, I was lead assisting a preschool classroom. I decided to read a random book to a few of the tiny tots for a wee wind-down time. Unfortunately, I picked up the funniest book I have seen, and I could not keep myself from laughing so hard. The kids were laughing at me, which would make me laugh even more, and soon we were all getting attacked by the giggle monster. Nobody had nap time after that, but it was worth it.
I Want My Hat Back is an excellent book because of its fresh illustrations and humorously clever storyline. The text has some silly moments, and the plot is easy to follow. My preschoolers were obsessed with this book, and so was I. I appreciate Classen's simplicity in his story because it's so simply done, yet it's so unique in engaging its readers. Maybe it was a special book moment for just me and my class, but I do recommend this to some simple inspiration for any beginning illustrators/writers. Simplicity can inspire the most creative.
I cannot choose one specific book from Mercer Mayer because his entire Little Critters collection is so outstanding that I simply cannot choose just one. An older series, The Little Critter Collection follows a family of critters and their adventurous time together as a family. The critters go on vacation as a family, celebrate holidays together, experience the first day of school, and many other classic family activities.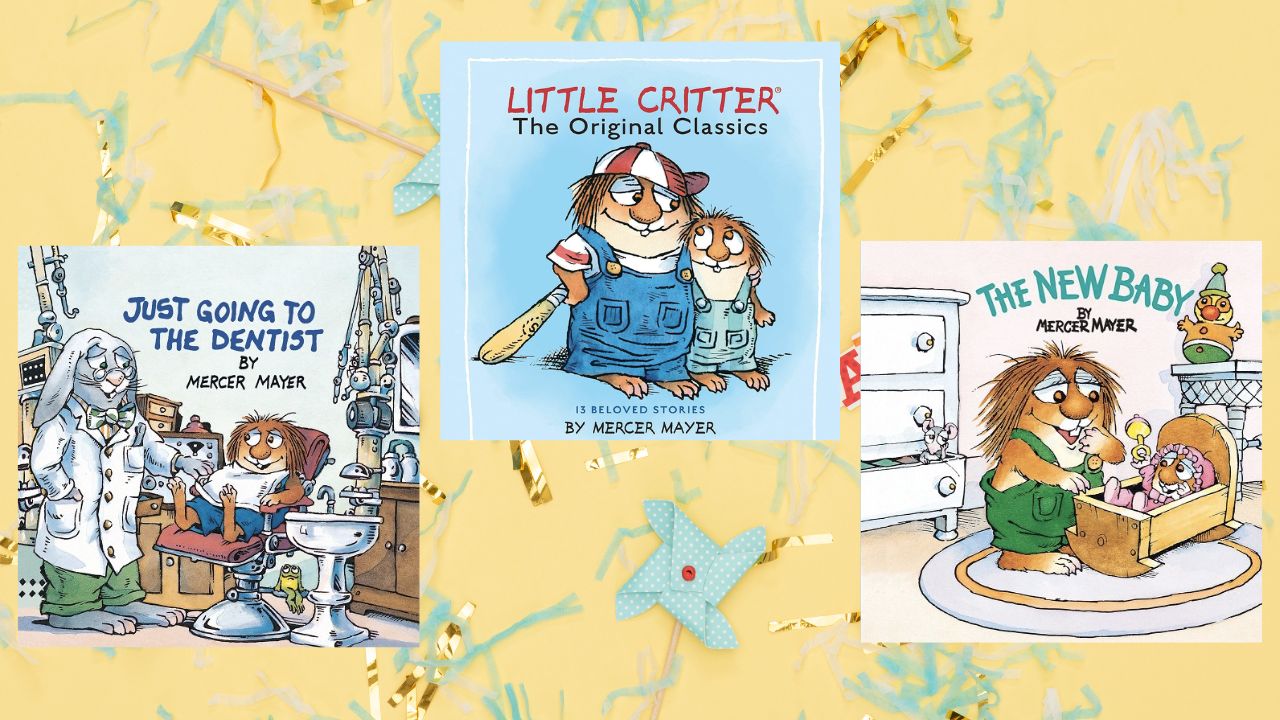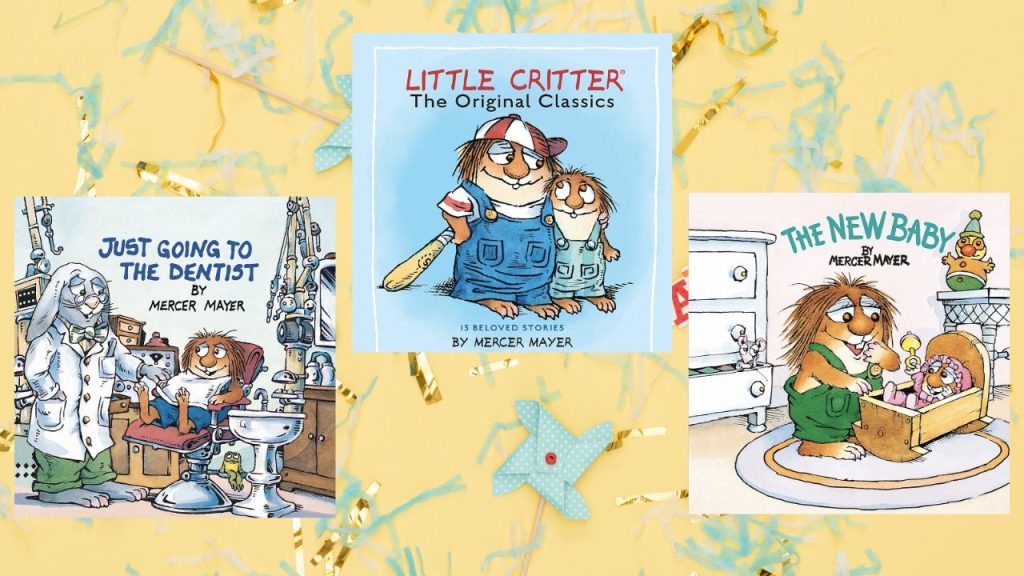 I wanted to mention this specific series because it was the first thing that introduced little Erin to the emotion, of inspiration. I was obsessed with the pictures and the design of the little critters. Mercer Mayer's stories were so natural and fascinating that they made me want to make my own stories. I would try to retrace Mayer's adorable characters for ages and wondered how he made the backgrounds so detailed without it being necessary. For example, the details in the critter's house are always extraordinary, like tiny illustrations of toothpaste or little pictures of the critter family on the refrigerator. It is almost like he puts himself in his images and marks every single detail before he creates them.
As a beginning illustrator, I rely on Mercer Mayer's critter collection for a guideline. Whenever I feel stuck or confused about what to make next, I pop open one of many Mercy Mayers books for a little inspiration, and he never seems to disappoint. Mr. Mayer has been my biggest muse since before I could walk! Call me sentimental, if you will, but I consider The Little Critter Series my all-time favorite series.
More of a recently released title, That's Not My Name from Anoosha Syed is a true, gracefully made story from a remarkably talented writer/illustrator. Anoosha Syed has been on my list of "Best Children's Book Writers" for a few years now, and last year's That's Not My Name is a perfect example of why. The story is about a young girl named Mirha and her first day of school. Mirha is hoping for the perfect first day, but all things crash down when her fellow peers mispronounce her name. She feels as if her identity is lost, and she must change her name to fit in, but there is nothing wrong with standing out. Mirha realizes that her unique name is what makes her individual, and she must stand up for her self-identity.
There are a few things to point out that made this book stand out from others. For one, the overall diverse message is very well-done. Diversity and cultural admiration can be rare in children's picture books. In earlier children's books, diversity, when included, would be done poorly without any details or celebratory tones that highlight the significance of diversity in general. Seeing various cultures in children's books is a low percentage, and it is authors like Anoosha Syed who create real, diverse content with a positive direction. Basing Mirha off of herself, Anoosha wanted to write something for kids in the same situation. As a child, Anoosha had trouble with others mispronouncing her name. Because of this, she felt isolated from her classmates and society itself. But Anoosha never fell into her mispronounced names, and she wears her name with pride, just like Mirha.
Another thing I love about this book is Anoosha's writing skills. Not only are her illustrations beautifully made, but I find the storyline floats so well from beginning to end. Usually, when I read a children's book, I pay attention to the illustrations more than the writing. This is one of the few children's books where I was more intrigued by the writing. But this does not mean the illustrations are not fabulous! Her art is colorful, welcoming, and sweetly done. I especially love Mirha's design. She is the perfect adorable main character that you immediately grow a liking to. Overall, I think the story and pictures dynamically complement one another significantly. Anoosha's That's Not My Name is the perfect present inspiration, and I urge you to read it. It is perfect for a classroom read and exactly what a children's author should strive for.
The Most Beautiful Story is a special title I want to mention. I recently found this book at my local library, and the description had me curious to give it a read. I did not know what to expect, only that the illustrations appeared to be very impressive from a glance. I did not imagine this book would become one of my favorite children's book titles by a landslide. Not only are the illustrations so unrepeatable, but the storyline is so quietly transforming. Brynjulf Jung Tjønn's writing follows a young girl named Vera who recently lost her younger brother. Curious to understand her brother's lost story, she adventures to find a magical being named Syl to help her grasp her brother's journey.
I would describe The Most Beautiful Story as the most beautiful story I have read. For one, the illustrations are unbelievably impressive. Øyvind Torseter must have one creative mindset because I have no idea how someone could come up with such unique pictures! Vera's design is so simple, yet her surrounding world is so enchanting. His style is quite similar to some illustrations from the great Shel Silverstein collection, especially the young girl and her long hair. Yet his creative world is bathing in quirky characters, rich color schemes, and simplistic details. He has me quite impressed with his talents.
Secondly, Brynjulf Jung Tjønn's astonishing story is so impactful for its age range. I believe it is crucial to have children's books published that involve sensitive topics such as loss. Though children are at a young age to learn about these serious topics, kids need to have exposure to what some tragic events are. I believe the best way possible is through reading. I am not saying young kids should be nose-diving into non-fiction war stories or reading The Lovely Bones at age five. But, I am saying that tiles like The Most Beautiful Story are well-suited for expressing what loss is to a child because it is aimed towards younger audiences.
Picture books that have themes of loss or other tough topics are beneficial for a child who is experiencing or may experience that same situation. Children are new at expressing their emotions, and every child experiences every emotion at some point in their life. It is vital to have books like this at a child's reach. Whether it's in the classroom or the local library, there needs to be resourceful books like The Most Beautiful Story that help guide its young readers to feel safe and understand what their emotions mean. This book is the perfect example of explaining loss at a child's level. The book leaves you with an open-ended feeling where you do not know what happens next, but it's okay to not know (mirroring the feeling of loss). It is soft and peaceful, yet exposing. Please give this book a chance. I feel you won't be disappointed.
First off, a quick shout-out to the excellent Beatrice Blue. All of her books are so inspiring to me as an amateur children's writer, and she has never not made something that leaves me speechless. This book is one of the most comfy cozy reads I have ever gotten my hands on. Blue's insanely well-done illustrations shock me every time I pick it up. Wonder is an adventurous book full of Blues' creative process and her magical characters and tales. Her color schemes, the shadowing, and every single adorable character she creates stay dancing in my head.
If I could make illustrations similar to any artist, I would choose Blue. The best part about this book is that every page is magnificent; it is impossible to choose a favorite. If you have not heard of Beatrice Blue or any of her work, I urge you to at least check out her website or Instagram for a wee taste of her artistic style. I cannot imagine that it won't tickle your interest. Anytime I get asked for a children's book recommendation, I always mention Blue's collection first because I know they will obsess over her as much as me.
Though these books are personal to my liking, I find the best recommendations are those that inspire. We have our favorite genres, but we all started off reading children's books. It is these books that mold our future goals and our personalities. Those silly little books with funky illustrations and simple rhymes transform us into the adults we are today. Children's books impact us in the beginning, and they shape us in the end. I truly love children's books as a best friend, and I hope to create as many magical tales as I can. If you are considering writing your own children's book, please try one of these recommendations to ignite your imaginative spark!
---
Love Children's Books? Us too! Click here for more children's book reads!
Browse these books and more on our Bookshkop Mini Bookworms bookshelf.
FEATURED IMAGE VIA CANVA