A woman from Belarus was swept away by a river in Alaska after trying to reach the abandoned bus made infamous by the book and film Into the Wild, both of which were based on the story of Christopher McCandless.
Image Via Business Insider
Known by the pseudonym Alexander Supertramp, McCandless traveled across the continent after graduating from Emory University in 1990.
His travels took him across the Western United States before he abandoned his 1982 Datsun after a flash flood. Later on, McCandless went across the North American continent and eventually hitchhiked to Alaska come April 1992.
Taking Alaska's Stampede Trail, McCandless headed down the snow-covered trail with a .22 caliber rifle, a ten pound bag of rice and some necessary tools and utensils. McCandless perished sometime around the week of August 18, 1992, after surviving more than 100 days on a 1946 International Harvester that was abandoned by road workers in 1961.
On McCandless' person, a journal was found.
Image Via Amazon
People don't get it. 'He didn't have a map. What kind of idiot…' That was the point. There's no blank spots on the map anymore, anywhere on earth. You want a blank spot on the map, you've got to leave the map behind.
These words come from Jon Krakaur, author of Into Thin Air who wrote that non-fiction book after being a member of an ill-fated expedition to the summit of Mount Everest in 1996. He was interested in McCandless' story and, using McCandless' journal as well as testimonies from eyewitnesses and anecdotes from families, wrote a non-fiction account of the man's story.
Image Via
SoPosted
It was published in 1996 and was entitled Into The Wild.
A film adaptation of the same title was released in September 2007. Directed by Sean Penn and starring Emile Hirsch as McCandless. Among other awards, the film received two Academy Award nominations for Best Editing and Best Supporting Actor for Holbrook
The legacy of McCandless has become a controversial one, to say the least. Since his death the world has been divided into two camps. Some see him as a romantic figure of free-spirited idealism, others view him as a narcissistic fool.
Beside the two mention above, his life has become the subject of numerous other books, films, and documentaries. There have even been songs based on McCandless, most notably the 2012 song Alexander Supertramp by Real Friends, Burk's Alexander Supertramp (For Christopher McCandless), and Ellis Paul's The Speed of Trees.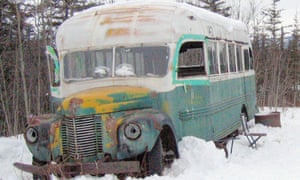 The Guardian
Image Via
Outside Magazine
Regardless, the abandoned bus where McCandless lived and died has since become a well-known destination for hikers. Known as "The Magic Bus", you know if you're there if you see the plaque in McCandless' memory that was affixed to the interior by Walt McCandless, Christopher's father.
"The Magic Bus" has become a pilgrimage destination for trekkers who camp at the vehicle, but there are have been some have run into difficulties or even died getting there, almost always due to the Teklanika River.
Image Via The Dyrt
In 2010, two hikers tried to cross the Teklanika River when it swept them up. One hiker managed to cut himself loose and swim to shore, but the other had drowned with CPR proving useless.
In May 2013, three German hikers found that the bus had become impassable for the return due to high, swift-running water and were nearly drowned too before they rescued.
There are countless more stories, but the most recent is how a newlywed woman from Belarus was swept away by the Teklanika River.
Image Via Youtube
The Fairbanks Daily News-Miner reported that Veramika Maikamava, 24, and her husband, Piotr Markielau, also 24, were heading for the bus last Thursday when they tried to cross the Teklanika River along the Stampede Trail near Healy. Unfortunately, Veramika was swept underwater.
Piotr was able to pull his wife out of the water a short distance away downriver, but since the river was flowing high and fast because of recent rains she quickly drowned.
Featured Image Via Outside Magazine