These wise words come from Miguel de Cervantes himself, who died today 403 years ago. Don't know who he is? You should. you really should…
Image Via Amazon
Okay, I'll give you some slack. Today is the anniversary of his death. He was sixty-two when he died back on April 22nd, 1616, and that might seem like a bygone era, but his work lives on, influencing not only Spanish culture but the culture of the world.
Image Via Amazon
With that said, let's learn about good ol' Miguel.
Image Via 
Today in History
That's Miguel, and in 1570, at the age of twenty-third, he enlisted as a soldier in a Spanish infantry regiment stationed.
Encyclopedia Britannica
states that "[h]e was there for about a year before he saw active service" but come "mid-September 1571 Cervantes sailed on board the 
Marquesa
…." and, although "[t]here are independent accounts of Cervantes's conduct in the action, and they 
concur
 in testifying to his personal courage".
No crap. He was sick, but refused to stay below deck. He fought, even after sustaining two gunshot wounds in the chest and a third bullet permanently marred his left hand. The website,
Classical Spanish Books
, notes that because of this "he was called 'The Cripple of Lepanto'.
And he became a writer.
Image Via M
agnolia Box
But before that happened, he was a slave. Seriously. Picture this: it's 1575 and you're returning to Spain from Naples when your boat is attacked Barbary pirates. You're captured, and for the next five years you're forced into slavery.
Cervantes tried to escape four times without success. At least he had the company of his brother Rodrigo, until, of course, mother paid his brother's random but not Miguel. Only enough coin for one brother, apparently.
Three years after Rodrigo earned his freedom, Miguel was released in September 1580. Thank God. His family, "with the aid and intervention of the Trinitarian friars, raised the 500 gold escudos demanded for his release".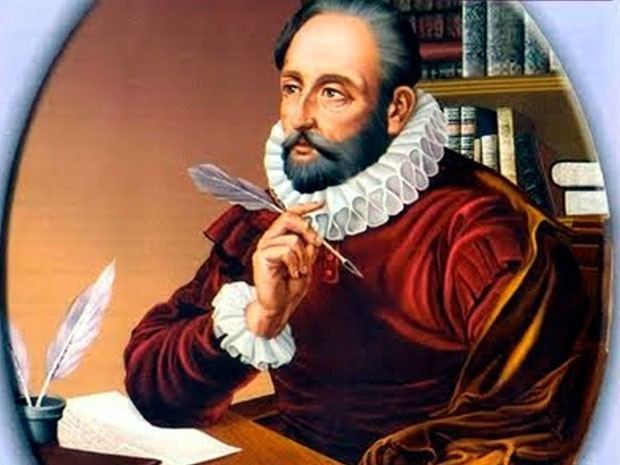 Image Via 
Alchetron
Despite being a certified action hero with an Oscar-winning story attached to his name, he failed to make much splash as a writer. Come 1585, his first novel, La Galatea, failed to make much headway. His plays did even worse, with only plays having survived. La Galatea is available here.
In 1605 Cervantes published the first part of Don Quixote. It's about an  elderly man who becomes so enamored by the old stories of brave knights that he seeks out his own adventures, getting lost in his own fantasy word as he takes on a peasant, Sancho Panza, to serve as his squire. Don Quixote is so cool he fights a giant monster, which is really just a windmill.
It became a breakout hit. Audiences loved the humor and the new take on old tales.
Image Via Amazon
Ten years later, in 1615, Cervantes published the second part of the story.
Cervantes would continue to write, but none of his works were finished before his untimely death on April 22, 1616, in Madrid. His grave is unmarked, forgotten to history.
But we have not forgotten him. No only has Don Quixote influenced fiction as we know it today, but the story itself has survived. You might recall that Terry Gilliam's film, The Man Who Killed Don Quixote, was in the news last year. The film adaption turned the story on its head, having a main character convinced he was Don Quixote. The film even stared Adam Driver who played Kylo Ren.
It's pretty clear we're still obsessed with Miguel de Cervantes' masterpiece. Maybe today's the day to finally pick up the book?
Image Via 
StickPNG
Just a suggestion…
Even if you don't read the book, look at your books, movies, even your music. Maybe it's been influenced by Don Quixote and know that Miguel de Cervantes still lives on.
Featured Image Via AZ Quotes