I know just from the title alone you probably want to gather the pitchforks and light the torches. To make matters worse, I once considered myself to be a massive fan of Harry Potter based off of only seeing the movies. You don't have to slap me, believe me, I've already done that once I saw the light. Looking back on it though, I don't regret not having read Harry Potter as a kid, because I first read the books during a time in my life when I really needed them.
Now, it's not like I was deprived of joy as a child, since I still had the wizarding world of Harry Potter in my life–I just had the movies. The first memory I have of being in a movie theater (remember those?) was seeing one of the earlier films in the series. Tom Felton may or may not have been my first celebrity crush. I'm still trying to figure out if it was really him or a young Leonardo DiCaprio in Titantic. But I digress.
A love of all things Harry Potter seems to run in my family as well. My mom read the whole series to my older brother when he was a kid and even did voices for a lot of the characters. My dad listened to all the audiotapes while he was commuting to work. For someone's birthday in my family we always say "Happy Birthday!" in horrible British accents based off of how Ron says it to Harry in Chamber of Secrets.
I honestly couldn't tell you why I didn't immediately start reading Harry Potter once I discovered my passion for books in middle school. I guess my reasoning was that I already saw the films, so I didn't need to read the books. I already knew what happened. Before you attempt to virtually smack me, I was young and naive and hadn't yet been burned by book to movie adaptations *cough* Percy Jackson *cough* Mortal Instruments. Now I'm aware of the all so important fact that the books are always better than the movies.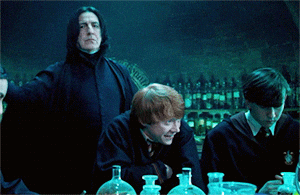 I remember the exact day I decided to start reading the series. It was a Sunday, and I had just finished reading Empire of Storms by Sarah J Maas, which for those of you who have read it know, that ending is like knife after knife to the heart. I was entering the book hangover phase. Now that I finished this book that has consumed my life for so many days where do I go from here? I was just pacing around my house until it came to me. It was like the heavens were opening up and angels were singing. In that moment I knew the perfect hangover cure. I was going to read Harry Potter.
By that point I had already begun my freshman year of college, which was a hard transition for me, like it is for so many others. I'm someone who doesn't like change, and I'm comfortable in things I know. I did not know college. I was going to a new school where I only knew one person, but we barely saw each other as we did not do a good job of coordinating our schedules and we had no classes together. I was walking in completely alone. Throw on top of the fact that I was basically thrust into hosting radio shows for 6 hours a week with no prior experience, so I was completely scared out of my mind. It felt like I was being tossed to the wolves or throwing a child who doesn't know how to swim into the deep end and just screaming, "Survive!".
Overthinking is like an art form for me; the way I'm able to stress out over the smallest detail is honestly a skill at this point. So, when reality made me a little too anxious or stressed out, it was a saving grace to have the Harry Potter books to lean back on. It was escaping to a world that I already knew I loved, I was just diving deeper into the characters and mythology that the movies either cut out or didn't have time for. I know we don't really want to talk about She Who Must Not Be Named right now, but I'm forever appreciative of the fact that I had 7 books of comfort material during one of the most stressful periods of my life.
I honestly don't know how I would have gotten through my first semester of college if I didn't have the Harry Potter books to go back to. While I want to hit past me for not thinking of it sooner, I truly do think it was meant to happen this way, as I only thought of it when I needed it the most.
featured image via unsplash