Because he's "writing"
George R.R. Martin, the author of the massively successful A Song of Ice and Fire series, has a lot of fans. This fan base has grown exponentially in the years that have followed the release of the HBO adaption Game of Thrones, one of the most successful TV shows of all time. Fans of his novels have always thoroughly enjoyed teasing viewers of the show with plot knowledge, relishing in the depiction of beloved literary scenes. However, the immediate and overwhelming success has drawn everyone's attention to one very disconcerting fact: Martin has yet to finish his long-awaited seven-book series.
Image Via Flavorwire.com
At first, this wasn't a huge deal, Martin had time to finish his writing before the show would catch up to him. The first few seasons of fantastical debauchery aired and no one panicked. Ned lost his head, Tyrion took a slashing to the face, and Robb attended a very inhospitable wedding, and still, no one panicked. On June 15th, 2014, Brienne of Tarth served the Hound (Sandor Clegane) a full platter of ass -whopping in a way that was very off book. Basically, they don't fight in the books, the Hound is fed his discombobulation from some random bozos at a tavern.
Image Via Ftw.usatoday.com
When Game of Thrones reached the end of season four, the world became aware of its source material-less future. Most of the shows story-lines were either swiftly catching up with their source material or had already. This is when the world panicked. Support groups were formed. "The Night is truly dark and full of terrors" was yelled from the rooftops of various campuses, bookstores, movie theaters, coffee shops, and bars. Conspiracy theorists, Illuminati types, fled to the security and comfort of their windowless rooms and fought to accept uncertainty. More rational members of society wondered where in the world it had all gone wrong…
Image Via Giphy.com
All of that was somewhat of a dramatization, but still, people question and criticize whether or not George R.R. Martin will ever finish his story. He has no doubt felt the pressure to complete and present a quality conclusion to his story. The alleyways and back doors of plot he has built for himself make it even harder remain true to his original vision.
I for one know fans of the book series who, at first, refused to continue watching the show until Martin finished the book. The fear here is that the HBO show would ruin plot points (and, in turn, the forthcoming novels) by manifesting story-lines unfaithful to the feel of Martin's written story. This is a valid fear. The past few seasons of GoT has noticeably changed its pace and focus. The show resembles more of a Hollywood blockbuster now than the complex, tension-infused, slow burn fantasy that it was when it began. Even so, it has been eight years since the last book, A Feast For Crows came out and most die-hard book fans are now watching the show. It would seem people have all but given up…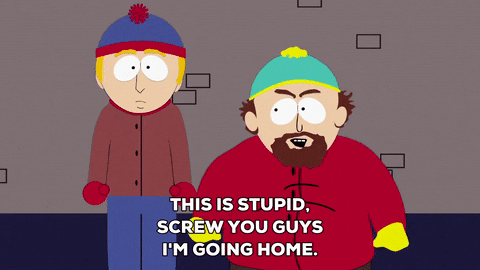 Image Via Giphy.com
Ah but there is hope! In the past, Geroge R.R. Martin has famously pledged to CUT BACK ON PRESS and lock himself away in undisclosed locations to finish his book. In a recent interview, Martin revealed that GoT showrunners, D.B. Weiss and David Benioff asked him to come to Belfast to make a cameo in the final season of their show, Mr. Martin said no. Why? He needs to devote his time to writing The Winds of Winter.
"David and Dan invited me to a cameo in one of the final episodes, which I was tempted to do," Martin told EW. "But I didn't think just for the sake of a cameo I could take the time to return to Belfast."
Clearly, the man is still determined to finish his story, so relax illuminati….or maybe he's just afraid his scene would get cut again.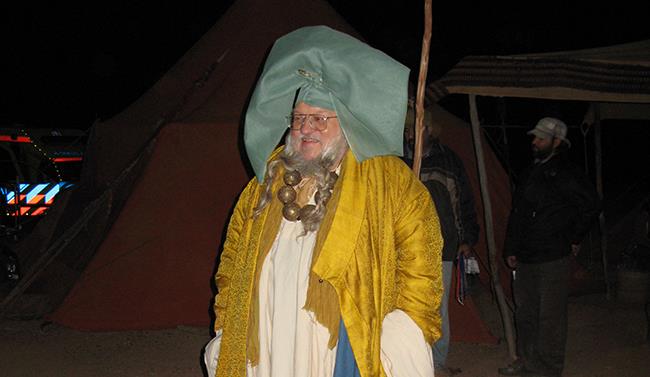 Image Via Mondofox.it
Martin previously filmed a cameo in the Game of Thrones original pilot, the one no one saw before they recast Daenerys. He played a merchant at Dany's wedding, but then HBO threw all the footage away and cast Emilia Clarke. Regardless, I believe Martin truly intends to finish his story, and finish it well. Writing is hard and inspiration is untimely. I definitely do not envy the scrutiny Martin is under nor the tough break experienced by Tamzin Merchant (Dany-pre-Emilia Clark).
The final season of Game of Thrones will premiere, Martin and Merchant-free, on April 14th.
Featured Image Via Theverge.com