If this were a book and I opened it up by describing a "slim heroine with bright brown eyes, thick long hair, and a dimpled smile" what, or who would you picture? It's natural for us as readers to assign a look to a character, sometimes even influenced by someone we know or a celebrity that we feel fits the description. But the fact of the matter is that many of you who read that description, without even thinking about it, automatically pictured this heroine as a white woman. And that, dear readers, is what it means to see whiteness as the default.
But why does this happen? While seeing white as the default isn't an issue specifically monopolized by literature, the white bias in writing is more unique because of one major factor: it's all words. Books have only text to rely on to show you the story. This gives us as readers a certain amount of responsibility when it comes to visualization. It's not like in a television show, movie, or even comic book where the image of the character is clear, leaving less uncertainty about race. For this reason, part of what contributes to us seeing white characters as the literature default is the character description or lack thereof.
Image via writers HQ
Many authors take specific care to describe the skin-tone of non-white characters while not doing the same for their white counterparts. The reason that this is an issue is that it affects others those of different races while also conditioning readers to assume the whiteness of characters even if not explicitly stated as such. By pointing out the race of only characters of color, it's an implication that characters that are not white are outside the "norm." The implication then becomes that the "norm" is whiteness. Thus, we default to white when thinking of any character whose race is not specified.
While much of the burden is on authors to fix this problem, there's also something important we as readers can do. We must unlearn seeing white as a default or the "norm" and that's not an easy thing to do. One way to start to do this as readers is to read more books by authors of color. Being able to read books where there is diversity that is baked into the very nature of the characters is powerful. Simultaneously, you're also supporting authors of color which are helping to diversify the literature we read.
Image via pinterest
Something else we as readers need to do is hold ourselves accountable. When we're reading, we need to be thinking about the role assumption playing in our head-canons, fan-casts, and visualizations of characters. Questioning where in the text you get the idea that a character is white from their descriptor is something that will help you consciously think through your own biases.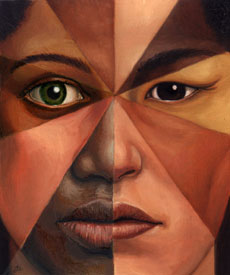 Image via the black youth project
The last thing you can do goes beyond literature and it has to do with confronting the way you think of race in general. Oftentimes we're presented with a fairly stereotypical view of non-white races. When we hear the word "blonde" we automatically think white, ignoring the fact that people of color can be born naturally blonde or that hair dye exists in the 21st century or that in fantasy books there are people with naturally purple hair so a person of color with naturally blonde hair isn't out of that realm's reality. Latinx people can have light skin or dark skin, same with Black people, Asian people, Native people, etc. So reading about a character that has "fair skin" or a character that blushes when they're frazzled still does not automatically make them white. People of color are far from homogenous and all it takes is a simple google search to see that. Expanding your own world-view and taking some time to look a bit more into the way race can be presented will go a long way in keeping yourself from automatically assuming whiteness.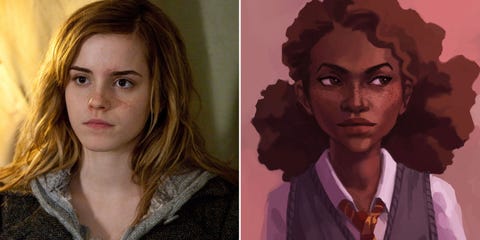 Image via Cosmopolitian
Unfortunately, many of the characters we read about whose races are explicitly mentioned actually are meant to be white by the authors and a lot of that comes from their own white bias. But being able to recognize our own biases, hold ourselves accountable, and change our own world views is going to make for a plethora of authors, both old and new, who have a vastly more progressive approach to writing racial diversity in literature.
Featured image via The New York Times