Back in July, we here at Bookstr reported that a fist edition of Harry Potter and the Philosopher's Stone had sold at auction for £28,500, or, $34,650.73! Finishing that article, we said that "Sadly, you can't get this copy anymore since, well, you know, it's been bought for a gigantic amount of money" but turns out we were wrong!
The long and short of it is that back in the day, when J.K. Rowling wrote the first of seven books (seven? Wow!), it was entitled Harry Potter and the Philosopher's Stone and later re-titled Harry Potter and the Sorcerer's Stone because British publishers weren't confident American children would know what a 'philosopher' was.
Back on June 26th 1997, Bloomsbury published Philosopher's Stone with an initial print-run of five thousand copies in hardback, three hundred of which were distributed to libraries. The series made serious money—making J.K. Rowling the world's first person to gain billionaire status from book-writing alone—and those original five thousand copies are now highly valued.
This 1997 edition contains two tell-tale errors: the misspelling of 'philosopher's' on the back page and a double mention of "1 wand" on page 53 in an equipment list.

IMAGE VIA ITV
Now another first edition has has sold for over £46,000 (roughly $57,303) at auction in the U.K, with the buyer paying a total of £57,040 (roughly $71,000) to cover both fees and taxes.
Image Via The Verge
Shockingly, this first edition of Harry Potter was expected to fetch between £20,000 and £30,000 (roughly $24,000 to $37,000), but a telephone bidding war Thursday skyrocketed the final price. This is happened because, according to the Hansons Auctioneers in Staffordshire, in the West Midlands of England, there were four phone bidders, as well as internet bidders, that helped boost the book from its estimated selling point.
It also might be because the book was kept in pristine condition in a locked briefcase for 20 years, reports the BBC. Jim Hanson, the Hansons book expert, told the Birmingham Mail he "couldn't believe the condition" of the auctioned book, saying its quality was "almost like the day it was made. I can't imagine a better copy can be found."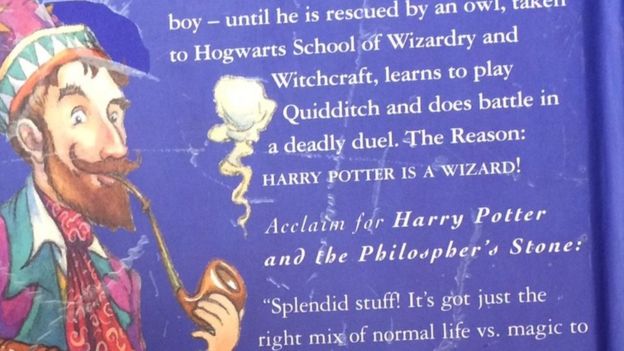 IMAGE VIA BBC/NOTE THAT "PHILOSOPHER'S" IS SPELLED AS "PHILOSPHER'S" HERE
The book was in such great condition because after the owners realized this edition's importance, they planned to keep it as an heirloom. What made them decide to sell the book was after they heard about that first edition Philosopher's Stone selling for over $35,000 in July.
Can't say I blame them! Unsurprisingly, once the decided to sell the book, Hanson says that:
The owners took such great care of their precious cargo they brought it to me in a briefcase, which they unlocked with a secret code. It felt like we were dealing in smuggled diamonds.

Who can blame them?
Featured Image Via The Daily Express