Robert Louis Stevenson's Treasure Island is one of the most well-known adventure novels in all of literature. The story of a young Jim Hawkins on a quest to find the mysterious Treasure Island has been adapted numerous times over the years. One of the most unique adaptations of this famous work came from Disney on this day in 2002.
Image Via Amazon
Treasure Planet was an animated film from the directors of Aladdin, Hercules and The Little Mermaid. It features the same plot as the novel, but uses a sci-fi setting instead of a traditional tropical island setting like the novel.
Image Via IMDb
Hawkins remains the same, but many characters were changed for the adaptation. John Silver, the main antagonist, is made into a cyborg. Dr. Livesey and Dr. Trelawney are combined into a new character: Dr. Delbert Doppler, an anthropomorphic dog. Captain Alexander Smollett is changed to Captain Amelia, a female talking cat alien. Ben Gunn is turned into a robot called B.E.N. (Bio-Electronic Navigator). These characters are voiced by an all-star cast featuring Joseph Gordon-Levitt, Emma Thompson, Martin Short and Laurie Metcalf.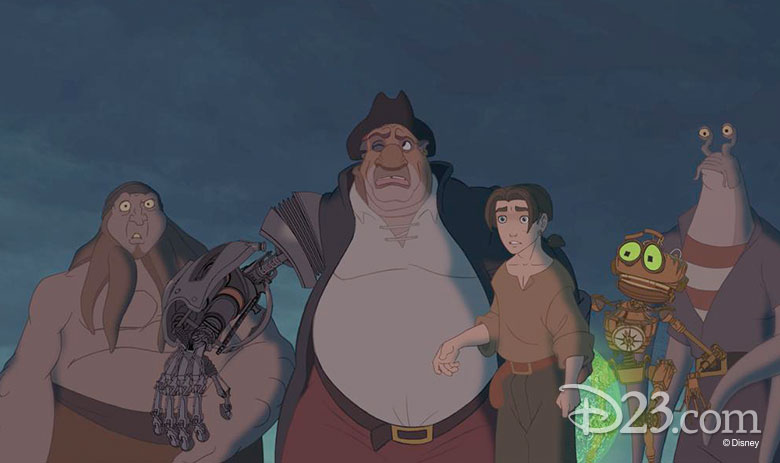 Image Via D23
Sailing on pirate ships outfitted with rockets, the crew blasts off across the galaxy to search for the long lost Treasure Planet. The film employs a unique animation style that blends 2D-animated characters with 3D-animated settings.
Image Via Film School Rejects
Despite a unique look, a classic tale, and a great cast, Treasure Planet was a box office failure, grossing only $100 million against a $140 million dollar budget. The film's low returns derailed any plans for a sequel. The film's failure can be attributed to lukewarm reviews and opening a week after Harry Potter and the Chamber of Secrets.
But despite being forgotten very quickly during release, Treasure Planet has garnered a cult following and strong DVD sales over the years. It is currently available to stream on Disney+.
Any fan of the classic Treasure Island should check out this sci-fi adaptation.
Featured Image Via Nerdbot
Bookstr is community supported. If you enjoy Bookstr's articles, quizzes, graphics and videos, please join our Patreon to support our writers and creators or donate to our Paypal and help Bookstr to keep supporting the book loving community.
Become a Patron!