Along with the changing of the leaves come the dark, chilly nights of Autumn- the perfect setting for everyone's favorite holiday, Halloween. Face your fears with this month's terrifying Hulu and Netflix adaptations!
We've put every new release into categories and included the Netflix and Hulu release dates to boot! Click on the titles or where it says "book" or "novel" to either the watch film/show trailer or to purchase the original book!
Sci-Fi & Fantasy
From 'the Time Traveler's Wife' | Image via Giphy
Drama
From 'After' | Image via Tenor
Crime
From 'Trainspotting' | Image via Giphy 
Horror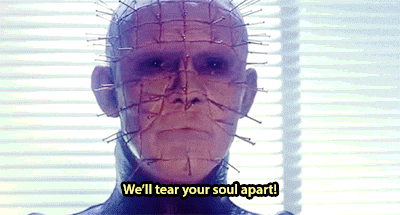 From Hellraiser | Image via Giphy
Thriller
From 'Along Came A Spider' | Image via Tumbral
Comics
From Blade | Image via Giphy
Animation
From Sailor Moon | Image via Giphy
There are so many choices for the month of October, both for those who would rather not be spooked by their entertainment, and those seeking a thrill.
Featured Image via