We all know that one person who claims they're the next J. K. Rowling or Stephen King, but when you read any of their work, you're… pretty convinced they're delusional.
Image via HCT Today
You may think they will never have a shot at having their work recognized: wrong! Believe it or not, there's a couple of contests that they could win! But only if they're bad enough!
The Alfred Joyce Kilmer Memorial Bad Poetry Contest
Image via Bwog
This first competition may pose a challenge for many to enter, since its only meant for students of Columbia University in New York City. However, the contest is in memory of the Poet Alfred Joyce Kilmer, who is known for his infamous Poem Trees; in fact, every year, attendees close the competition with an "impassioned reading" of Kilmer's critically despised Poem.
                        Photograph of Albert Joyce Kilmer. I wonder if he's dreaming about trees in this one. | Image via Orange County Register
The poem goes thus:
I think that I shall never see
A poem lovely as a tree.

A tree whose hungry mouth is prest

Against the earth's sweet flowing breast;

A tree that looks at God all day,

And lifts her leafy arms to pray;

A tree that may in Summer wear

A nest of robins in her hair;

Upon whose bosom snow has lain;

Who intimately lives with rain.

Poems are made by fools like me,

But only God can make a tree.
To honor Mr. Kilmer's infamous legacy, students aim to create the greatest worst poem they can! The pieces that are read for the competition are both creatively horrific and terribly funny! Here are a few of the entries for this past year as well as the big winner; all found in the New York Times (check out the article if you have some time):
My sunlight in a bottle
only $9.99 for 10 liters at Costco
a flavor so piercing
like true love's gaze
like a tattoo needle orange flavor dances across my tongue
it is raw and I must wait 2-3 weeks for it to heal

— From "An Ode to the Quality of Orange" by Jux
Ah, who knew shopping for Orange Juice could be such a passionate experience!
Who is the voice
in the wind?
Who is the candle
in the night?
Who will defend the children
Like a seatbelt
that defends children
or like a guy
whose job it is
to defend children?

— From "Our American Heroes," by Isobel Nadine Shaffer
Such a deep subject to pick for a bad poetry competition. I personally think this is great, but is it great at being bad? I leave it to the critics to decide.
I can only speak in five 5-7-5 Haikus
Thanks for listening.

— Untitled entry by Nathaniel Marrinson
This one is my pick! It's terrible, but well thought out, and I love it!
And now to the winner of this year's Alfred Joyce Kilmer Memorial Bad Poetry Contest…
Your pith in my nails
As I peel you, stinging juice
Squirts into my soul

— From "A Story of Unrequited Love in 5 Haikus," by Dylan Temel
I think I'm seeing a theme to these bad poems. People love to hate on oranges.
So if you're a terrible poet,
And you know it,
Forget about the best,
And enter this bad poetry contest!
Another big competition celebrating bad writing is The Bulwer Lytton Fiction Contest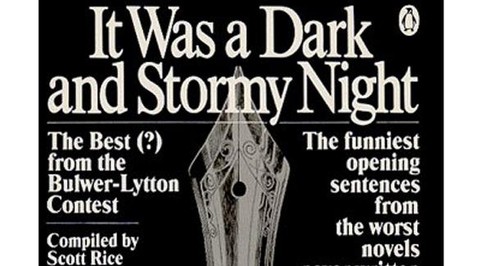 Image via LitReactor
This contest was thought up by Professor Scott Rice from San Jose State University. While putting together research back in his own University days, Professor Rice was intrigued with the old cliché "It was a dark and stormy night" and learned that the phrase and many other clichés had been used for centuries!
Scott Rice and his daughter EJ. What an adorable father/daughter relationship! | Image via bulwer-lytton.com
With the help of his daughter EJ, the Bulwer Lytton Fiction Contest is held each year, receiving hundreds upon hundreds of short entries, all written for different genres. It would take a long time to go through them all! Here are a few of the "worst":
Given the honor of "Grand Panjandrum's Special Award"
I knew that dame was trouble as soon as I set eyes on her, see: there was a stain on her clingy dress, wine, difficult to get out (you notice these things when you've been in the business as long as I have); there was a piece of gum stuck to the bottom of her high heel, cherry, that would leave a gristly pink trail following her every step (you pick up on these things when you are as experienced as I); and when she coolly asked me directions to the detective's office, I pointed her down the hall and went back to mopping the floor.

-Bridget Parmenter, Katy, TX
The contest's runner up…
Dreaded Pirate Larry was somewhat worried, as he looked down at his boot, where his first mate was stretched out, making whooshing sounds, attempting to blow him over, that despite having the fastest ship, the most eye patches, and the prettiest parrots, his crew may need a few lessons on the difference between literal and figurative, as evidenced by the rest of the crew applying ice to the timbers.

-Shelley Siddall, West Kilowna, BC, Canada
And the grand prize winner of the 2018 Bulwer Lytton Fiction Contest is..
Cassie smiled as she clenched John's hand on the edge of an abandoned pier while the sun set gracefully over the water, and the final rays of light disappeared into a star filled sky she knew that there was only one thing left to do to finish off this wonderful evening, which was to throw his severed appendage into the ocean's depths so it never be found again–and maybe get some custard after.

-Tanya Menezes, San Jose, CA
So next time you criticize someone's work for being cliché, or too simply written, or just plain terrible, remember; they could be winners somewhere!
Featured Image via Rants From A Starving Writer – WordPress.com