"I've got nowhere else but here," The San Francisco Chronicle quotes Francisco Martinez, 78, as he settles in a window chair in the San Francisco's Main Library with a Bible.
Martinez is homeless, but he's not alone at the library. He's one of the many homeless people who have been met with a warm welcome at public libraries all over America.
Image Via Trip Advisor
One of these people is Sally, a former nurse in her 50s. CityLab notes that "[a]fter witnessing a co-worker commit suicide, Sally suffered from Post-Traumatic Stress Disorder (PTSD) and was unable to continue working." She soon became homeless, and, after witnessing a stabbing on the streets, her PTSD has been worsening ever since. She too went to the library and, from there, has been able to find subsidized housing and resume working.
Libraries are full of stories, but these hopeful tales of human resilience are all thanks to the efforts of the San Francisco Public Library and social worker Leah Esguerra.
Image Via Good News Network
A little history:
According to Reader's Digest, 2009 was the year that the San Francisco Public Library had an overwhelming number of homeless patrons who utilized their services. To put it in perspective, of the 5,000 people that visit the San Francisco Public Library every day, about 15 percent (that's 750 patrons) are homeless.
Instead of removing the homeless, the Library decided to hire a social worker to address each individual's situation. The social worker they hired? Leah Esguerra.
Following her assignment, Esguerra would walk around and get familiar with the homeless patrons, performing full clinical assessments and reporting her findings back to her colleagues at the San Francisco Homeless Outreach Team, who would then provide the homeless with what they needed.
Image Via California Health Report
"The role is not to 'end homelessness,' but the role is to connect people to resources, to homeless services," Esguerra told Business Insider. "… because of homelessness, there's a lot of exclusion, but here in the library it's including them, helping them." In the seven years that have followed since her hire, Esguerra and her team have helped hundreds find jobs, housing, and proper medical care.
"At one time, the library was my home," Sally tells CityLab.
Now there are several homeless people who, working under Esguerra's supervision, keep the facility working. This includes Melvin Morris, who is currently employed for $12 an hour.
"I come from the same place [our homeless patrons] come from," Morris told the Huffington Post. "When I talk to them, they can't believe I was actually homeless. I tell them they could do it, too."
Taking a cue from the San Francisco Public Library, Reader's Digest notes that "[t]oday, more than 24 public libraries provide support for the homeless."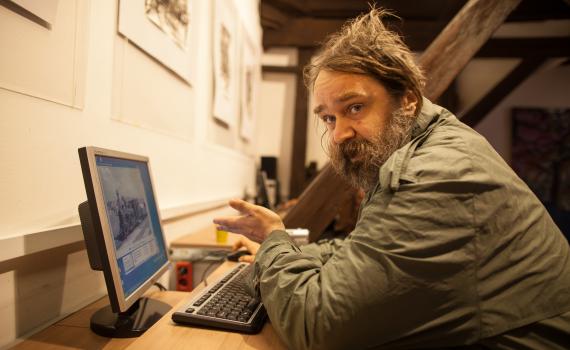 Image Via ELFL
Now all public libraries in Pima County, Arizona have nurses available to provide blood pressure checks and immediate care to anyone who needs it.
The Queens Library in New York provides a mobile app to give the homeless emergency food, shelter, and legal services.
Since The San Francisco Public Library started this trend, over 150 homeless patrons have received permanent housing and an additional 800 have enrolled in social and mental health services.
Featured Image Via National Geographic