It's getting closer and closer to that time of the year again. Everyone's favorite holiday is right around the corner. I'm sure you know exactly what I'm talking about.
That's right, Halloween is right around the corner…and some other holidays, I suppose.
But what perfect timing for the Tim Burton classic Nightmare Before Christmas to be coming out with a sequel to the series in a Manga format entitled Nightmare Before Christmas: Zero's Journey.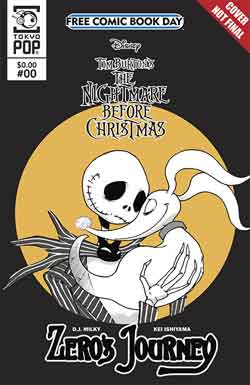 Image via TokyoPop
The new addition to the plot follow Zero, Jack Skelington's faithful companion, who gets lost and finds himself on a journey through Christmas Town to get back home to Jack.
Image Via TokyoPop/Nerdist
Here's the official description for Zero's Journey from TokyoPop:
When Jack Skellington's faithful pet Zero gets lost, the ghost pup must get the help of the residents of Christmas Town to find his way back. With Halloween plans on hold while Jack mounts a search, will they be reunited in time to save both holidays? Set in the wonderful world of The Nightmare Before Christmas as created by Tim Burton, explore the magical realms of Halloween Town and Christmas Town through the eyes of Zero as he tries to find his way home in an unfamiliar world in this brand new story written and created by TOKYOPOP.
Image via TokyoPop
Probably due to the connection to the Kingdom Hearts series, TokyoPop was one of the first to license a comic adaptation for The Nightmare Before Christmas. They started marketing issue #1 of their side-story on Free Comic Book Day back in May and have been gradually adding more ever since.
Now this October 2nd, TokyoPop is selling the first full volume of their series and at the perfect time!
Not only is Comic Con two days after the books release, but this year marks the Nightmare Before Christmas's 25th Anniversary! And then there's the whole day of Halloween being right around the corner that makes for good timing as well.
Speaking of Comic Con, according to the Nerdist, there will be a special panel for the manga. The Nerdist explains…
you can join the creative team behind The Nightmare Before Christmas: Zero's Journey for an evening of behind-the-scenes stories, discussion about how the brand new comic came to be, and a chance to win a copy of the first graphic novel. And there will also be a free screening of the classic movie that inspired it all. The panel will take place on October 4, and will be held in room 1A24, from 7:45 PM to 10 PM.
Some for those of you who are fans of The Nightmare Before Christmas, or just comics in general, this'll be something to look forward to indeed! I for one am very interested to see what new adventures lie for our favorite Opera singing skeleton and his best ghoul friend Zero!
Featured Image Via Variety