I wish I could tell you the exact circumstances under which I first encountered Kurt Vonnegut's Slaughterhouse-Five for the first time, but I can't. Not exactly. I'm not sure whether it was assigned reading in one of my middle school English classes or if I just stumbled upon it. The latter makes more sense when taking into consideration two facts: a lot of schools had banned books like Slaughterhouse-Five, and I was a pretty awful student back when George W. was in the white house. What I do remember is that when I first began reading the soon to be fifty-year-old novel (March 31th) I was in a white, windowless room, being stared at by a teacher who had clearly drawn the short straw that afternoon. Detention. I would like to think that Mr. Vonnegut would find irony in that scenario; perhaps it would even make him smile.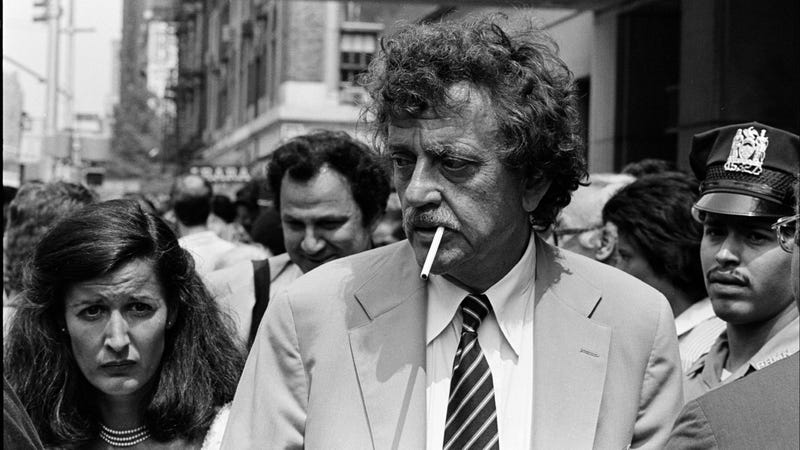 Image Via Thetakeout.com
Or Not.
Imagine being an unsuspecting delinquent, opening Slaughterhouse-Five or The Children's Crusade: A Duty-Dance with Death for the first time: I was blown away by how psychedelic it was. Vonnegut's prose was irreverent, ridiculous, and, above all, courageous. Vonnegut plunged blindly into the abyss of existential uncertainty and danced in the darkness. One of the most imaginative novels ever written with a minimalist style—Slaughterhouse-Five felt like Vonnegut knew a hell of a lot more about the world and grammar than me and was choosing words that I could understand. Maybe there was nothing to understand? It was pretty damn cool. Vonnegut made literature cool—especially for a kid in detention.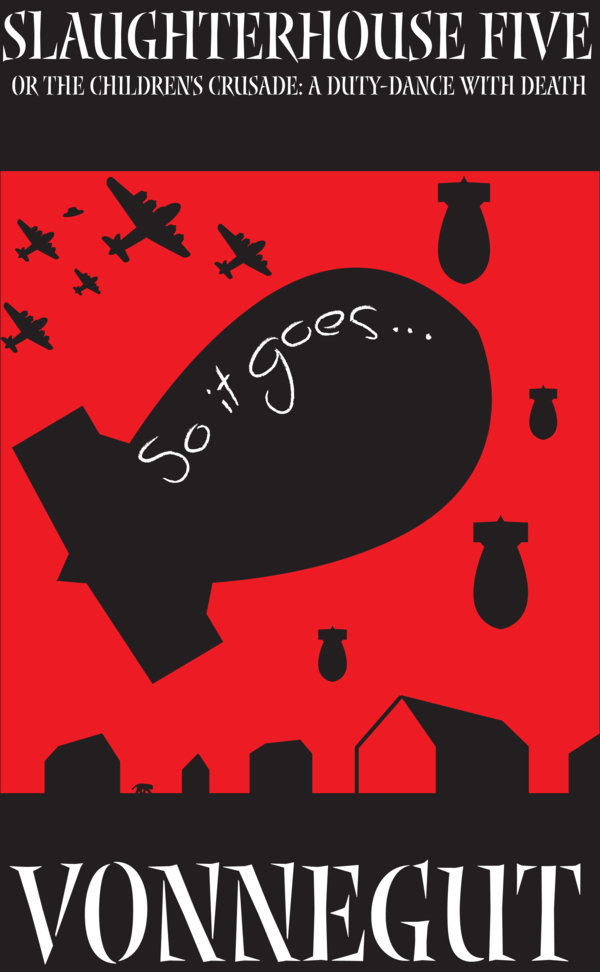 Image Via wrbh.org
In the introduction to Slaughterhouse-Five, Vonnegut explains how he had been trying to write about the firebombing of Dresden during World War II ever since his imprisonment there. This is the reason that Slaughterhouse's protagonist, Billy Pilgrim, was also in Dresden during the bombing. Billy's story is an interesting one—the narrative of his life involves just as much love, humor, and tragedy as anything you could probably imagine. What makes it uber unique is that Billy acquires a certain amount of objectivity similar to the reader's own. Billy is "unstuck" in time as he has no control over where and when in his life he might be at any given moment. One moment, Billy could be at his daughter's wedding—the next, fornicating with a movie star. It's all very non-linear. This ability is supposedly a side-effect of his Tralfamadorian kidnapping; extraterrestrial beings teach Billy to see time in a very Matthew McConaughey-like (Interstellar) way. All moments are permanent, always happening, forever. Billy is most definitely an unreliable narrator throughout, and Slaughterhouse-Five's chaos can undoubtedly be interpreted in a variety of ways. All I knew at that time was that I needed more Vonnegut.
Image Via Quickmeme.com
Vonnegut is famous for incorporating reoccurring elements into his novels, such as characters, names, and themes. (He also likes to write himself into his stories and could be considered a pioneer of "meta," but that's beside the point.) One of the things about Slaughterhouse-Five I found most compelling was the incorporation of the Tralamadorians or the planet Tralamadore. So I followed the Tralamdorians. Tralamdore is the name of various fictional planets in Kurt Vonnegut's novels; the race and history of the planet vary from novel to novel (Slaughterhouse-Five; God Bless You, Mr. Rosewater; Hocus Pocus; and Timequake). My alien chasing eventually led me to one of Vonnegut's earlier novels, The Sirens of Titan.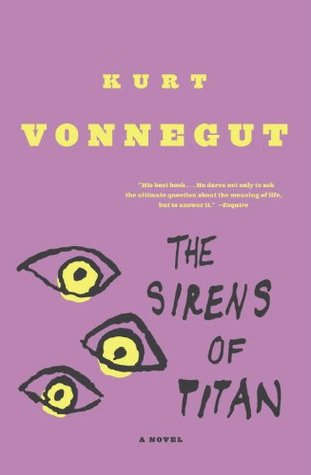 Image Via Goodreads.com
While not as popular as Slaughterhouse, The Sirens of Titan is considered by some to be Vonnegut's best novel. (Maybe just me… no, I read someone else say that before. I'm sure of it.) Douglas Adams has even cited Sirens as being his inspiration for The Hitchhikers Guide to the Galaxy. Written ten years prior to Slaughterhouse-Five's publication, simply to satisfy Vonnegut's publisher as they awaited Cat's Cradle, Sirens is considered less "experimental." Although the story is linear and Vonnegut himself does not make an appearance—its message is anything but typical.
Sirens follows Malachi Constant, a man with an extraordinary amount of luck—men and women of the cloth might even call his luck divine (although Vonnegut would make fun of them for doing so).  At the beginning of the novel, the reader meets Malachi's father, Noel, who builds the family fortune buying stocks based on words from the book of Genesis. Malachi inherits this fortune and builds upon it, becoming the wealthiest playboy in the world.
One day, Malachi is invited to witness the materialization of a man, Winston Niles Rummford, whose existence has been stretched across space and time (due to a mishap with his dog and something called a chrono-synclastic infundibulum), similar to Billy Pilgrim's conundrum. Rummford's ability to read minds and predict the future startles Malachi as Rummford tells him about his future. In addition, he shows Malachi a photograph of the most beautiful women Malachi has ever seen—women who supposedly inhabit the planet of Titan. As Malachi tries to outwit Rummford's manipulation and pursue the kind of unattainable beauty of the women in the photo, the reader goes on a nihilistic yet humorous journey through space. It is with an engrossing amount of ridiculousness that the novel contemplates free-will, morality, and existence.
Some might find the novel's humor cold. Others may find its message to be a commentary on the futility of fighting fate or attempting to understand it, given that even the novel's omniscient character succumbs to the inevitable. I found the novel's climatic revelation actually quite moving.
Mild Spoiler Alert!
After years of space travel, mind control, a Martian invasion, and a religion formed in his honor (sort of), Malachi finally finds himself on Titan. There, Vonnegut reveals that the beautiful sirens from Rummford's photo are inanimate statues on an uninhabited planet. In fact, the only people who reside on Titan are Malachi and his family. As Malachi sits there, alongside a woman he never intended to be with and a son that thinks he's a bird (didn't I say ridiculousness?) he realizes that the "purpose of human life, no matter who is controlling it, is to love whoever is around to be loved."
Vonnegut wrote both Slaughterhouse and Sirens with a serious outpouring of emotions—but, most importantly, he wrote with immense joy. He loved writing: he did it to discover more about the world and himself. In 2006, a group of students from a high school in New York City was assigned the task of writing to their favorite author. Their letters warranted the following response, which I think epitomizes the heart and soul behind 50+ years of kick-ass storytelling:
Image Via Letters of Note
Featured Image Via My Student Voices.