As the worldwide refugee crisis worsens, it can be difficult for news-watchers to put a human voice to the millions of people who have been displaced from their homelands. However, the Kurdish-Iranian journalist Behrouz Boochani has been making waves with his book No Friend but the Mountains which chronicles his tumultuous experience as an asylum seeker.
Image Via Newsroom.unsw.edu.au
The book document Boochani's life after becoming incarcerated by Australian authorities in an attempt to seek refuge in the country. He was sent off to Christmas Island, about 2,000 miles off the north-west coast of Australia, and later on Manus.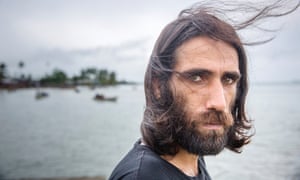 image via the gaurdian
Once in the Manus prison, Boochani experienced ever-increasing violence and dehumanization. "From their perspective," Boonchani says, "we are nothing more than numbers. I will have to forget about my name… I am a piece of meat thrown into an unknown land, a prison of filth and heat." The refugees who have been detained remain in a state of limbo, uncertain if or when they will ever leave.
Desperate to have his story shared, Boochani managed to smuggle a mobile phone into the prison in order to text the prose of his book paragraph by paragraph to friends overseas. After it was finally released and published, No Friend but the Mountains gained widespread recognition and recently won a $25,000 national biography award.
Boochani has become one of Austrailia'smost celebrated contemporary writers and he has appeared at several literary festivals via Skype from the prison in Manus. "I have been in a cage for years but throughout this time my mind has always been producing words, and these words have taken me across borders, taken me overseas and to unknown places," he said in January via video link as he accepted the Victorian Premier's award. "I truly believe words are more powerful than the fences of this place, this prison."
Featured Image Via 2ser