Every once in a while the internet gives us a gem. Today, let your internet gem be Narwars, a short comic that parodies the plot to Star Wars in the best way imaginable…
Every character is a Narwhal!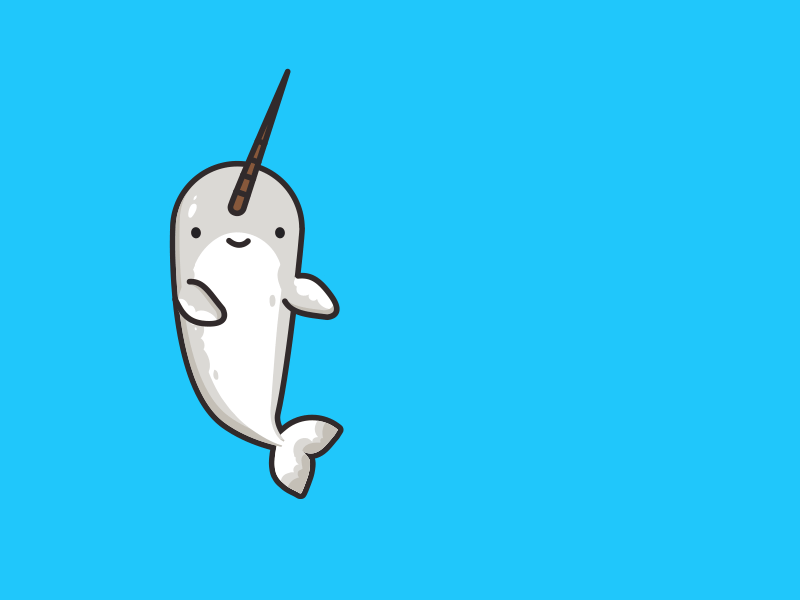 If you don't know what a Narwhal is then here is a cartoon depiction one dancing around adorably. | Image via Dribble.
You have to see this short comic that has writers, podcasters, and even the Jedi Master himself, Mark Hamill, talking!
My daughter wrote her first comic book!!

(It's like Star Wars, but with Narwhals) pic.twitter.com/rtkAvAEobA

— Jon Cryer (@MrJonCryer) March 1, 2019
The title of this creative comic is Nar Wars: The Tale of Narth Veader.
Based on the character Darth Vader, this kid's comic follows the story of Narth Veader, as the title already hints. But so far we only have one page introducing us to the comic.
Just to give you a taste….

Here's page 1 of Nar Wars

(Oops, did I put too many dots in the ellipses?) pic.twitter.com/R06gTsU1kk

— Jon Cryer (@MrJonCryer) March 2, 2019
Hundreds have already retweeted the posts and to make things even more exciting Mark Hamill himself chimed in!
I always thought it would've been better if we had more Narwhals. Your daughter is a visionary.

— Mark Hamill (@HamillHimself) March 2, 2019
And these words of wisdom were given as well.
Okay, now MY head is gonna explode. pic.twitter.com/Vl4Q7a8b7O

— Jon Cryer (@MrJonCryer) March 2, 2019
I'd like to wish this kid good luck, but I think the force is already on her side. With so many people talking about this comic, and Mark Hamill giving his approval, I smell a movie deal coming to fruition!
Only time will tell if Narth Veader is given his spotlight on the red carpet.
Featured Image via SiriusXM Blog