A new anthology of stories based on The Doctor Who has dropped Gareth Roberts, a former writer for the BBC TV sci-fi show, for transphobic tweets.
Image Via Doctor Who.TV
The Doctor Who: The Target Storybook is an upcoming anthology that contains both prequels, sequels, and spin-off set in the Doctor Who universe. It's from Ebury Publishing, an imprint BBC Books, set out for this October.
Penguin Books lists the writers as "Terrance Dicks, Matthew Sweet, Simon Guerrier, Colin Baker, Matthew Waterhouse Jenny T Colgan, Una McCormack, Steve Cole, Vinay Patel, George Mann, Susie Day, Mike Tucker, Joy Wilkinson, Beverly Sanford," and advertises that "[w]ith contributions from show luminaries past and present, the Target Storybook is a once-in-a-lifetime tour round the wonders of the Whoniverse".
Notably, Gareth Roberts has been taken off the list.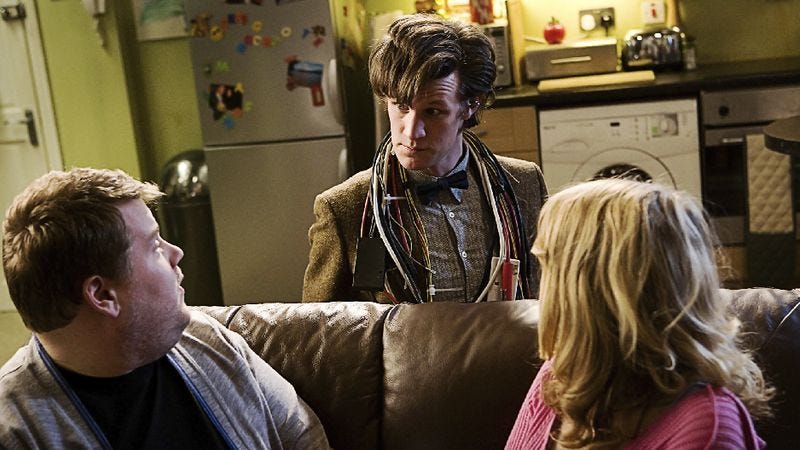 Image Via 
TV Club – The AV Club
Gareth Roberts has only scripted episodes such as The Lodger and Closing Time (to name a few,) but he's written a range of Doctor Who spin-off novels and comic stripes for the Doctor Who Magazine.
Thus he was contacted and commissioned to the write a story for the upcoming anthology. He submitted it, and it got leaked online. He claims "a section" of the Doctor Who fandom "agitated" for his removal, and other contributors threatened to withdraw if he was involved.
Image Via Pink News
Back in Pink News wrote in 2017 how Gareth Roberts' Twitter tirades.
Come the announcement of the new book, if the fandom is anything like me, you looked up the authors of this anthology. Who will be adding to the Doctor Who universe? What have they done? What can we expect?
Thus the tweets were found and, as Bleeding Cool notes, "[n]aturally, this caused some backlash, as his comments can be seen as deeply offensive. And some are left wondering whether his connection with Doctor Who has left others who identify as trans too uncomfortable to work on the show, or even blocked their access to it."
Fellows author has writing for the anthology came out against Gareth Roberts as well.
So, since That Doctor Who Writer's blogged about it: I'm a contributor who questioned GR's inclusion in the anthology, on account of him being a vocal transphobe, amongst some other views he found in the bin. (I don't know if any of the other writers were involved.)

— Susie Day🌈🇪🇺 (@mssusieday) June 4, 2019
According to Gareth Roberts, he's never met them, however he has since deleted his tweets.
Pink News grabbed a screenshot. That is below:
Image Via Pink News
Gareth Roberts, also about the potential for a public apology:
Some have urged me to make a full, obeisant apology. Even if I was inclined to, I don't think it would have any effect at all – for example, Helen Lewis of The New Statesman is currently being monstered for the most careful, respectful piece on this issue. I'm not bothered very much by words though I'm bothered when they distress my friends and family. But then, that's how intimidation works. That's why intimidators intimidate. (And I know for a fact it would be much worse for a woman in this position.)
He also notes in the last paragraph that, "My opinions on transgenderism are neither extreme nor unusual." He also notes he will not have to give back the back money he received for the story.
The Guardian quotes a Ebury Publishing spokeswoman as saying, "Comments made by the author on social media using offensive language about the transgender community have caused upset to Doctor Who fans and conflict with our values as a publisher."
From Ebury Publishing, an imprint BBC Books, The Doctor Who: The Target Storybook will be out this October.
Featured Image Via Instinct Magazine