Ian Fleming's iconic character of James Bond was known for always traveling with a slick set of wheels—and these wheels belonged to none other than the Aston Martin.
Image Via Birmingham Post
The 1963 DB5 Aston Martin made its first appearance in 1964's Goldfinger before reappearing the next very next year in Thunderball. Those appearances, and its subsequent reappearances in later Bond films (it has it's very own Stan Lee-like cameo!) have made the '63 Aston Martin a staple of cinema. It's a movie car, with its tricked out with battering rams, retractable bulletproof glass, the ability to produce oil slicks, and an ejector seat.
I've always wanted one, and now I have a chance to get one.
Image Via Flickr
Thankfully, according to Forbes, a replica of the James Bond's iconic vehicle that includes all those fun gadgets will be available at "[t]he twentieth edition of Bonhams' annual Aston Martin sale is to be held for the first time at The Wormsley Estate in the Chiltern Hills, about an hour outside of London".
CNN states that the news first hit us about "[t]en months ago" when "Aston Martin announced it would build a limited number of 1964 Aston Martin DB5s, just like the one Sean Connery, as James Bond, first drove in the movie Goldfinger."
Image Via Slash Film
According to the Guardian, the Aston Martin is tricked out to the extreme. The company made a partnership with Bond film producer, Eon Productions, and got in contact with Chris Corbould, a special effects expert who created many of the effects for the Bond film franchise, in order to create a car as close as humanely possibly to the film's iconic vehicle.
But it wasn't easy, since, according to Corbould:
"We have licence in the film world to 'cheat' different aspects under controlled conditions. For instance, we might have four different cars to accommodate four different gadgets. We obviously don't have that luxury on these DB5s as all the gadgets have to work in the same car all the time."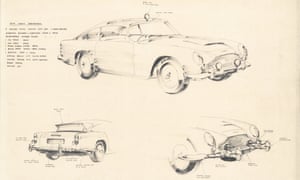 Image Via The Guardian
What they've come up with though is pretty amazing. Here are some of the features:
-Guns appear from the front lights
-Guns that flash on and off that emit a "machine gun-like sound" when the driver pulls the "trigger" instead of shooting real bullets
-A telephone in the driver's side door
-A faux radar-tracker screen
-A weapons tray hidden under the leather seats.
-282-brake-horsepower engines able to from 0-60mph in 7.1 seconds with a top speed of 148mph.
-Battering rams
-Retractable bulletproof glass
-The ability to produce oil slicks to foil chasing vehicles.
-Revolving number plates
-Rear smokescreen
Unfortunately the car lacks the ejector seat that it's famous for!
Image Via Youtube
A spokesperson sensibly asked,
"Can you imagine the challenge of getting the ejector seat past health and safety?"
Good point.
Twenty-five cars have been made and will be be sold at a price of £2.75 million, which is about $3.5 million.
I know I'm not the only one who has always dreamt of owning this car and, if you give me enough money, then that dream will become a reality.
Featured Image Via Fortune