With the second trailer debuting last week to a great reception , it would seem that things couldn't get any better for the sequel to the second adaptation of Stephen King's IT, but you know what they say: what goes up must come down.
Alas, this is only the second time Stephen King's gigantic book has been adapted. Previously, the book was adapted in a two-part miniseries that debuted on television screen in 1990.
This version, infamous for staring Tim Curry and a young Seth Green, became synonymous with the novel until the new film came out in 2017. However, Frank Konigsbergand Larry Sanitsky were running Telepictures in the early 1980s when they had acquired the rights to the Stephen King novel. Konigsberg and Saitsky developed the miniseries from beginning to the end of pre-production, only leaving after Telepictures merged with Lorimar. Despite the merger, they retained company credit on the miniseries.
Konigsberg died in 2016 at the age of eighty-three, but Sanitsky, sixty-seven, is still alive. He might not be doing so well, however, since he is suing Warner Brothers.
As per Variety, Sanitsky is claiming the studio breached his contract by making the film adaptations, IT and IT: Chapter Two, without him.
The suite alleges two things. 1) Warner Brothers never consulted Sanitsky or Konigsberg about either film, and 2) Warner Brothers stopped forking over profit statements for the miniseries back in 1995.
For the record, Warner Brothers issued its first participation statement since then in March, saying they owed the two $1 million. Santisky says that number is significantly understated, given that they are entitled to 10% of net profits of any remake, which the suit alleges would tally up to tens of millions of dollars.
Image Via Pride
For the record, It was met with widespread critical and audience acclaim, boasting a a critical census of 85% with an average rating of 7.24 out of 10 on Rotten Tomatoes, and was a massive commercial success with a worldwide gross of $700 million.
While IT: Chapter 2 has yet to make it to theaters, it's expected to make a ton of money once its release in September. Sanitsky intends to get paid or take Warner Bros. to court, through his and Konigsberg's partnership's corporate entities. They are represented by Dale Kinsella of Kinsella Weitzman Iser Kump and Aldisert.
In the meanwhile, Sanitsky now working on a film adaptation of Stephen King's Tommyknockers, which he and Kongisberg also produced a TV adaptation of. As for Pennywise…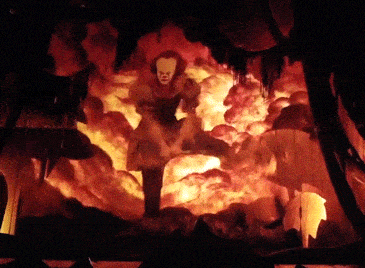 Image Via Giphy
…he will dance his way into theaters this September 6th .
Watch the trailer below!
Featured Image Via The Wrap