It looks like Marvel might be doing what DC should have done: making a comic based on an un-produced movie.
For those unaware, DC comics infamously turned down a pitch by Joe Quinones and Kate Leth, who had the idea of a comic book version of Time Burton's Batman 3, the nearly-made sequel where Robin Williams might have been the Riddler and Billy Dee Williams would certainly have been Two-Face.
Image Via Den of Geek
In case you don't know, Billy Dee Williams only signed on to play Harvey Dent in an extended cameo in Tim Burton's Batman because he was suppose to later play Two-Face. One of the many early drafts of Batman Returns had Harvey Dent helping out the Penguin before Selina Kyle's Catman electrocuted him, giving him his scars, but Harvey Dent was written out and replaced by Christopher Walken's Max Shreck, who instead died after Selina Kyle jammed a taser in his mouth while pulling on electrical wires.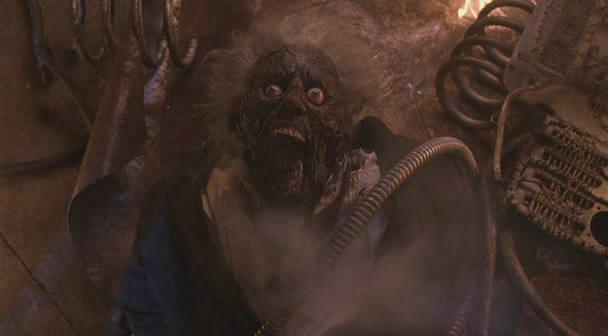 Image Via Legends Revealed
The pitch was rejected and many fans (such as myself) were upset. However, Marvel recently tweeted THIS on Sunday morning with the hashtag "#MarvelComics." No other information has been made available.
No one is going to see this one coming… #marvelcomics https://t.co/1EZnzMN8il

— C.B. Cebulski (@CBCebulski) June 16, 2019
Could this mean we're getting a comic book version of Sam Riami's Spider-Man 4?
In case you don't know, Riami wanted to have Sandman and Harry Osborne's Green Goblin as the villains in Spider-Man 3, but Sony wanted him to add Venom. He did, the film came out and, well…
In a podcast, Riami had this to say about the film:
Raimi: [But] directors don't like to talk about their bad films.

Hardwick: I don't think that "bad" is the right word.

Raimi: Awful!
As a result, Raimi "wanted to make Spider-Man 4 to end on a very high note, the best Spider-Man of them all".
While no plot synopsis or script was ever revealed, stuff has floated around the internet. Notably, in 2016, concept artist Jeffrey Henderson shared some pretty awesome storyboard art  and in a followup interview revealed that the idea for Spider-Man 4's opening was to show Tobey Maguire's Spidey going up against not only a Bruce Campbell-portrayed Mysterio, but C and D-list villains like Shocker, The Prowler and Rhino. He elaborated:
We had kicked around the idea of beginning the film with a montage of C and D- list villains that we knew would never be used as main antagonists. Mysterio, The Shocker, The Prowler, the old school- onsie- wearing version of The Rhino, etc. We thought it would be a lot of fun.
So the opening was going to have Spider-Man catching C and D-list villains like Shocker, The Prowler and Rhino before capping it off with this?



Image Via Planet Henderson
Bruce Campbell as Mysterio! Not the announcer, bouncer, and snooty waiter from the previous films! As a side note, would they ever acknowledged that Mysterio gave Spider-Man his name?

Image Via Imgur
Without this, we would be watching the Human-Spider series!
The main villain would have been Vulture! Raimi was eyeing John Malkovich "Malkovich Malkovich" for the role, who looks scary as heck:
Image Via Planet Henderson
Felicia Hardy was also set to make an appearance and would have put on a costume, but she wouldn't have adopted her infamous Black Cat persona from the comics. Instead, she would have become… The Vultress!
I don't know what to think of that, but to be fair, I don't even know how any of this would have panned out. It sounds like the passion was there though, so what happened?
Sony wanted to have Dylan Baker as Curt Connors, a minor character in the previous films, to finally become The Lizard!
To be brief, Raimi was getting Spider-Man "three villains proved too many" 3 and told Sony:
I don't want to make a movie that is less than great, so I think we shouldn't make this picture. Go ahead with your reboot, which you've been planning anyway.' And [then Sony co-chairman] Amy Pascal said, 'Thank you. Thank you for not wasting the studio's money, and I appreciate your candor.' So we left on the best of terms, both of us trying to do the best thing for fans, the good name of Spider-Man, and Sony Studios.
Sony did reboot the franchise, calling it The Amazing Spider-Man and having the The Lizard be the main villain in a plot where he wanted to turn everyone in New York into a lizard.
Recently, Micheal "I'm-Batman-not-John-Malkovich" Keaton appeared as the Vulture in Spider-Man Homecoming, proving that a white guy in a bird suit could be scary.
Image Via BUSINESS Insider
Chills!
But maybe we're overthinking this. Maybe this Tweet is about a Spider-Man/Fantastic-Four crossover. But for now I have my hopes and dreams that one day we'll see some of the early plot lines for this movie…
Featured Image Via 1428elm.com