Nine-year-old Simia Cox made a decision most grown-ups still struggle to make when she stood up for her classmates in a unique way.
Cox, a fourth-grader with an old soul, said she sees her friends and peers being bullied at her elementary school in Indianapolis on a daily basis. Rather than bite her tongue and wait for her teachers to stop the bullying, Cox decided to take matters into her own hands — with pen and paper.
The Adventures of Duke and the Bully tells the story of a boy named Jake who finds himself cornered by a big bully named Duke, according to WISH-TV. Cox was asked to read her latest story to the first graders at her elementary school just before the academic year ended. The reading was a hit and Cox connected instantly with her younger classmates.
"Don't let anyone bring you down," Cox told them as they shared their own experiences with bullying.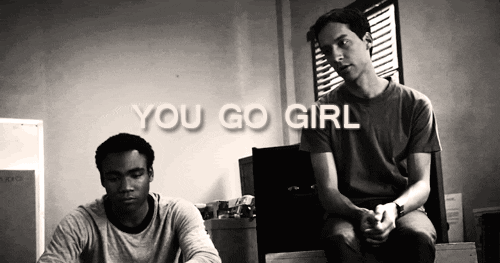 Gif Via Giphy
Authorship wasn't always the plan, but Cox fell into the role easily. Cox started out journaling about the incidents she saw, according to WISH-TV. When her mother read her journal entries, she suggested Cox turn her observations into a book. 
Right now, community members are purchasing Cox's books to share with their children and teach them how to treat their classmates. Next year, Cox's school, Eastbrook Elementary School, will gift a copy of The Adventures of Duke and the Bully to each first grader.
Indianapolis' favorite kid-author is three volumes deep in her anti-bullying trilogy. And she's not showing any sign of stopping. Her upcoming book, fourth in the series, will be told from the perspective of Duke.
Cox's books are available on her website, and all proceeds will go to her college tuition fund.
Featured Image Via CBS News.