We all get sucked into the cycle of checking our phone every ten minutes just to see that we have no notifications. But, alas, this leads to us checking Instagram for the fiftieth time to see the same old posts that we purposely didn't like in the first place. For busy book lovers who struggle with short attention spans, the thought "I should be reading right now" comes into our heads at least a few times a day. Now, an app can tell us just how successful we'd be if if we just listened to those impulses.
The Omni Calculator was created by sociologist Mateusz Mucha who wanted to offer easy solutions to everyday problems, 841 of them to be exact. The app can help you calculate how your plastic bag ecological footprint, the projectile motion of throwing a grape into your mouth or just how much free time you would have if you stopped excessively scrolling through social media.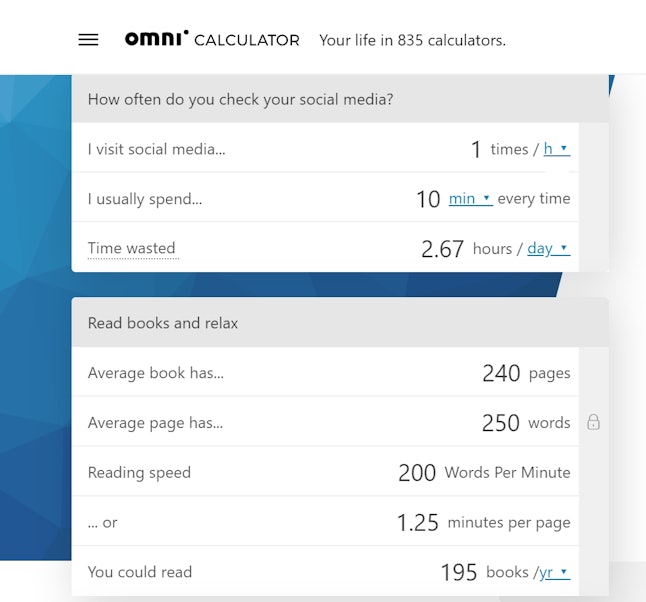 The calculator is called "Social Media Time Alternatives" and allows you to input how many times an hour you check social media and how long these visits last. It then compares this number to an average book length of 240 pages with 250 words on each page read at 200 words per minute. You can adjust the length of the books or your reading speed to betting fit your reading habits. It then tells you just how many books you could be reading a year. For example, if you check social media for seven minutes every hour, that time could be spent reading 136 books every year.
Omni also measures this wasted time in other ways, such as binging Friends yet again or listening to "Despacito" or learning a new skill, like playing guitar. Whatever your vice, Omni acts as a reminder that every time you open Twitter, another one of the book piled on your desk could be fulfilling its dream of finally being opened and read fully.
Whether you download the app and use it daily or simply learning about the app and the excessive amount of time wasted everyday makes you want to put a few pages in on the novel that has been sitting on your nightstand for a month now, hopefully Omni can help all us book loving procrastinators to finally finish our Good Reads reading challenge for once.
Featured Image via Friends of the Fayette County Public Library