Six, count them SIX, cast members have been added to HBO's adaptation I Know This Much Is True.
I could say that I Know This Much Is True is based on a book written by Wally Lamb that was published in 1988, but as Oprah wrote "It's not just a book, it's a life experience."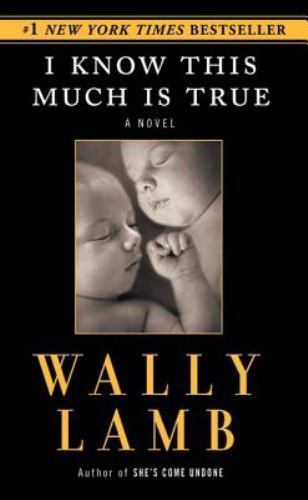 Image Via Ebay
It truly is. At over nine-hundred pages it's a hefty read, but a rewarding one. It was Wally Lamb's second novel, and it was about Dominick Birdsey who reviews his previous marriage to his gorgeous ex-wife, the death of their only child from SIDS, his ongoing hostility toward his stepfather, his relationship with his live-in girlfriend, after his twin brother, Thomas, cuts off his own hand in a delusion that this act will end the Gulf War brought on by an episode of paranoid schizophrenia.
Image Via Spirituality & Health
In their review of the novel, Publisher's Weekly wore that "[t]he topics it unflinchingly explores–mental illness, dysfunctional families, domestic abuse—are rendered with unsparing candor. But thanks to well-sustained dramatic tension, funky gallows humor and some shocking surprises, this sinuous story of one family's dark secrets and recurring patterns of behavior largely succeeds in its ambitious reach."
It's truly an ambitious novel, and an ambitious novel requires creators who are, at the very least, just as ambitious.
Luckily, Deadline have informed us that "[t]he project, which has received a production commitment from HBO, hails from Mark Ruffalo, who stars in a dual role and executive produces; Derek Cianfrance (The Place Beyond the Pines); and FilmNation Entertainment."
Mark Ruffalo to the rescue!
Image Via GeekTown
Not only if he the show's executive producer, but he's been cast in a dual role as both Dominick and Thomas Birdsey. They're going to tough characters to play. One is a man suffering from paranoia schizophrenic and the other is a man who feels increasingly out of touch with his own life.
In short, he'll have give trauma a human face.
But he won't be alone. Deadline has informed us that, "Melissa Leo (The Fighter), Rosie O'Donnell (SMILF), Archie Panjabi (The Good Wife) and Imogen Poots (28 Weeks Later)" will all be joining the cast "alongside Juliette Lewis (Camping) and Kathyrn Hahn (Mrs. Fletcher)."
Variety has given us a cast list, which we made into a helpful list!
1. Melissa Leo will play Ma a.k.a. Concettina Ipolita Tempesta Birdsey, the mother of the brothers.
Image Via IMD
2. Rosie O'Donnell will play Sheffer, a social worker for unit two at the Hatch Forensic Institute where Thomas is staying.
Image Via Entertainment Weekly
3. Archie Panjabi will play Dr. Patel, Thomas' new psychologist
Image Via Pinterest
4. Imogen Poots will play Joy Hanks, Dominick's live-in girlfriend
Image Via IMDB
5. Juliette Lewis will play Nedra Frank, a self-absorbed grad student hired by Dominick
Image Via Famous Biography
6. Kathyrn Hahn will play Dessa Constantine, Dominick's ex-wife
Image Via Parade
With such a stellar cast, I can't wait to see it. The limited series is set to be six episodes long.
Who wouldn't be excited?
Featured Image Via Slash Film