We're sure you heard that Game of Thrones won big at the 2018 Emmys. Fans loved seeing the cast out of costume and George R. R. Martin, the writer of the original novel A Song of Ice and Fire, looking dapper in his purple striped suit, and adorable turtle broach!
Image via Kevin Winter/Getty Images
It must be the greatest feeling to see the fruits of all your hard work become such a success! Especially when your birthday is just a few days away!
Yes, it is George R. R. Martin's birthday today! The writer, producer, merciless executioner of our favorite characters (Renly Baratheon, RIP!) is turning 70 today, and what a journey he has had!
To honor his work, let's briefly go into the life and career of George R. R. Martin.
George was born in Bayonne, New Jersey, in 1948, were he grew up like any other kid, surrounded by a loving family and friends. Though he liked playing with toy guns and dressing like a cowboy—the trend for kids back in the 40s—George loved science fiction and fantasy, and started writing his own stories while he was young. George struggled with academics in high school. Although he earned passing grades, he found that traditional academics were not his forte. He put his writing to work and was a part of the editing team in his school's newspaper, but that did not last as he was taken off the team in his senior year due to a censorship dispute. Martin did, however, become involved in comic fandom and began publishing amateur superhero stories in the fanzines of the day.
In spite of what happened in high school, George sought out a degree in Journalism at Northwestern University in Chicago, and never forgot his dream of becoming a writer. By the time he graduated, he'd written his first novel Dying of the Light, and throughout his life during and after college, collaborated with sci-fi and horror fans from the conventions he attended.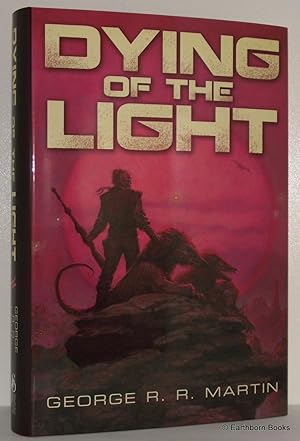 Image via AbeBooks
He even attempted selling his books at conventions, in his own unofficial way. Martin says on his website:
I never actually rented a huckster table, but I would sometimes fill a bathtub with beer, throw open my hotel room, and invite folks in, hoping that a few of them might feel grateful enough to buy a book. I probably spent more on beer than I made on the books, but the hope was that once they'd sampled my brilliance, the readers would come back for more.
Unfortunately, the success that he has today took a very long time to officially greet George.
After years of volunteering for his community, juggling work as a Journalism Professor to pay student loans, while taking time for writing and attending conventions, George began to accumulate various awards until he finally wrote A Song of Ice and Fire, the novel to the Game of Thrones television series, which he helps to write and to produce!
From humble beginnings, to award winning success, climbing up an unforgiving and relentless ladder, George R. R. Martin is a testament to the saying "Never say die", ironically enough.
And speaking of humble beginnings, you remember the adorable turtle broach?
Image via The Hollywood Reporter
According to several interviews, Martin's inspiration for his novel A Song of Ice and Fire all came from when he was a boy. At San Diego Comic Con, he said:
Turtles have always been my sigil, I suppose. When I was a kid, growing up in Bayonne, NJ, I lived in a federal housing project, and we were not allowed to have a dog or cats. The only pets I could have were turtles. So, I had an entire toy castle filled with dime-store turtles. I gave them all names, and since they were living in a toy castle, I decided they were all knights and kings … and I made up stories about how they killed each other and betrayed each other and fought for the kingdom. So, 'Game of Thrones,' actually began with turtles. I decided later to recast it with actual human beings.

–
Currently, Martin has reported that he has only two more books left for the series, and has a new book entitled Fire and Blood coming to the US and Canada November 20th this year! The book is a historical piece of the Westeros universe taking place 300 years ago, where Dragons ruled over the kingdom.
Image via Barnes and Nobles
So, here's a toast to George R. R. Martin! A man of imagination, diligence, and nerdy fandom!
You can read more about the famed author and his book at his on-line website George R. R. Martin.
Featured Image Via CHRISTOPHER POLK/NBC/NBCU PHOTO BANK VIA GETTY IMAGES