In a recent interview with The Guardian, George R.R. Martin candidly discussed the ways in which the immeasurably popular Game of Thrones TV series has affected him, both as a writer and as a human being.
Martin is known for writing at a slow pace, a practice that's followed him from childhood, but the popularity of his work has put Martin under an immense amount of pressure.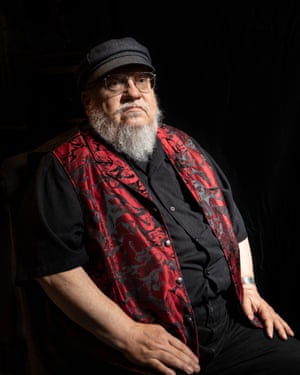 Image Via The Guardian
Martin told The Guardian:
"I don't think it was very good for me, because the very thing that should have speeded me up actually slowed me down. Every day I sat down to write and even if I had a good day – and a good day for me is three or four pages – I'd feel terrible because I'd be thinking: 'My God, I have to finish the book. I've only written four pages when I should have written 40.' But having the show finish is freeing, because I'm at my own pace now."
George R.R. Martin With G.O.T. star Maisie Williams/Image via Vanity Fair
Martin is currently working on finishing The Winds of Winter, which will be followed by A Dream of Spring, and fans are incredibly anxious to get their hands on these works despite the fact that it will likely be years before either sees the light of day.
Now that the TV series has ended and fans have a little more time to hypothesize, googling Game of Thrones will lead you to hundreds of articles all speculating the release dates of these novels. Some claim that Martin has finished writing The Winds of Winter but is hiding it from the public, others assert that it's impossible for Martin to finish in his lifetime.
As one would expect, being picked apart by the masses day in and day out would have a significant effect on anyone, and Martin admits he's nostalgic for the days when Game of Thrones had garnered only a small and dedicated audience.
George R.R. Martin being interviewed in 1998/Image via Twisted Sifter
"When I first went to a Brotherhood Without Banners party there would be a few dozen people there, and I became quite friendly with some of them, and every time I attended I would meet new ones and spend time with them and run trivia contests for them. It was great but, as the books became more and more successful and then the show became a hit, so the parties became bigger and bigger and more and more crowded. They still have those parties and they're still great, and I'm still friendly with the people I met back in 2001 and 2002, but I can't meet the new people any more because there are too many. I'm sure they're just as delightful as the old people, but I don't want to go to a party where an unending succession of people want to take selfies with me, because that's not fun the way it was in the old days. That's work."
On top of this shift in his professional life, Martin has also been forced to alter his personal life around his celebrity.
"I can't go into a bookstore any more, and that used to be my favorite thing to do in the world. To go in and wander from stack to stack, take down some books, read a little, leave with a big stack of things I'd never heard of when I came in. Now when I go to a bookstore, I get recognized within 10 minutes and then there's a crowd around me. So you gain a lot but you also lose things."
Image via Daily Express
However, Martin has had a couple of years to acclimate to a life of fame, and with the show ending he seems to have relaxed from the stress of keeping up with the series.
"I have good days and I have bad days and the stress is far less, although it's still there… I'm sure that when I finish A Dream of Spring you'll have to tether me to the Earth."
Featured image via Forbes