Dr. Mona Hanna-Attisha's groundbreaking What The Eyes Don't See: A Story of Crisis, Resistance, and Hope in an American City has been selected as this year's "Great Michigan Read."
Image Via 

Oakland University
Dr. Mona Hanna-Attisha, a pediatrician and public health expert, played an integral role in exposing the Flint Michigan Water Crisis nearly four years ago in 2014.
After the crisis, Dr. Mona was "[n]amed one of Time magazine's 100 Most Influential People in the World in 2016," but many were still left wondering why this crisis had happened in the first place and how it got so bad.
Image Via Society of Environmental Journalists.org
That's the question this book sets out to answer. Published on June 19, 2018, What The Eyes Don't See: A Story of Crisis, Resistance, and Hope in an American City—written with the help of a team of researchers, parents, friends, and community leaders—delves into the ins and out of why this crisis even occurred in the first place and how hard it was to expose it. The book's description informs not only of the work's contents, but also of its significance:
Here is the inspiring story of how Dr. Mona Hanna-Attisha, alongside a team of researchers, parents, friends, and community leaders, discovered that the children of Flint, Michigan, were being exposed to lead in their tap water—and then battled her own government and a brutal backlash to expose that truth to the world. Paced like a scientific thriller, What the Eyes Don't See reveals how misguided austerity policies, broken democracy, and callous bureaucratic indifference placed an entire city at risk. And at the center of the story is Dr. Mona herself—an immigrant, doctor, scientist, and mother whose family's activist roots inspired her pursuit of justice.

What the Eyes Don't See is a riveting account of a shameful disaster that became a tale of hope, the story of a city on the ropes that came together to fight for justice, self-determination, and the right to build a better world for their—and all of our—children.
Image Via 

Publicity – Michigan Humanities CounciL
Thankfully, this book is now getting the recognition it deserves.
US News quotes Michigan Humanities CEO Shelly Hendrick Kasprzycki as saying she hopes the "book will increase opportunities for civil discourse in our state."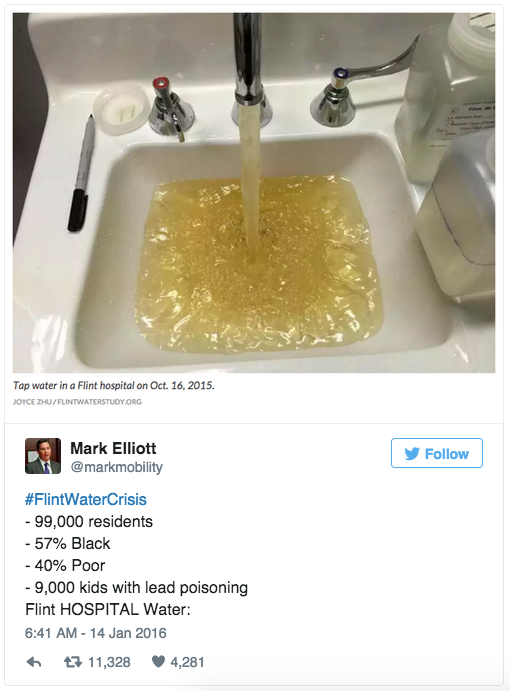 Image Via HuffPost
In the mean time, the crisis still continues. If you wish to donate, click here.
Featured Image Via Access