Tom Felton, the actor who plays Draco Malfoy in the Potter movies, signed up for a Wizarding Passport as part of #HarryPotterAtHome, a collection that is a part of the Wizarding World website. This collection provides fun activities and chapters read by Potter stars and other famous actors to entertain during the Covid-19 pandemic 
If you know anything about Harry Potter, you know everything about Draco Malfoy. Malfoy is Harry's peer nemesis throughout the series, and is no doubt a Slytherin. From calling his classmates terrible names, to even becoming a death eater – but mostly because of his hatred towards Harry Potter.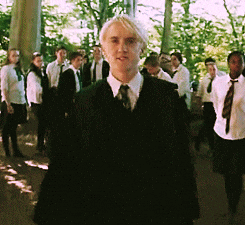 image via Giphy
That is why it is so hard to see Tom Felton as anything but a Slytherin for his outstanding portrayal of Draco Malfoy. Yet, Tom recently took the sorting quiz on the Wizarding World (previously known as Pottermore) website, and was sorted into Hufflepuff!
https://www.instagram.com/p/B_2CVWTAg6Q/?utm_source=ig_web_copy_link
I know, we are all shocked. And apparently, Tom Felton is too, commenting, "A sad day, on so many levels #harrypotterathome" 
Evanna Lynch, the actress who plays Luna Lovegood commented, "ok but it is so sweet that you put Draco Malfoy as your passport name!!" 
Felton may think of himself as a Slytherin, but as we look at interviews and even his Instagram, we see the Hufflepuff vibes loud and clear. 
https://www.instagram.com/p/B-Bls8RAE6h/?utm_source=ig_web_copy_link
I mean homemade soup and HP themed gloves. The cozy aesthetic screams Hufflepuff.
The Hufflepuff house has been highly underrated through the years, Draco Malfoy even says in the beginning of the series, "IMAGINE BEING IN HUFFLEPUFF, I THINK I'D LEAVE, WOULDN'T YOU?"
With the Hufflepuff house often being the butt of most Harry Potter jokes, it is worth noting that this house holds so much love and value. They are the glue that holds the Wizarding World together, with a passion for friends and loyalty that we all should aspire to.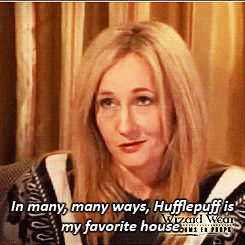 image via Giphy
We may have been shocked at first that the actor who played Malfoy is a Hufflepuff, but let's be honest, we are more excited for him to give the house some well-needed representation!
featured image via wizarding world.com