Entertainment Weekly has just released an article granting us what we have been wishing for: more about the new Aladdin movie!
Originally, Aladdin was an animated film from Disney, based on the Arabic folktale of the same name from the Arabic book One Thousand and One Nights (a.k.a Arabian Nights). One Thousand and One Nights is a compilation of several Arabian folktales.
The 1992 Disney adaptation was a huge hit, and director Guy Ritchie is hoping to do the same for the live-action edition! He's hit a few roadblocks on the way to achieving his wish though.
The Entertainment Weekly article revealed the behind-the-scenes struggles director Guy Ritchie had when putting together parts of the film.
The first being how he'll handle the role of the fan-favorite Genie.
After the passing of one of the most beloved actors Robin Williams, it was the question on everyone's mind when the live-action remake was announced.
Image via Comicbook.com
Who could possibly replace Robin Williams?!
Personally, I don't think anyone can "replace" Williams, no matter how amazing they are, but Ritchie's dilemma is definitely a head scratcher. I'm glad to see that he approached the situation with care.
"The great thing about the role of the Genie is that it's essentially a hyperbole for who that individual actor is, so it's a wonderful platform and tapestry for an actor to fill his boots on," Ritchie says.
In the end, the actor who was given the iconic role was Will Smith, who had this to say about approaching the role himself. He told Entertainment Weekly:
Whenever you're doing things that are iconic, it's always terrifyingThe question is always: Where was there meat left on the bone? Robin didn't leave a lot of meat on the bone with the character.

I started to feel confident that I could deliver something that was an homage to Robin Williams but was musically different. Just the flavor of the character would be different enough and unique enough that it would be in a different lane, versus trying to compete.
Image Via EW
I think that's fair, make it your own Will! I look forward to seeing it!
According to the interview, "the final version of Will Smith's Genie in his blue floating lamp form isn't quite finished" so we still have to wait and see it all. So far this is what we have to look forward to.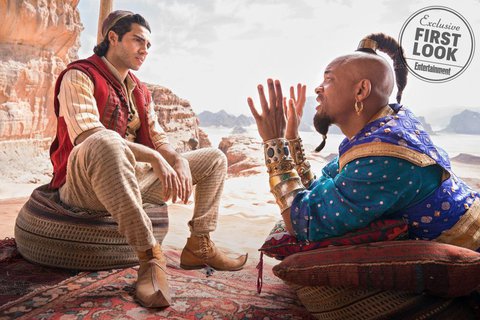 Image via Entertainment Weekly
The second aspect of the film director Ritchie struggled with was choosing the actors to play the main roles of the pure-hearted dreamer Aladdin, and the bold and strong-willed Princess Jasmine.
Image via ms.fanpop.com
It took Ritchie six months to find the right two people for the roles! After hundreds of auditions, the lucky two chosen are Canadian actor Mena Massoud to play Aladdin, and actress Naomi Scott.
Image via Twitter
So far Massoud is on his way to learning the choreography and dancing, but he is building a very good brotherly relationship with Smith, which is perfect for playing the roles of Aladdin and Genie together!
Ritchie calls him "quite a funny lad" and says the actor quickly bonded with Smith off screen, as the duo captured the brotherly back-and forth that Aladdin and Genie share. "What was nice about Will was that the more I got to know him and the more I spent time with him, the stronger naturally our relationships became with our characters," Massoud explains.
Image via Hollywood Reporter
For Scott, this is a twenty-five-year long dream come true.
[She was] instantly drawn as a child to 1992's dark-eyed, dark-haired, olive-skinned Jasmine. "Having a Disney princess that looked something like me, I think was really powerful," says Scott. Stepping into the role more than 25 years later, she says she was excited to spin her own twist on a Disney princess
Image via Comic Thrill
So far the three main roles look like they are in great hands!
Here are all three of them on the cover of Entertainment Weekly.
Image via Entertainment Weekly
Lastly, Guy Ritchie also encountered difficulty "finding" the fictional Kingdom of Agrabah.
Apparently, the team was thinking of filming in Morroco, but after some thought it was decided that it "didn't just have to be Moroccan,' production designer Gemma Jackson tells EW. Jackson and her team instead built a set"
Jackson drew inspiration from Moroccan, Persian, and Turkish cultures, Victorian paintings, and Iznik ceramics to conjure the setting. Ritchie was also assisted by "an army of cultural advisers" on set, adding that the film, while steeped in this Arabian world, is what he calls "principally a human challenge rather than an ethnic one."
Here are a couple of pictures revealing a little of what the Kingdom will look like, and the extras that were brought in to represent the people of Agrabah!
Image via Entertainment Weekly
Image via Entertainment Weekly
If you want to see more of Entertainment Weekly's first look at the new Aladdin live-action film, read the article! There's even more juicy details to excite!
Featured Image via Entertainment Weekly