Yomi Adegoke posted on Twitter that BBC Sport had ripped off the slogan Slay in Your Lane, from the title of a book she and Elizabeth Uviebinené wrote in 2018.
Image Via Amazon
Published in July 2018, Slay In Your Lane: The Black Girl Bible is described as an "inspirational guide to life for a generation of black British women".
On Tuesday, Yomi Adegoke, who co-authored the book, shared a picture on Twitter of a BBC "Change the Game" campaign billboard.
Imagine being a white woman creating an 'eMpOwErInG WoMeNs' ad campaign for @BBCSport, and choosing to rip off the *TRADEMARKED* name of a book specifically aimed at uplifting black women (in an almost identical font 🙃) pic.twitter.com/nojQRMX1Bq

— Yomi Adegoke (@yomiadegoke) May 28, 2019
The sprinter is Dina Asher-Smith, who famously made history in 2018 European Championships when she was crowned women's 100m champion, a fete which got her to be named women's European Athlete of the Year in October.
Asher-Smith isn't the problem here; the problem is with the slogan Slay In Your Lane written behind her in a bold font.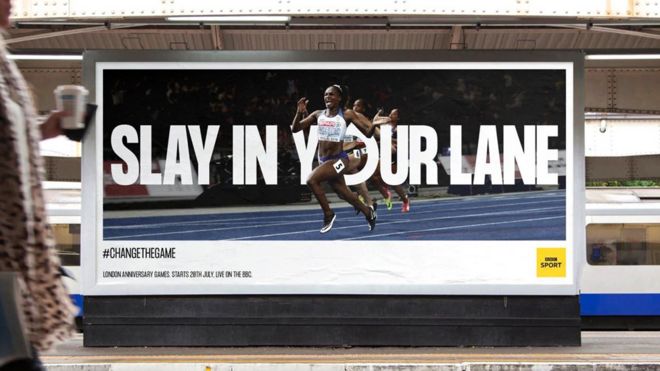 Image Via BBC
Not only is the slogan the same title as the book, but the font is the exact same. Is this a coincidence? Perhaps, but Adegoke pointed out to CNN that "…our work comes up immediately when you search the term. Fronting it with a prominent black British woman made it feel all the more intentional, given the content of our book."
This controversy is exceptionally disheartening given that UK Intellectual Property Office's website confirms that the title of the book is trademarked, Adegoke contacted the BBC beforehand after being altered by the add a week ago. Reportedly, "BBC Sport did not reply when
contacted multiple times about the issue over the past few days".
Image Via
Stylist
It took a week before Adegoke tweeted not just to give BBC time, but because,"I hate public spectacles, they make me anxious".
In response BBC Sport told CNN that they "…sought legal advice before going ahead and were advised that the use of the headline 'Slay In Your Lane' in our Women in Sport #ChangeTheGame marketing campaign was sufficiently far removed from the goods and services covered by the trademark registration in place."
The very next day a BBC spokesperson told The Independent "that the posters which feature the 'Slay In Your Lane' slogan are being taken down today, a decision which had already been planned.
Featured Image Via Melan Magazine