The news has broken: Carrie and Me: A Mother-Daughter Love Story by comedy royalty Carol Burnett (Annie's Miss Hannigan, anyone?) is getting a film adaption.
At the age of twenty-six, Carol Burnett had earned a Tony Award nomination for her role in Once Upon a Mattress and secured a co-hosting spot on The Garry Moore Show but eight years later in 1967, she made history with The Carol Burnett Show. A sketch comedy show, it ran on CBS from September 11th 1967, to March 29th 1978 and, according to Vanity Fair, "won twenty-five Primetime Emmy Awards during its run."
The Parade called the first woman of comedy and with good reason. Again from Vanity Fair, Carol Burnett herself has "won six statuettes from the TV Academy and five Golden Globes" and "…also received the Lifetime Achievement Award from the Screen Actors Guild in 2015, as well as a Presidential Medal of Freedom in 2005".
Image Via Image Toob
This would be amazing on its own, but during this time Carol Burnett was also a mother raising three young children, the oldest of which was Carrie Hamilton.
Born December 5th 1963, Carrie Hamilton was an actress, singer, and playwright. Simon and Schuster recalls her as "[winning] the hearts of everyone she met with her kindness, her quirky humor, and her unconventional approach to life." Unfortunately, she lost her life at the age of thirty-eight in 2002 after a lengthy battle with cancer.
On April 9th 2013, Carrie and Me: A Mother-Daughter Love Story hit the shelves. On each and every page Carol Burnett had poured her heart out, talking about her relationship with her eldest daughter and their struggles. From Carrie's drug addiction she kicked at 15 to her battle with cancer as an adult, it's all there. The New York Journal of Books summed it up in their review with this: "…Ms. Burnett does something brave and tackles the complicated love story between mother and child head on, forthrightly dealing with the issues that arose to threaten the easy flow of both communication and love…"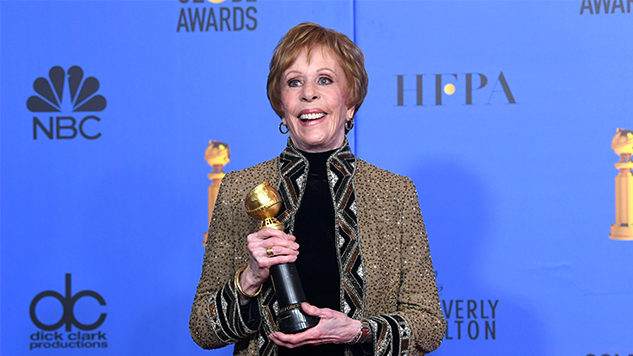 Image Via Paste Magazine
Now Deadline Hollywood has revealed that brothers Ian and Eshom Nelms are taking on this story about family relationships. In case you didn't know, these are the same brothers who adapted the memoir Waffle Street and wrote Small Town Crime. Focus Features will serve as the distribution company for this adaptation, adding it to their extensive catalog which includes Eternal Sunshine of the Spotless Mind, and guess whose producing the film?
Little Stranger. Know who's in charge of this production company? Eric Gurian, and I, Tonya screenwriter Steven Rogers, and actress Tina Fey.
Image Via The Daily Beast
Tina Fey might just be the best fit for this work. Vulture notes that "Fey is a longtime fan of Burnett, calling her love for the pioneering comedian "just shy of creepy" when Burnett was awarded the Mark Twain Prize back in 2013. Alongside Amy Poehler, Fey also presented Burnett with the Lifetime Achievement Award at the SAG Awards in 2016, where they wrapped up their introduction  by saying, "The point is, Carol is better than all of us. We're gonna give her a prize for it'."
Don't know about you, but this heart wrenching story might have the best person in charge of telling Carol Burnett's and Carrie Hamilton's story in the works. Until the movie comes out we can never be sure, but here's hoping!
Image Via MeTV
Featured Image Via The AV Club