A lack of diversity is hardly the main criticism levelled against Twilight, a controversial yet highly popular vampire franchise of the mid-2000s. Allegations of relationship abuse and sexism are far more prominent—and, if sexism weren't prevalent in the novel, it certainly pervaded the series' filming. Right before filming, execs famously told director Catherine Hardwicke that she needed to cut $15 million from the budget, or they would pull the plug despite the overwhelming international success of the source material. She was hopeful that, once Summit saw the number of stunts and set pieces she would have to remove, the studio would understand that these cuts were impossible. Instead, they told her, "great."
The film that "would be interesting, at most, to 400 girls in Salt Lake City" grossed $393 million.
Evidently, Summit considered Twilight low-priority because of its predominantly female audience, a somewhat baffling outlook, given that the novels have sold over 100 million copies. But the studio seemed to downplay the interests and investments of women—especially Catherine Hardwicke.
In a recent interview with The Daily Beast, Hardwicke revealed that she wanted the film to feature a more diverse cast. In her imagination, all the vampires had different skin tones; Alice, in particular, Hardwicke imagined as Japanese. Meyer disagreed. "She could not accept the Cullens to be more diverse," Hardwicke imagined, "because she had really seen them in her mind, she knew who each character was representing in a way, a personal friend or a relative or something. She said, 'I wrote that they had this pale, glistening skin!'"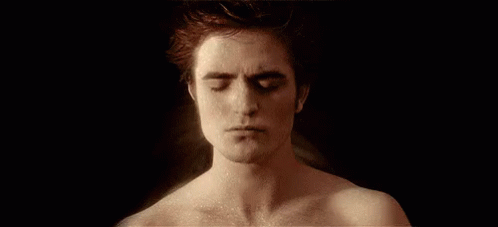 Gif Via Tenor
(Does naturally glistening skin mean the Cullens are always sweaty? Where are our answers, Steph???)
Hardwicke was able to convince Meyer that Laurent, one of the antagonists, could be a person of color. In the novels, Meyer described his skin as "olive" in complexion, which gave Hardwicke some leeway in the casting. Eventually, Meyer became open to the idea of Bella's high school friends being more diverse, hence Christian Serrantos and Justin Chon's casting. But the vampires were off-limits.
Many feel that Twilight isn't a film—or a story—in which diversity is an issue, largely because of the large Native American presence in the story. (Although it's worth noting that Taylor Lautner's claims of 'very distant' Native heritage are dubious at best… and, supposedly, were conveniently discovered only after his casting.) Casual fans and trained academics have pointed out the racism in Meyer's portrayal of the Quileute: specifically, that Meyer relies heavily on stereotypes in their depiction. Characters fit into 'noble savage,' 'bloodthirsty warrior,' and 'stoic elder' archetypes. By associating a Native American tribe with werewolves, creatures associated primarily with violence and aggression, the narrative presents negative stereotypes. While anyone can become a vampire, only Quileutes can be werewolves, inherently associating this trait with racial & ethnic characteristics. The gulf between werewolves and vampires deepens: these white vampires develop supernatural abilities which make them more individual. When Quileutes become werewolves, their individuality ceases. They share a pack 'hive mind' and get matching tribal tattoos, reducing them to a homogenous group as is the case with racial stereotyping.
Image Via Business Insider
It's also worth noting that the film conspicuously sexualizes the Quileute werewolves—to the point that even Edward asks, "doesn't he own a shirt?" Then there's the matter of the tattoo: while the Quileute people don't have a 'werewolf tattoo,' the tribe reports that they were not consulted regarding the use of tribal imagery. Since the film's release, many a horny white girl has gotten Jacob's tattoo in a classic example of cultural appropriation. No, the Quileute people are not werewolves. But the tribe itself is very real—as have been the consequences of Meyer's writing.
In associating her werewolf mythology with a real tribe, Meyer put the Quileute people in the compromising position of having their land and traditions disrespected by Twilight fans. In 2010, an MSN film crew disrupted the graves of Quileute elders while filming without permission on the reservation. When filming in Forks, WA, of course, the crew had the decency to ask the Chamber of Commerce. The Quileute Nation also says that they were never consulted for merchandising rights of their cultural artefacts and have seen little profit from the souvenir shops selling Quileute-inspired goods.
No one is saying that you can't enjoy Twilight. But perhaps you shouldn't without at least being aware of the racial bias within the narrative and the broader consequences of Meyer's imaginings.
Featured Image Via The Quiz.