Captain America lives on! Malcolm Spellman, the creator and head writer of the Disney+ series The Falcon and the Winter Soldier, is reportedly developing a fourth Captain America film for Marvel. Spellman will also be writing the script along with Dalan Musson, who served as a staff writer on the hit show.
While no official casting news has been announced, the April 23rd finale of the series seems to hint at where the road will go from here. SPOILER ALERT… Anthony Mackie's Sam Wilson was seen finally picking up the shield and embracing the Captain America legacy Steve Rogers entrusted to him at the end of Avengers: Endgame.
It seems likely that any future Captain America project will now follow Sam Wilson, formerly known as The Falcon, whether that be in a film or a second season of The Falcon and the Winter Soldier. However, rumors have been swirling around the possibility of Chris Evans returning to the MCU, but this nor which project could see his alleged return has been confirmed. Up until this point, Evans starred as Captain America in the MCU appearing in three solo films, five Avengers films, and a few cameos sprinkled throughout.
One can only hope that if Anthony Mackie stars as Captain America in the next phase of the MCU that he is accompanied by his The Falcon and the Winter Soldier co-star, Sebastian Stan aka Bucky Barnes. The rapport between the two characters was a success amongst fans and critics alike, so who would object to more Sam/Bucky banter in the future?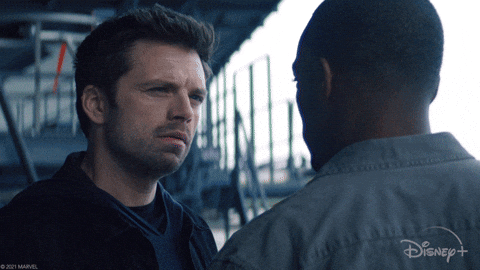 feature image via TV Insider