The many plots twists of Game of Thrones eighth and final season left audiences, well, filled with emotions.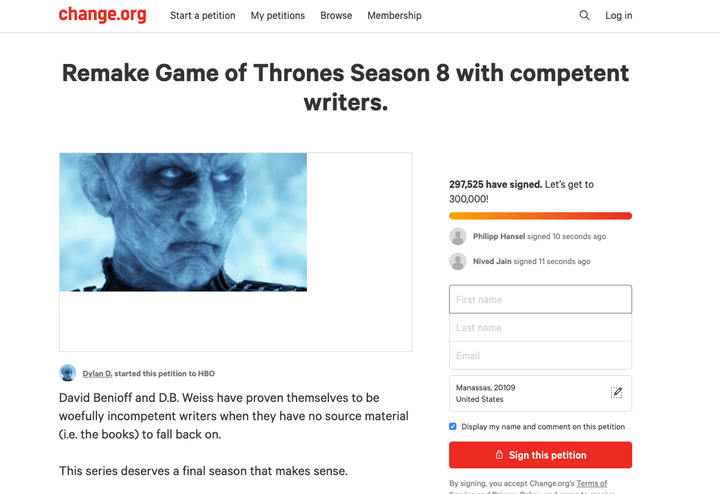 Image Via Huff Post
Many fans of the show, book lovers or not, were angry with how their favorite characters went and how they ended up. It turns out that not a whole lot of the actors were happy either, and the list has been ever-growing since the show's conclusion.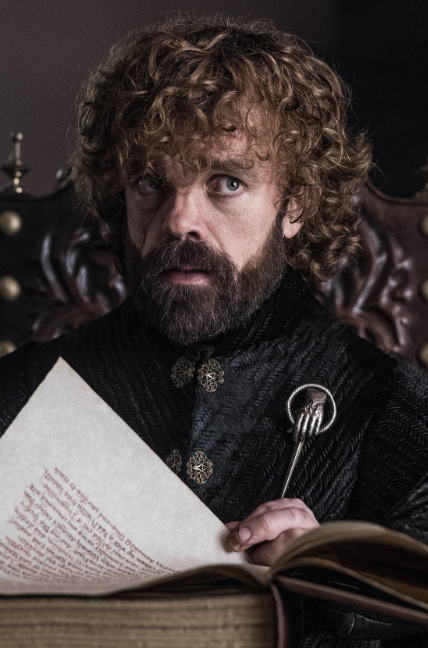 Image Via Game of Thrones Wiki – Fandom
From a crafty man with all the answers, Tyrion seems to have suffered some sort of off-screen head injury. What's my proof? Well, look at what Peter Dinklage has to say about eighteen minutes into this video…
We're in a crypt. Nobody thought of that. [The Night is] bringing all the dead people back to life and they've put the women and the children in crypt with all the dead people so…Tyrion is smart, but I guess not that smart"

While he hasn't come out against his decision against what happened to his character, this quote is a hint of how he truly feels. That, and we have this from 2018 before the final season had aired.
https://twitter.com/Cindtrillella/status/1128907443952660480
Image Via Polygon
Varys went from The Spider who conspired in the darkness to a man who spoke openly on a crowded beach side about how he was conspiring against the Queen, a a decision left actor Conleth Hill telling The Independent that:
That's been my feeling the last couple seasons, that my character became more peripheral, that they concentrated on others more. That's fine. It's the nature of a multi-character show…It was kind of frustrating. As a whole it's been overwhelmingly positive and brilliant but I suppose the last couple seasons weren't my favourite. It just felt like after season six, I kind of dropped off the edge.
Image Via Polygon
Image Via Inverse
Queen Daenerys did a complete 180 from wanting to break the chains of the slaves to burning civilians alive because, the bells reminded her about her past…?
Image Via The National
Image Via Forbes
Emilia Clarke describing the season is, well, telling.
https://www.youtube.com/watch?v=6oFe144fmfo
Plus, we have this fun compilation:
But here at Bookstr we've been stuck in a quandary: Ever since Jaime Lannister abandoned Brienne of Tarah so he can return to his sister/lover Cersei because, well, we're not entirely 'why' but he 'does' but either way…what do the actors think of this 'choice'?
Image Via Metro.Co.uk
It fell upon Gwendoline Christie and Nikolaj Coster-Waldau to not only read this scene, but also to portray it. Nikolaj told Vanity Fair his rationalization for this scene with this:
Most people have moments in their life where you go, 'Can I really, fundamentally change?' . . . The core of him has always been Cersei. . . . When that's taken away, what are you then? What's left? Is there anything left? When he leaves [King's Landing at the end of Season 7], obviously he has no idea. He doesn't know the answer to that question
Okay. Well, what does Gwendoline Christie think of this scene?
Metro.co.uk
Gwendoline Christie told Deadline that after reading the scene:
…I realized I had moved into that space where I feel deeply, deeply protective of this character
So can we add Gwendoline Christie to the list of actors disappointed by the way Game of Thrones ended? Not quite. Christie is an actor first and foremost, and thus instead of fuming at the direction of plot, focused on her character and how, as an actor, "it meant getting to use some real acting muscles".
Disregarding the plot, Christie does have a point when it comes discussing her character:
I did feel angry for the character in that moment, but what was brilliant is that she goes straight back to work, and ultimately, she supersedes her ambition
When viewed as a whole, Brienne of Tarth not only makes it out of the Game of Thrones, but she actually ends up being one of the characters better off. After all, Brienne is more than her relationship to Jamie. Her story is about a woman disrespected and hated by her peers who, through her own sheer will and ambition, becomes something more than anyone could ever dream of.
She wanted to be a member of Renly's Kingsguard, and in the end she becomes Lord Commander of Bran's Kingsguard. She's in charge…It's all about her skill as a knight. Her abilities, her intelligence. I felt, by the end, like she'd stepped into her own power.

With this in mind, it's a no-brainier that when HBO didn't submit Christie for an Emmy nomination, Christie took a Que from her character and submitted herself for an Emmy nomination as a "testament" to Brienne.

If this a case of reality reflecting art, or art reflecting reality? Either way, we hope she gets the nomination and, down the line, the win.
Featured Image Via HBO.com