If you're like me, and the only place better than a library, or bookstore is a movie theater, then you would completely lose control of social etiquette and squeal like an owl in heat if one of your favorite characters decided to serve you popcorn. Well, that's exactly what happened to the citizens of Jersey Saturday night when Brie Larson surprised her fans at the AMC Clifton Commons 16 in Clifton. A committee of squealing owls was lucky enough to have their opening weekend Captain Marvel experience enhanced by the woman in red, yellow and blue herself. Not only did Ms. Larson make an appearance, but she full on embraced the role of moviegoer and then employee?
Insider spoke with Susana Moimenta, a woman who took her little cousins to the event:
"It was completely surreal to see her at the concession stand. We weren't expecting it at all," Moimenta told Insider over Instagram. "We heard another moviegoer say Brie Larson is here and thought they were joking." "I am so so grateful that we got to meet her. My little cousins are HUGE Marvel fans and to have them actually meet one of their heroes in incredible. Brie Larson did a tremendous job," Moimenta added of getting a chance to see Larson. "[I'm] so overjoyed that my family gets to grow up with role models and representation of strong women on screen."
The endearing thing about the Marvel Cinematic Universe is the community of celebrities, creatives and fans it has accumulated. I went to a screening Saturday myself and thoroughly enjoyed the movie- one because Marvel has perfected a winning formula, two, a character has finally gone super saiyan in mainstream cinema and three, because of simple things that outlined the night. More than the plot or overall message of the film, I'll remember the young girl three rows back and her loud  "oooohhhhhhh shoot" reaction to a line in the movie spoken by the character Maria- "I'm going to put my foot…" It was the only reaction in a theater full of people to that line, and everyone heard it. What followed was an outburst of laughter all around me, not at the movie but at the young girl's amusement with a certain character's gumption. When the credits began to roll, I, with a handful of other people, took a well-deserved bathroom break before returning to a still full theater. The mid-credit and end credit scenes have had that big an impact on the movie-going experience.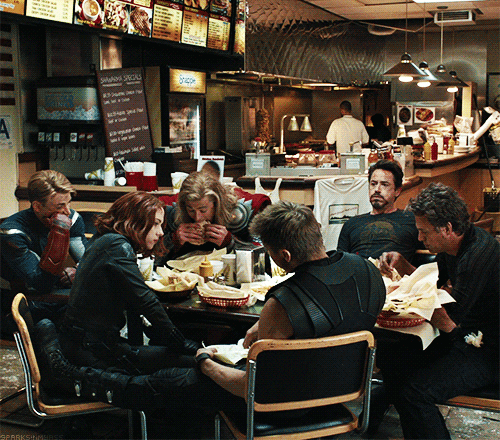 Image Via Giphy.com
I don't think anyone thought that Iron Man in 2008 would be the beginning of an entire cinematic universe that would have such an effect on so many people. Multiple movies helping further the battle against issues like representation and totalitarianism while maintaining the simplistic appeal of valour and heartfelt dedication to one's moral compass. Brie Larson is clearly embracing the love and excitement that surround these type of films while gracefully settling into her new position of superhero. If Saturday was any indication, one of the most important things Brie Larson and the Marvel Cinematic Universe has taught us is to do two things in life—-be nice, humble and have fun.
Captain Marvel had a record-breaking weekend, making $455 million at the global box office. The sixth highest grossing movie of all time (internationally).
P.S. That opening Stan Lee montage and subsequent cameo were charming and well done.
Image Via Yahoo.com
R.I.P. Master Lee. You showed the world that there's a hero in all of us. 
Images Via Instagram.com