Summer Blockbusters are around the corner! Whether it's for an upcoming film or one that's already been out, forget about Summer eating, we'll be Summer drinking. Enjoy another round of our booze-book pairings!
1. Shazam! – Electricity Vodka
Images via Amazon & Mental Floss
Charge up for the fun, action-packed story of Shazam! with shots of Electricity vodka!
Include a drinking game for the comic and/or movie with all your friends, superhero or not (Psst, take a shot every time Billy says, "Shazam!"). Fun tip: pair with greasy food, without the carbs to weigh you down!
Adaptation Aired: April 5th
2. Pet Sematery – Goodbye Kitty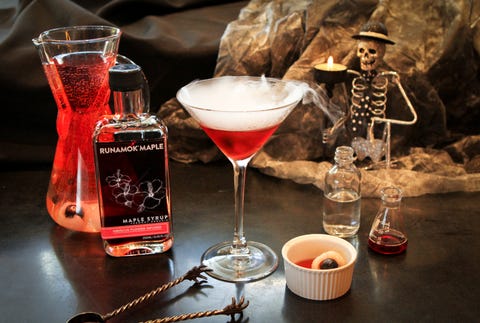 Image via cosmopolitan
Ingredients: 1 oz. Runamok Maple's Hibiscus Flower-Infused maple syrup, 2 oz. vodka, 1 oz. limoncello.
Haunted forests, tribal rituals, evil, zombie-like children and cats, you'll be wanting to say "goodbye Kitty" in this classic Stephen King thriller. Learn from this cautionary tale to not bring things back from the dead, but always bring your drink back for seconds.
Adaptation Aired: April 5th
Images via Amazon & The Spruce Eats
Ingredients: 2 ounces ​Guinness Draught, 1 ounce Bacardi Oakheart Spiced Rum, 1/2 ounce ​dark crème de cacao liqueur, 1/2 ounce ​chocolate syrup, 1/2 ounce ​Monin Salted Caramel Syrup, 2 scoops ​vanilla ice cream, Garnish: ​whipped cream, caramel and chocolate syrups, bacon crumbles
Let's travel back to the 50s and shake things up with this Civil Rights inspired story about de-segregation. With this story and mixed drink, you'll see the power and sweetness of mixing ebony with ivory!
Adaptation Aired: April 5th
Images via Amazon & Kitchen Magpie
Ingredients: 1.5 oz vodka, .75 oz blood orange liqueur, 1.5 oz orange juice, 1 splash lemon juice, 5 chopped berries your choice but I recommend raspberries and strawberries, 1 tsp sugar or 1/2 packet of splenda, 1/2 can lemon lime soda like Sprite, 1 sprinkle chocolate shavings for garnish
There's nothing quite like teen romance. Sometimes it's sweet, sometimes it's bitter, and Anna Todd's novel illustrates that perfectly. As much as the two lovers had against each other, the love still continues. Let cupid's arrow hit you with this sweet and bubbly drink as you find out whether or not what type of love story this is in the end.
Adaptation Aired: April 12th
5. Aftermath – Cinnamon Schnapps and Apple Cider
Ingredients: Cinnamon Schnapps, Apple Cider
Two worlds collide in this post-World War II novel, and this sweet and spicy drink. Fuelled with rich history and heavy drama, drink on as two families, one German, the other British, find a way to live together in harmony. Hopefully the cinnamon and apple combined drink will bring you harmony as you go through this emotional tale of war.
Adaptation Air Date: April 26th
6. Avengers: Endgame – Captain America Jello Shots
Images via Pinterest
Ingredients: 1 6-oz package strawberry Jell-O, blueberry vodka, 1 14-oz can sweetened condensed milk, 2 envelopes unflavored gelatin, 1 6-oz package berry blue Jell-O, whipped cream, sprinkles
Share jello shots with all your MCU and comic book friends in hopes that everyone's favorite Captain doesn't kick the bucket. You can even make one for your favorite character in hopes that they won't get killed off either!
Adaptation Airs: April 26th
Images via Amazon & Craft Gin Club
Ingredients: 45ml gin, 150ml grapefruit juice, 1/4 tsp salt
The sequel to A Dog's Purpose, this follows the dog Bailey in his search to find his beloved owner…again. That dog must be salty at this point. From reincarnation to another though, nothing will stop Bailey from following his heart and reuniting with his family. A sweet and salty drink for a sweet and salty dog.
Adaptation Airs: May 17th
Images via Amazon & Mix That Drink
Ingredients: 1 ounce absinthe, 1 ounce water, juice of 1 lemon, 2 teaspoons of egg white, 1 dash Angostura bitters
Enter the fantasy world within Eoin Colfer's imagination, and like Artemis steal yourself a fairy. Though you probably won't be finding as much of a crazy adventure, unless you drink passed your limits.
Adaptation Airs: August 9th
9. Scary Stories To Tell In The Dark – Ghoulish Gingerale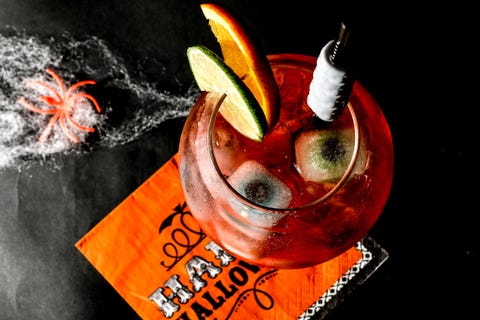 Images via Amazon & Cosmopolitan
Ingredients: ice, 4 oz. ginger ale, 2 oz. gin, 2-3 dashes cranberry bitters, 1oz. grenadine
Created by Trisha Antonsen, chief cocktail officer at Drizly.com.
A drink as freaky as the creatures from the original book, this will surely put you in a ghoulish mood.
Adaptation Airs: August 9th
Happy drinking, friends!
Featured Image via Scram Systems