It's Thirsty Thursday, and Bookstr is bringing you Booze & Books, our newest weekly feature dedicated to drinking games and booze-book pairings. Since this week is in honor of the Game of Thrones TV show, we've got one major recommendation: a shitload of booze. This post is dark and full of spoilers, so don't continue if you haven't gotten a chance to endure episode 3. The battle's lighting may be dim, but don't worry: we're about to get LIT.
Gif Via Hello Giggles
Listen, sometimes you have to just drink and know things. For instance, you KNOW that at least one of your faves is going to die by the end of Season 8… if they haven't already. (Pour one out for Lyanna Mormont.) And you KNOW that, if you drink for every on-screen death, you'll be as dead as George R. R. Martin's characters. So, let's stick with the following rules and show a tad more temperance than Cersei, shall we? Read up & drink up, keeping in mind that many of these rules are based upon popular online theories of things that could happen to our protagonists (let's not call them all heroes). By the end of this list, these pages won't be the only thing turnt.
Remember: drink responsibly and read voraciously!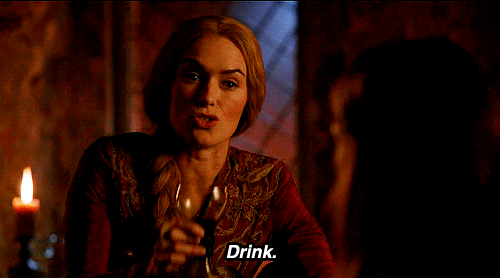 Gif Via Giphy
TAKE A DRINK IF…
There is further tension between Dany and Sansa
Dany wins the majority of the credit for defeating the Night King (as it appears in the episode 4 trailer)
Jon and Dany are incredibly awkward around each other…
OR Jon and Dany full-on fight it out.
The Night King isn't dead; BRAN is the Night King
Or Bran is the Lord of Light?
Daenerys' dragons die.
Tyrion and Sansa remain married.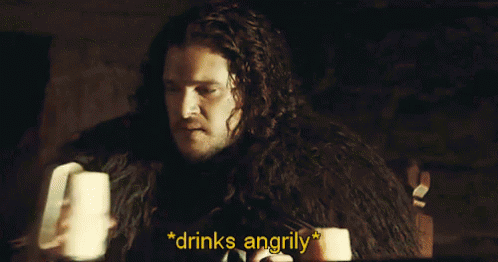 Gif Via Tenor
Finish Your Drink if…
Brienne and Jaime end up in a relationship
Gendry is killed when Dany discovers his claim to the throne
Daenerys ends up the final villain
Jaime is the one to kill his sister-slash-ex-lover
ARYA is the one to kill Cersei (brown eyes, blue eyes, GREEN eyes, y'all)
Cersei dies giving birth to Jaime's child (which would still follow the valonqar prophecy)
ARYA USES JAIME'S FACE TO KILL CERSEI
Your favorite character dies (if anything happens to Sansa, there's not a drink in this world strong enough…)
Featured Image Via VinePair.