We reached out to businesses and scavenged the internet for the best bookish gifts for your favorite book nerd.
Here is Bookstr's Gift Guide 2019!
Image via Been There Done That
For the book nerd who's goal is to read every single classic novel, this will be the perfect way to organize that list. Think about all the bragging they'll do once they scratch off the entire list, the pure pride and joy on their face! Been There Done That has also come out with a frame that can go with any of the posters.
Regular Price: $49.90 (now on sale for $29.90!)
Why buy?
While there may be other products like this, this is more than just a bucket list of books. These books are iconic and essential for any lover of books. The level of interaction and entertainment you can find with this goes further than just the typical "read, scratch, and reveal" that so many others have. With Been There Done That's version you can also play the role of the reviewer and rate your reads with an assortment of stickers. On top of that, with the size of this one you can display your achievement of book reading to your guests—the ideal conversation-starter for a bookish get-together.
Image via Novel Teas
For tea drinkers, there's nothing better than sitting down with your favorite read beside your favorite drink. Get the best of both worlds with this combination of tasty teas and iconic classic book covers. Once you're done with the tea, the book-shaped tins are the perfect size for storing other items at home! That or you can simply store more tea in them. The company Novel Tea Tins also sells various flavors of loose tea leaves for your drinking pleasure.
Regular Price: $189.00
Why buy?
This is perfect for collectors, either of teas or books, and even more ideal for fans of puns! "War and Peach", "Pride and Peppermint", and "Oliver Lemon Twist" are just a few of the punny parody of book titles that this collection, and the entire line of teas available, offer. More than that, the teas themselves are blended by professional tea connoisseurs (yes, that is a thing) and taste amazing! Don't believe me, check out the reviews at the bottom of the product page.
Image via Philosophers Guild
For the social book nerd with a little party animal in them, or at the very least who are up for drinks every now and then, here is a collection that will keep the book party going!
Regular Price: $15.95
Why?
This collection of shot glasses celebrates six immortal literary figures who are as famous for their drinking as they are for their writing. The quality designs of these authors are also accompanied by memorable quotes about drinking. A great, novelty, and hilarious gift to give.
Image via Why So Ever
The insane fun of Cards Against Humanity meets the brilliant work of William Shakespeare. Have a blast with your book-loving friends with this hilarious adult card game!
Regular Price: $24.95
Why?
Willy just has a way with words and this game gives you the chance to use them in whatever contexts you can! Both fans of the legendary writer and non-fans alike can enjoy this game! There is really nothing else like it on the market, so jump on it now, and enjoy the fun!
Image via Bestself
You learn something new every day, but you also forget something every day. The conundrum has impacted us all. With this notepad/bookmark, you can combine learning with reading, and hold onto your page while you do it. Keep a SmartMark on hand, taking notes as you go, and place it in your book to hold your place.
Regular Price: $9.99
Why?
This is ideal for students or even writers. This little book to go in your book is perfect for holding onto ideas and your place in your current read. This is such an original and novel idea, keep a note of this for your next purchase.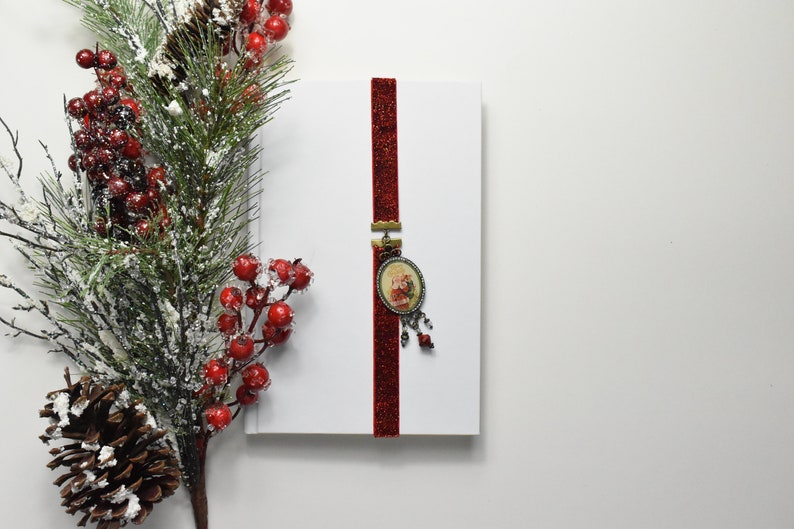 Image via Etsy
The Antique Santa Artmark is just one example of these beautifully designed bookmarks. Bookstr had the pleasure of meeting this independent Etsy shop's owner, Margaux Mich, earlier this year. These bookmarks are handcrafted by the master crafter herself, Margaux. A booklover herself, Margaux sought to resolve the problem that all of us have faced before—unreliable bookmarks. She has revolutionized reading with these wonderful creations, filled with style and character that are sure to charm any reader.
Get to know more about Margaux Mich and her incredibly successful Etsy shop in our Q&A.
Regular Price Range: $9.25-$19.00
Why?
Margaux's innovative design of utilizing elastic bands is the perfect way to hold your pages with no chance of the bookmark slipping out. There may be other bookmarks similar in design, but none as creatively and uniquely designed. Each one has such a unique character to it, so it's impossible to not find the perfect match for a friend in mind.
Image via Demeter
A trip to your favorite library or used bookstore. Sweet and lovely with just a touch of the musty smell of aged paper, Demeter's Paperback harnesses that scent with a sprinkling of violets and a dash of tasteful potpourri.
Regular Price Range: $3.40-$34.00
Why?
The perfect gift for Bibliophiles everywhere. There really is nothing greater than the smell of a book, it's relaxing and it brings us book readers tremendous joy and euphoria. Why not gift your favorite book nerd with something that will bring them that. After coming home from a long, hectic day in the real world, to be greeted by the wonderful scent of your favorite pastime and/or passion sounds perfect!
If you're unsure about any of these gifts, you could always go for a Kindle, Audible subscription, or even a gift card from their favorite bookstore! The promise of more books is sure to bring your book nerd the greatest joy this holiday season.
Image via Microsoft
Featured Images via Etsy, Microsoft, Why So Ever
Bookstr is community supported. If you enjoy Bookstr's articles, quizzes, graphics and videos, please join our Patreon to support our writers and creators or donate to our Paypal and help Bookstr to keep supporting the book loving community.
Become a Patron!