Who is this mysterious figure spotted on the Black Widow film set?
Image Via
LRMonline
To be clear, Black Widow isn't officially happening, in fact no Marvel Movie is 'officially' happening after Spider-Man: Far From Home, but given the abundance of rumors and even set photos we know that Black Widow is definitely happening.
scarlett has the cutest smile! look at her. #blackwidow pic.twitter.com/Cu6rdSA9uz

— romanoff (@scarlettjhssn) June 24, 2019
Scarlet Johansson was spotted on the set, which cued us in that the rumors were true and that a Black Widow prequel movie was in the works. With no official word, though, we're unsure of when this movie is taking place exactly (90s? early 2000s? After Captain America: Winter Soldier? After Avengers: Infinity War?), although Sebastian Stan, as per The Mary Sue,  "let it slip that the upcoming solo Black Widow movie would take place after the events of Captain America: Civil War."
Before we speculate, let's go through what we know for sure.
The movie, possibly and certainly Black Widow, is currently shooting the film across Europe, hence why we have all these images:
my favorite song: scarlett johansson's black widow movie is coming! my perfect queen! #blackwidow pic.twitter.com/uZcMuE58xz

— romanoff (@scarlettjhssn) June 24, 2019
SCARLETT'S STUNT DOUBLE FILMING A MOTORBIKE CHASE SCENE #BLACKWIDOW pic.twitter.com/CTs8FUUO0G

— ally ⧗ ︽✵︽ (@marvelxtina) June 22, 2019
natasha romanoff and yelena belova. they're really going to be the best duo ever. #blackwidow pic.twitter.com/Q6OnCKRsgO

— romanoff (@scarlettjhssn) June 22, 2019
In case you're wonder why who the person is behind Scarlet Johansen, here's a closer look:
https://twitter.com/nctaliaromanova/status/1142460413008683008
Still no idea? Me neither, but Gizmodo writes that this dummy crate labeled 'Yelena'….
black widow (2020) set photos pic.twitter.com/ckgiPk1tkc

— best of natasha & yelena (@natashayelena_) June 22, 2019
…might suggest that "Midsommar's Florence Pugh will play Yelena Belova, a fellow Red Room spy with ties to SHIELD and HYDRA who briefly took on the mantle of Black Widow herself."
That's awesome. Black Widow and a potential future Black Widow teaming up for a motorcycle chase? Count me in!
Image Via Me.Me
The most interesting images are from the newest ones, which are now circulating online:
Taskmaster?! #BlackWidow pic.twitter.com/SeGmustCMm

— Daniel Richtman #BlackLivesMatter (@DanielRPK) June 26, 2019
— Daniel Richtman #BlackLivesMatter (@DanielRPK) June 26, 2019
Is that a tank!? That's bloody awesome! Could Black Widow get on a motorcycle to get away from a tank?
Fans have been quick to ponder these awesome images with many theorizing this is none other than Taskmaster. In the comics Taskmaster is a supervillain/anti-hero who has been a training instructor by various criminal organizations. Considering that Black Widow was trained by to be assassin, as was briefly touched upon in Avengers: Age of Ultron and Agent Carter, Taskmaster appearing in this film would make sense.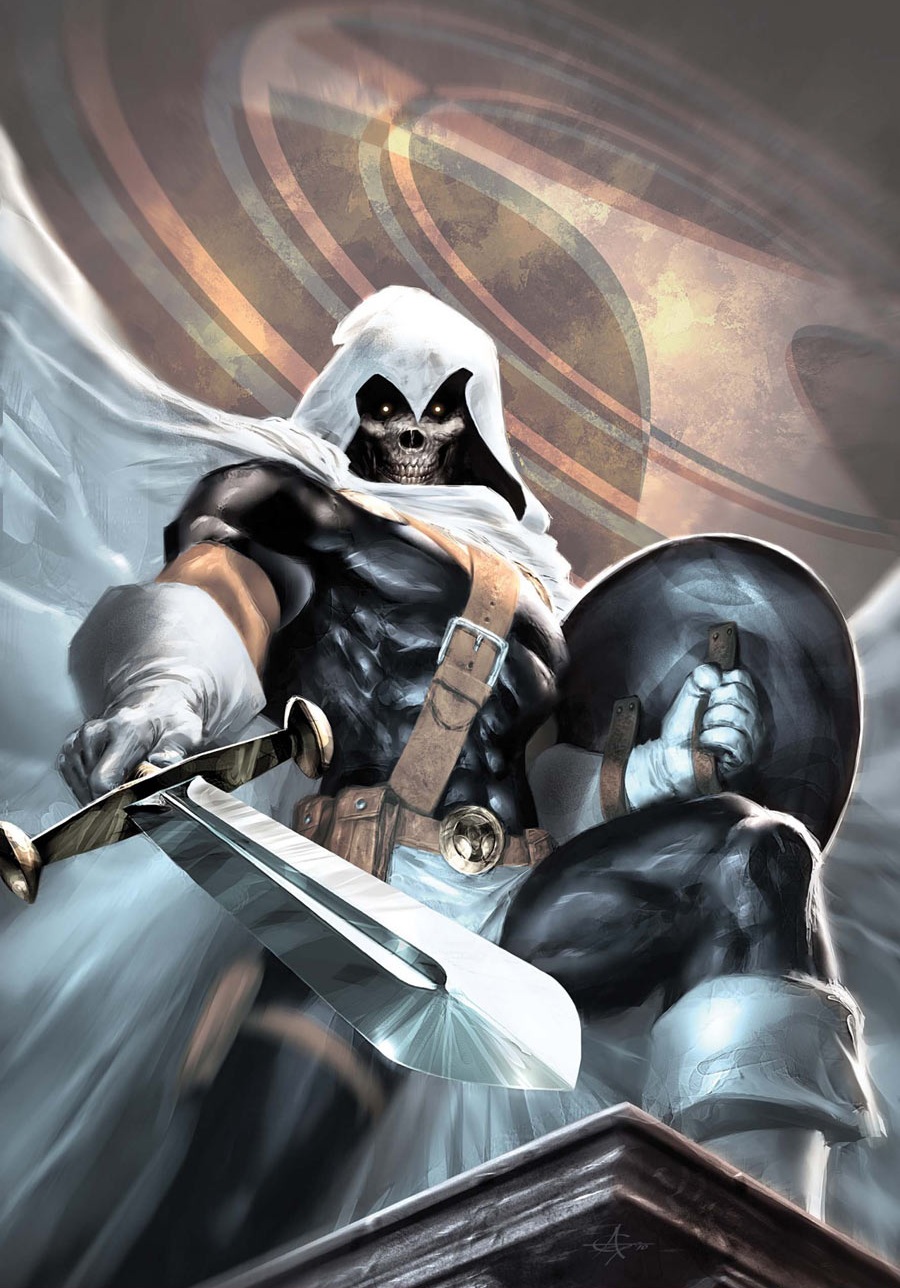 Image Via
Marvel Database – Fandom
However, the character in the set photos is without Taskmaster's infamous skull mask. Could this character still be Taskmaster even without the skull mask? Well, Baron Zemo from Captain America: Civil War was Baron Zemo even though he didn't have his comicboook counterpart's infamous purple sock/mask over his head.
Here's the comic version and the final product: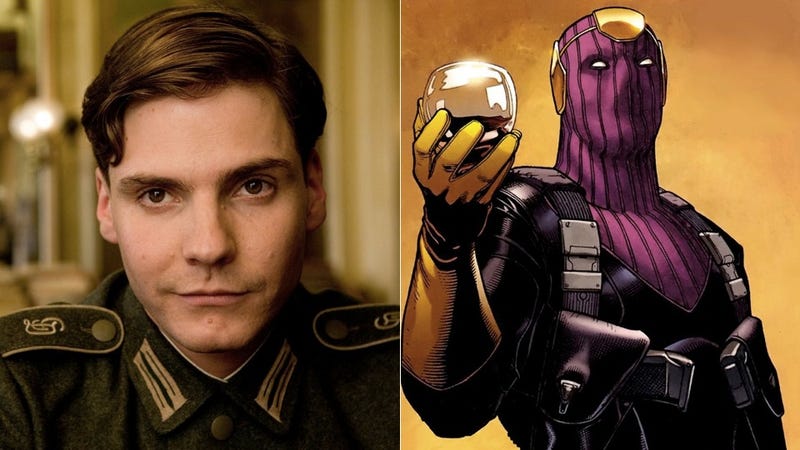 Image Via
io9 – Gizmodo
Here the concept art for Captain America: Civil War:
Image Via GeekTyrant
Here's the Arnim Zola in the comic:
Image Via
Universal Dork
Here's the concept art in Captain America: Winter Solider.
Images Via Slash Film
Here's the final product:
Image Via
Marvel Cinematic Universe Wiki – Fandom
With that up in the air, who could be the man inside this costume?
Anyone really, but Hollywood Reporter wrote that David Harbour, the newest Hellboy from the remake, would be joining the movie. So it could be him, or he could have a minor role in the movie, or his part could be cut entirely the way Katherine Langford's character of 'Teenage Morgan' was cut from Avengers: Endgame.
But what do you think?
Featured Image Via GeekTyrant