Both series fall under the genre of fantasy, but afterwards the similarities fall apart. They don't have similar themes, similar characters, the setting is vastly different. They are different as heaven and hell, cheese and gravy, pens and shotguns. But I want to step up and proudly announce, "Who gives a snap?"
I still want to compare and contrast them and the reptilian part of my brain wants to see them fight to the death.
Thus we introduce the American Tolkien and the Queen of Magic, George R. R. Martin and J. K. Rowling. One is the pirate-version of Tolkien, the other is an English woman who's got a magic wand in one hand and a magic pen in the other. One has finished their series, the other says he will. Well, take a break from writing Georgie because…
Ignoring the broader themes of Chuck Palahniuk's seminal work, Fight Club, we're going to do what we do best and have two people fight each other.
Since we can't talk about Fight Club (see rules one and two), we're going to write about it. Specifically, we're going to have two writers fight each other. Three rounds will determine their strength as we go through their impact on the world at large, their power of description, and their distinctive style.
It's the fight of the week, guys, because it's GEORGE R. R. MARTIN VS J. K. ROWLING!!
NOTE: For all these sections, we are only relying on the words from the books, not movies, not fan art, not pictures, and certainly not Tweets.
1-Impact and Influence
Image Via Variety
In case you live under a rock, Joanne Rowling is a British author, film producer, television producer, screenwriter, and philanthropist. Her Harry Potter series has won multiple awards and sold more than 500 million copies, and has become the best-selling book series in history.
The books became the basis of a popular film series, over which Rowling had overall approval on the scripts and was a producer on the final films.
She became the world's first billionaire author, but lost her status after giving away much of her earnings to charity but remains one of the wealthiest people in the world.
Time named her a runner-up for its 2007 Person of the Year, noting the social, moral, and political inspiration she has given her fans.
In October 2010, Rowling was named the "Most Influential Woman in Britain" by leading magazine editors and the 2016 Sunday Times Rich List estimated Rowling's fortune at £600 million, ranking her as the joint 197th richest person in the UK.
She's done other things, but those are the most important.
Image Via Indie Wire
Now George R. R. Martin is an American novelist and short story writer in the fantasy, horror, and science fiction genres as well as a screenwriter and television producer. Let's focus on his A Song of Ice and Fire series because, if we're being honest, that's the only thing we care about.
Like J. K. Rowling, his series was adapted, but this time it was a television series for HBO known as Game of Thrones. In 2005, Lev Grossman of Time called Martin "the American Tolkien," and in 2011, he was included on the annual Time 100 list of the most influential people in the world.
Each series is well-known, but which has more influence? For that, we'll have to talk about international markets.

Image Via Due
A Song of Ice and Fire was adapted for an HBO TV series, which the name of the first book for the name of its series. It's very grotesque. There's a lot of graphic violence and sex and nudity. From incest to rape to murder to torture, there's a lot of heavy stuff here.
And that hurts marketing.

Image Via MuggleNet
On the other hand, Harry Potter started out a middle grade series and then became a YA series. It's a book series, but it's also a film series, it's also a dozen or so video games, it's also two major theme parks, never mind the merchandise. It's primary audience is children and young people and thus everyone and their families can get involved. Not so with Game of Thrones.
Harry Potter gets dark, but never THAT dark. The adult content is largely subtext, such as Aberforth's love for goats or Fenrir's interest in children.
Which do you think is more marketable?
Image Via PInterest
Plus, even if you don't know the story, every single person has heard the name Harry Potter and knows about the boy with glasses and a lightning bolt scar who goes to a magic school.
Even people who are moderately familiar with Game of Thrones can't point out any of the main characters or tell you anything about the plot because it's all over the place.
Point for Martin! JK
Point for Rowling!
Martin=0

Rowling=1
2-Power of Description
Image Via Chefs4Passion
To start this section, we're going to tackle the big dogs. How does Rowling and how does Martin describe their iconic imagery? How does J. K. Rowling's description of Hogwarts par up with Martin's description of the Iron Throne?
Just to be clear, we're going to tackle only the first description of description of these icons. They are referenced numerous times throughout the first books in their respective series, but how does the author describe them when we first feast our eyes upon them? That's what we're going to look into. First impressions make a big impact.
Here's Hogwarts in its first physical appearance in Harry Potter and The Philosopher's Stone.
Image Via Galerie
There was a loud "Ooooooh!"

The narrow path had opened suddenly onto the edge of a great black lake. Perched atop a high mountain on the other side, its windows sparkling in the starry sky, was a vast castle with many turrets and towers.

"No more 'n four to a boat!" Hagrid called, pointing to a fleet of little boats sitting in the water by the shore. Harry and Ron were followed into their boat by Neville and Hermione.

"Everyone in?" shouted Hagrid, who had a boat to himself, "Right then— FORWARD!"

And the fleet of little boats moved off all at once, gliding across the lake, which was as smooth as glass. Everyone was silent, staring up at the great castle overhead. It towered over them as they sailed nearer and nearer to the cliff on which it stood.

"Heads down!" yelled Hagrid as the first boat reached the cliff; they all bent their heads and the little boats carried them through a curtain of ivy which hid a wide opening in the cliff face. They were carried along a dark tunnel, which seemed to be taking them right underneath the castle, until they reached a kind of underground harbour, where they clambered out on to the rocks and pebbles.

"Oy, you there! Is this your toad?" said Hagrid, who was checking his boats as people climbed out of them.

"Trevor!" cried Neville blissfully, holding out his hands. Then they clambered up a passageway in the rock after Hagrid's lamp, coming out at last on to smooth, damp grass right in the shadow of the castle.

They walked up a flight of stone steps and crowded around the huge, oak front door.

"Everyone here? You there, still got yer toad?"

Hagrid raised a gigantic fist and knocked three times on the castle door.
Compare that to George's description of the Iron Throne as per his first book in the series, Game of Thrones: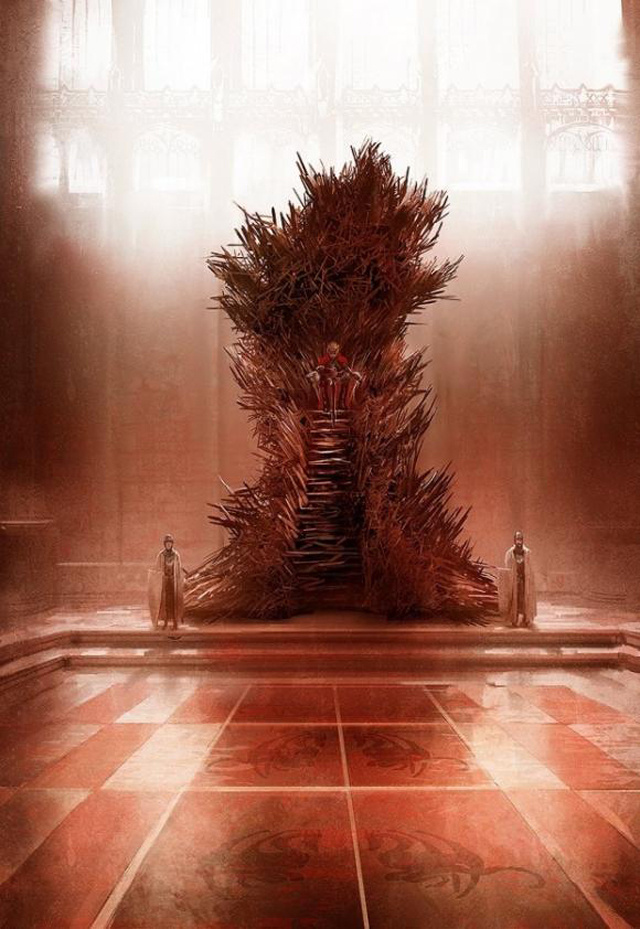 Image Via Game of Thrones Wiki – Fandom
Through the high narrow windows of the Red Keep's cavernous throne room, the light of sunset spilled across the floor, laying dark red stripes upon the walls where the heads of dragons had once hung. Now the stone was covered with hunting tapestries, vivid with greens and browns and blues, and yet still it seemed to Ned Stark that the only color in the hall was the red of blood.

He sat high upon the immense ancient seat of Aegon the Conqueror, an ironwork monstrosity of spikes and jagged edges and grotesquely twisted metal. It was, as Robert had warned him, a hellishly uncomfortable chair, and never more so than now, with his shattered leg throbbing more sharply every minute. The metal beneath him had grown harder the hour, and the fanged steel behind made it impossible to lean back. A king should never sit easy, Aegon the Conqueror had said, when he commanded his armorers to forge a great seat from the swords laid down by his enemies. Damn Aegon for his arrogance, Ned thought sullenly, and damn Robert and his hunting as well.
The description of Hogwarts breathes power, glory, and magical wonderment, but the concrete details are a bit spare. After learning the castle is "[p]erched atop a high mountain on the other side, its windows sparkling in the starry sky," we learn that Hogwarts is "a vast castle with many turrets and towers." The place is big and it seems to grow ever larger as we come closer, hence the line "[i]t towered over them as they sailed nearer and nearer to the cliff on which it stood." The place also has a "huge, oak front door."
The description of the Iron Throne is one of horror. After learning the hall is "covered with hunting tapestries, vivid with greens and browns and blues," and we go from the mention of "hunting" to noting that the only thing "the only color in the hall" that Ned Stark sees is "the red of blood," we earn that the throne itself is an "ironwork monstrosity of spikes and jagged edges and grotesquely twisted metal," and is "a great seat from the swords."
Instead of a lake "smooth as glass," we have "the light of sunset spilled across the floor, laying dark red stripes upon the walls where the heads of dragons had once hung."
Instead of a big castle "with many turrets and towers," (note the word 'many' and how, um, vague that is) we learn about "ironwork monstrosity of spikes and jagged edges and grotesquely twisted metal."
George adds some history to his descriptions to even further amplify his readers with a sense of scale and dread, from "the immense ancient seat of Aegon the Conqueror" and beyond, but we're only focusing on the physical details, and, well…
The long and short of it is that J. K. Rowling leaves things up to the imagination. She lights a fuse, and we let it run wild. That's great and all, but not for this section.
Before we go onto the next section, style, let's talk about food.
Image Via The-Leaky-Cauldron
I love food, you love food, wizards love food, muggles love food, Harry Potter and The Philosopher's Stone introduces the magic of food with this:
Harry's mouth fell open. The dishes in front of him were now piled with food. He had never seen so many things he liked to eat on one table: roast beef, roast chicken, pork chops and lamb chops, sausages, bacon and steak, boiled potatoes, roast potatoes, fries, Yorkshire pudding, peas, carrots, gravy, ketchup, and, for some strange reason, peppermint humbugs.
Doesn't that just make your mouth water? Delicious!
The people of A Song of Ice and Fire, like all us muggles, love food. How does George R. R. Martin describe food? Well, in A Clash of Kings, we get the Harvest Feast at Winterfell, presided by Bran.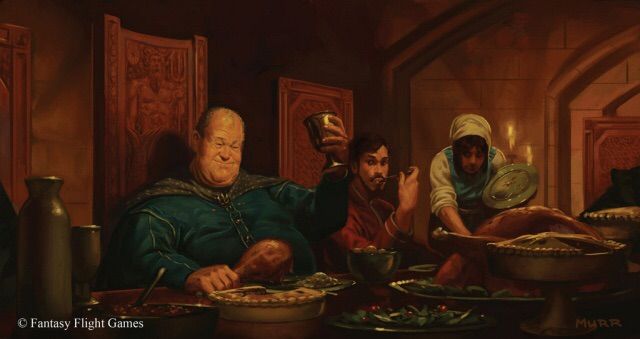 Image Via Amino Apps
There were great joints of aurochs roasted with leeks, venison pies chunky with carrots, bacon, and mushrooms, mutton chops sauced in honey and cloves, savory duck, peppered boar, goose, skewers of pigeon and capon, beef-and-barley stew, cold fruit soup. Lord Wyman had brought twenty casks of fish from White Harbor packed in salt and seaweed; whitefish and winkles, crabs and mussels, clams, herring, cod, salmon, lobster and lampreys. There was black bread and honeycakes and oaten biscuits; there were turnips and pease and beets, beans and squash and huge red onions; there were baked apples and berry tarts and pears poached in strongwine. Wheels of white cheese were set at every table, above and below the salt, and flagons of hot spice wine and chilled autumn ale were passed up and down the tables.
Incredible!
These two passages beside each other bring out some faults in the other. For one, George R. R. Martin made a bigger list, which always gets points. But it's not just a list, we have sentences! We get one list, and then we get "[t]here was black bread and honeycakes and oaten biscuits; there were turnips and pease and beets, beans and squash and huge red onions; there were baked apples and berry tarts…"
The use of the phrase "[t]here was" over and over only makes this list seem longer.
Second of all, in addition to listing things, he added more description, noting, for instance, that the wheels of white cheese are "set at every table, above and below the salt."
Who's more descriptive when it comes to food between J. K. Rowling and George R. R. Martin? The answer is George R. R. Martin Really likes food.

Image Via IMgur
We have to give the point to George for this section. It was close, and it makes our hearts ache, our stomachs hurt. In fact, George wrote it best in A Storm of Swords:
There was a sickening crunch. Ellaria Sand wailed in terror, and Tyrion's breakfast came boiling back up. He found himself on his knees retching bacon and sausage and applecakes, and that double helping of fried eggs cooked up with onions and fiery Dornish peppers.
Image Via Reddit
Martin=1

Rowling=1
3-STYLE
GOT STYLE? / IMAGE VIA STYLECASTER
Normally we'd reserve this section for style, comparing and contrasting the two styles. We did for Dr. Seuss vs Dr. Seuss, we did it for Tolkien vs Lewis, we did it for Faulkner vs Hemmingway, we did it for E L James and Josh Lark, but in this case the styles are just too different.
Yes, they both write fantasy, but for vastly different audiences. J. K. Rowling talks about friendship and love, George talks about honor and loyalty. Looking at just the style is too narrow a view, so we've decided to instead compare and contrast…
3-Style WORLD BUILDING
Image Via Veronica Sicoe
It's one fantasy world we've loved to live in vs one fantasy world where we go "Nah, where I'm at is fine." We'd all love to live with Harry Potter, but we're not talking about that. We're asking this, who built the better world? Which one is richer?
World of Harry Potter / Image Via Pinterest
At first glance, it seems that J. K. Rowling has this in the bag. She's only gone into detail about Hogwarts and the Wizard World of England and not the sprawling, near hundreds of places George has gone into. Less room to mess ups.
World of Westeros / Image Via PInterest
Over the course of five books (so far), George has explored how various characters were shaped and shape their world continuously. There was a Mad King some time ago. His reign caused Danny to be cast out as a child, caused Jaime to lose his honor, caused Ned to go off to war and come back with a bastard child named Jon. The aftermath of his reign brought gave us King Robert, who brought in a council of sycophants who took advantage of him and put his kingdom into debt, brought Cersei Lannister closer to him than anyone should ever get to Cersei, and much, much more.
This all happens before the novel. The event affects the characters.
J. K. Rowling does the same thing, but on a smaller scale. Harry Potter is affected by the wizarding war, he's the boy who lived but lost his parents, and we learn that Snape lost the love of his life and turned 'good,' Neville lost his parents, Sirius Black was blamed for crimes he didn't commit, and so on.
So far, as far as the world events affects the characters, they are on even ground.
Image Via Today's Veterinary Business
Getting into the nitty-gritty, Danny's freeing of the slaves and the following chaos is similar to Hermione's vain attempts to free the House Elves, facing racism. But here we get a problem: We learn Ron harbors some feelings that House Elves like being servants, but nothing comes of that. In fact, the two get married, and Ron's ill-feelings are largely brushed aside.
In fact, that happens a lot in this series. Filch is a squib, unable to perform magic, but he's mean so it's okay to mock him. And that's that.
Danny frees the slaves, but meets chaos and rebellion at every corner, never mind her own destiny tugging to move to Westeros. Even though the series isn't done, we already know that these events won't be brushed aside.
With George, we learn how prejudice affects people. Tyrion is short and is constantly mocked for it. Thus, he's forced himself to be smarter than everyone else, but also wallows in self-hatred and is a drunk. He loses the love of his life and meets Shae, a woman who wants him because she thinks it'll get her ahead. When Shae betrays him, Tyrion outright murders her (unlike in the show, but we're only talking about the books here BTW).
J K Rowling introduces prejudice, but then it's either dropped or…Lupinned?
To explain, Professor Lupin was a werewolf who, when his conditions is revealed, has to leave Hogwarts. People refuse to give him a chance because of his conditions, showing how prejudice affects and defines people even more so than their condition. But then we meet an evil werewolf who wants to affect children with his condition, showing that maybe, just maybe, that kicking someone out with this condition could be maybe, just maybe, justifiable.
George R. R. Martin's world shows how people shape their worlds and the worlds affect the people. Prejudice not only hurts people, but it defines them. Rowling does something similar but she's a tad, let's say sloppy, when it comes to prejudice.
Sorry J. K. I'd still move to Hogwarts instead of Westeros, but points goes to George.
Martin=2

Rowling=1
The Match
The night's crescent moon lit the abandoned castle through hallowed windows, the cold air crawling in. George R. R. Martin sat there in the main hall, warmed by a small banquet of food residing in front of him, a scorching fireplace lit ablaze behind him, and a pen and paper sitting alone on the far end of the table. The thoughts in his head spiraled one after the other.
"After this meal it will all be done. Or maybe I can try my hand at some sightseeing to stir my imagination. Or maybe I need a good book, or a visit to the nearby town. That video game I signed to work on could use some of my attention too."
After finishing another turn of the giant roast pig on a spit beside him, he slammed his fists on the table, grumbled in frustration, only to slice himself yet another delectable piece of tarty lemon cake. George was so preoccupied in his thoughts and his eating that he hadn't noticed the shady figure of a woman creeping into the hall.
"Expelliarmus!", shouted a voice. A flash of light charged towards the author, who just managed to dodge the blast, save for his desired lemon cake that now oozed down the stone wall.
George was enraged, "That was my desert!! Now I'll never finish Winds of Winter! Who the hell are you?!"
The dark figure came into the light, it was J. K. Rowling!
Rowling directed her wand straight at the man in front of her, never standing down as she slowly walked toward him. "I figured you would be in a pathetic state of procrastination, but this is bloody awful!", J. K. sneered at him. "First you lock yourself up in a cabin, now a castle?! Ridiculous!"
George stood tall and stared her down, "We all have low points. At least I'm not spouting out half-assed crap that only tweens and socially awkward teenagers can fall back on."
K.'s eyes lit up in fury, "That does it! My agent suggested that I collaborate with you, but I can see you're just a grotesque lard of a man, and a poor excuse of a professional writer!"
George was not amused, "Ok, are we gonna go ahead and fight, or are you just going to keep monologuing?"
J. K. lowered her wand and raised her hands as an eerie smile came across her face. From behind her, black puffs of smoke flew into the hall from it's one and only entrance. One by one the smoke faded and men and women wearing skulls to mask their face were revealed—it was the Death Eaters!
Martin was outnumbered 13 to 1.
Martin leaped under the hall's table as J. K. Rowling and her Death Eaters fired one spell after another at him. With the long table covered in cloth, there was no telling where Martin was exactly.
Rowling commanded her troops, "Destroy the table! Find me the fat man!"
Spell after spell rocketed across the hall and at the table, resulting in an explosion of broken up wood, various meats, potatoes, and pies. No one noticed the snow storm that began engulfing the castle.
There was such a mess of smoke that had blocked the Wizards' and Witches' view of their target that Rowling ordered them to cease fire. With that the smoke had a chance to dissipate. There was nothing but the gray from the smoke. Then three pairs of blue glowing eyes appeared.
"Impossible", whispered one of the Death Eaters.
Heavy marching began to sound outside the castle, and the smoke finally cleared to reveal three armor wearing White Walkers standing guard to defend Martin, who was crouched behind them. Two of the undead soldiers took a step ahead, ready to attack in a battle stance, while the third, who was wearing armor twice his size, began to take its armor off and hand it to George.
Rowling saw the fear in her comrades' eyes, but she wasn't backing down. "Friends! We spoke of this possibility and knew of the risks! You know what to do!" They all nodded, fear still filling their eyes.
The Death Eaters closely circled Rowling who swirled her wand in the air, steadily creating a vast lasso of flames to surround the group. The White Walkers shook at the sight of the flames, but did not move from their spot. From the hall's entrance the army of White Walkers stormed in, and while they too shuddered at the fire, they slowly continued to march on and attack the Death Eaters.
Rowling began her march toward Martin. "Forward!", she yelled.
Slowly Rowling's Death Eaters began to die off one by one from the onslaught of the undead. With every death of her men and women, there were several White Walkers burned to the ground.
Martin charged to the roast pig and thrusted out the steel spit, ready to make his move. When Martin's three White Walker guards were burned and leviosa'd out the open castle windows, Rowling ordered her last Death Eater, "Hold the army back while I finish the job."
Martin gave her no chance to cast any spells on him and attacked her with the steel spit in a fencing combat style. Jabbing endlessly, Martin began to break a sweat, and just managing to dodge the blows Rowling was sweating from the heat as well.
Hitting the wall of the castle Rowling yet again dodged Martin's attack that surprisingly so powerful it cracked into the stone. In an intense rage Rowling punched Martin in the opening of his armored helmet, knocking him to the ground.
"Master!" cried the lone Death Eater, "I can't hold this army much longer!"
J. K. Rowling did not respond to her subordinate, her eyes were fixated on her kill. She stood on top of Martin and cast a paralysis spell on him.
"Damn you!" Martin cried.
With a grin on her face Rowling reached into her pocket and took out her cell phone, pointing it's camera at Martin's face.
"This will be for my next Twitter post. And what lovely lighting we have this night."
But Rowling's perfect picture was about to be ruined with a surprise visit from one of Danaerys Targaryen's dragons, Drogon. Drogon's head entered the hall and he was face to face with a very shocked J. K. Rowling.
Martin's paralysis began to fade just enough to give the order, "Dracarys!"
The flying beast's jaw opened and released an intense fire that instantly destroyed J. K. Rowling.
The final Death Eater called for her Master in tears as the White Walkers finally made their way through the fiery wall of magic and destroy Rowling's final comrade.
Martin regained his ability to move and patted the dragon on the snout.
"Wow", he stated. "That was some fantastic inspiration for Winds of Winter!!" He threw his hands up in the air in joy and danced around. He turned to his army of White Walkers and shouted, "But first, let's have a feast!!"
BONUS Video
Featured Image via Pixels, Biography, Daily Express
Bookstr is community supported. If you enjoy Bookstr's articles, quizzes, graphics and videos please donate and help keep Bookstr supporting the book loving community.