Remember Natasha Tynes, the author who shamed a a Metro Worker on Twitter and subsequently lost a book deal? Well, now she's suing her ex-publisher for $13 million!
Image Via NewsFeeds
For those who don't remember, Natasha was riding the red line of the Washington, D.C. Metro when she saw an MTA employee eating her lunch on the train.
Yes, the rules state you shouldn't do that, but people get hungry. Do you ride the train to work? The bus? Ever get hungry and eating something, like a cracker? Or do you, like me, take a sip of water?
Then you're breaking the rules and, normally, nobody cares!
But Natasha Tynes did. She cared so much she snapped a picture of the woman's face and posted about the incident on Twitter in a now deleted-Tweet.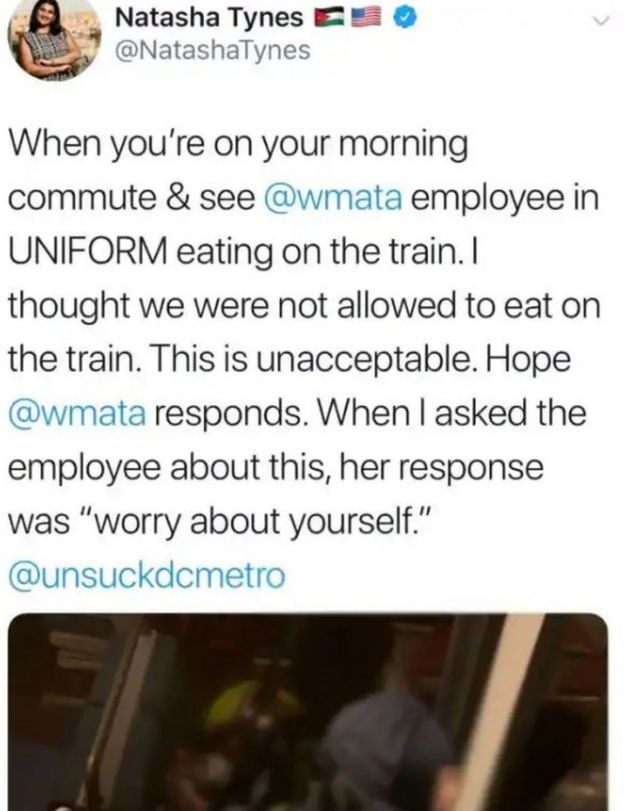 Image Via BBC
A separate account for the Metro service promptly responded:
Image Via BET.com
Tynes couldn't have foreseen the wrath with which her tweet would be met. People did not take kindly to what they perceived as a minority writer threaten the livelihood of another woman of color.
Today, Natasha Tynes discovered the consequences of anti-blackness.

She was told to "worry about yourself." She didn't and now the bag has been fumbled.

In conclusion, LEARN TO MIND YOUR FREAKING BUSINESS. pic.twitter.com/XWCBt7nAxB

— Nerdy Wonka (@NerdyWonka) May 11, 2019
That's literally someone's life. That's their job you're messing with. She was eating. Trying to live. She was commuting. Trying to live. What the fuck did she do to you?

— The Disordered Cosmos by Chanda Prescod-Weinstein (@IBJIYONGI) May 10, 2019
"People of color" like Natasha Tynes is the reason why I make it a point to directly name Black people within the spectrum, because there is anti-Blackness within people of color in totality.

POC solidarity is often upheld by Black people, but not maintained by others within.

— Ernest Owens (@MrErnestOwens) May 11, 2019
Tynes was quick to delete her tweet, but the damage was done. According to the Huffington Post, "Los Angeles publisher Rare Bird Books canceled plans to distribute Tynes' upcoming novel, They Called Me Wyatt, which was already being preordered" before going on to "[urge] its California Coldblood imprint ― a brand that operates under Rare Bird ― to do the same."
California Coldblood announced this via Twitter:
— California Coldblood (@CalifColdblood) May 31, 2019
Not the best look for Tynes.
Tynes is now suing Rare Bird Books for breach of contract citing, available here. The lawsuit accuses Rare Bird Books of having "sabotaged" her book in addition to defaming her.
The suit notes that Tynes not only reached out to the transit authority on Twitter to ask that the employee not be disciplined, but also contacted Rare Bird executive Robert Jason Peterson with the excuse that, since she was raised in Jordan, she didn't think of the racial implications of humiliating a black woman on Twitter. According to this lawsuit, Peterson told Tynes, "You'll get through this, we've got your back."
Image Via Deadline
You can read Rare Bird Books' response to the enormous lawsuit here.
For context, the fact Tynes called Metro didn't matter in the slightest. Two days before the incident Metro Transit Police Chief Ron Pavlik sent an email ordering transit officers to "cease and desist from issuing criminal citations in the District of Columbia for fare evasion; eating; drinking; spitting, and playing musical instruments without headphones until further advised."
So this whole thing is happening because Tynes thought someone was breaking the rules when, in fact, she wasn't. Some advice, if you want to complain about someone, don't do it on Twitter.
Featured Image Via BuzzFeed