We at Bookstr do what we do for our love of books, but once you get down to it, the publishing world is heavily competitive. Some writers win acclaim and fortune, while others are gradually forgotten over the ages. Logically, this brought us to imagine some of the world's most renowned authors and pit them against each other in a Death Battle!
For our first week we have two fantasy writers who have mastered world building and captured the hearts of readers of all ages. Two contemporaries, two friends, two fathers of fantasy, today we have J.R.R. Tolkien versus C.S. Lewis!
Whose literary legacy has stood the test of time best? Let's find out.
1-The Writing Style
Who has more description? Who's the wordsmith with the power to transport you to a new world?
Image Via CNN Belief Blog
On one hand we have C.S. Lewis. We all have a picture of Narnia in our head, but how wide ranging is it?
Image via

An Sionnach Fionn
On the other hand we have J.R.R. Tolkien. Known as the master of world building for a reason. Even in the childish novel The Hobbit, he paints glorious descriptions of not just good, but also evil, so our little dwarves and a certain hobbit have a challenge ahead of them.
My armour is like tenfold shields, my teeth are swords, my claws spears, the shock of my tail is a thunderbolt, my wings a hurricane, and my breath death!
Get the picture?
TheOneRing.net
By the time we get to the The Silmarillion, Tolkien hasn't leveled down in his powers of description.
Sauron has become now a sorcerer of dreadful power, master of shadows and of phantoms, foul in wisdom, cruel in strength, misshaping what he touched, twisting what he ruled, lord of werewolves; his dominion was torment.
Image Via AbsoluteArts.com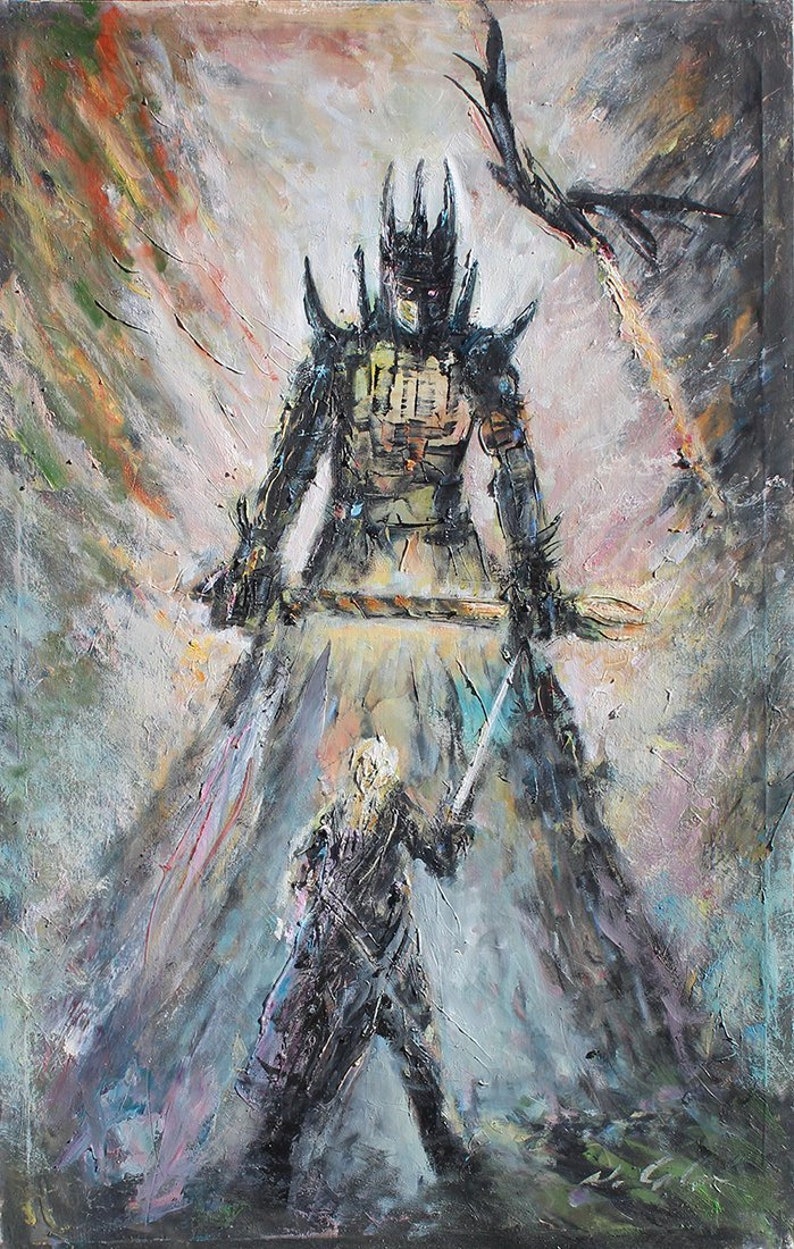 Image Via Etsy
Compare that to Lewis' description of the most infamous villain in all of Narnia: The White Witch. This description comes from The Chronicles of Narnia: The Lion, the Witch, and the Wardrobe.
Her face was white—not merely pale, but white like snow or paper or icing sugar, except for her very red mouth. It was a beautiful face in other respects, but proud and cold and stern.
Image Via Pinterest
Where's the contest? With Tolkien you will know everything about Middle Earth, from the food, the language, and, most importantly, the leaves by the time you're done.
Score one for Tolkien!
Image Via Tampa Bay

Tolkien=1

Lewis=0
2-How They WERE Back Then
Let's step back in time. Lewis and Tolkien are writing their books, but which are we going to read? What would you read?
How to Confuse the Masses 101 / Image Via Christianity Today
Lewis' first book in the series was The Lion, the Witch, and the Wardrobe. The next book is Prince Caspian, then The Voyage of the Dawn Treader, then The Silver Chair. So far, so good. A linear story line, easy to understand.
THEN LEWIS JUMPS BACKWARDS! We got The Horse and His Boy, a book which takes place during the last chapter of The Lion, the Witch, and the Wardrobe. Then he writes The Magician's Nephew, in which he goes back even further with this prequel to the beginning of the whole series. The next book is the last in the series, The Last Battle, and thankfully he's done.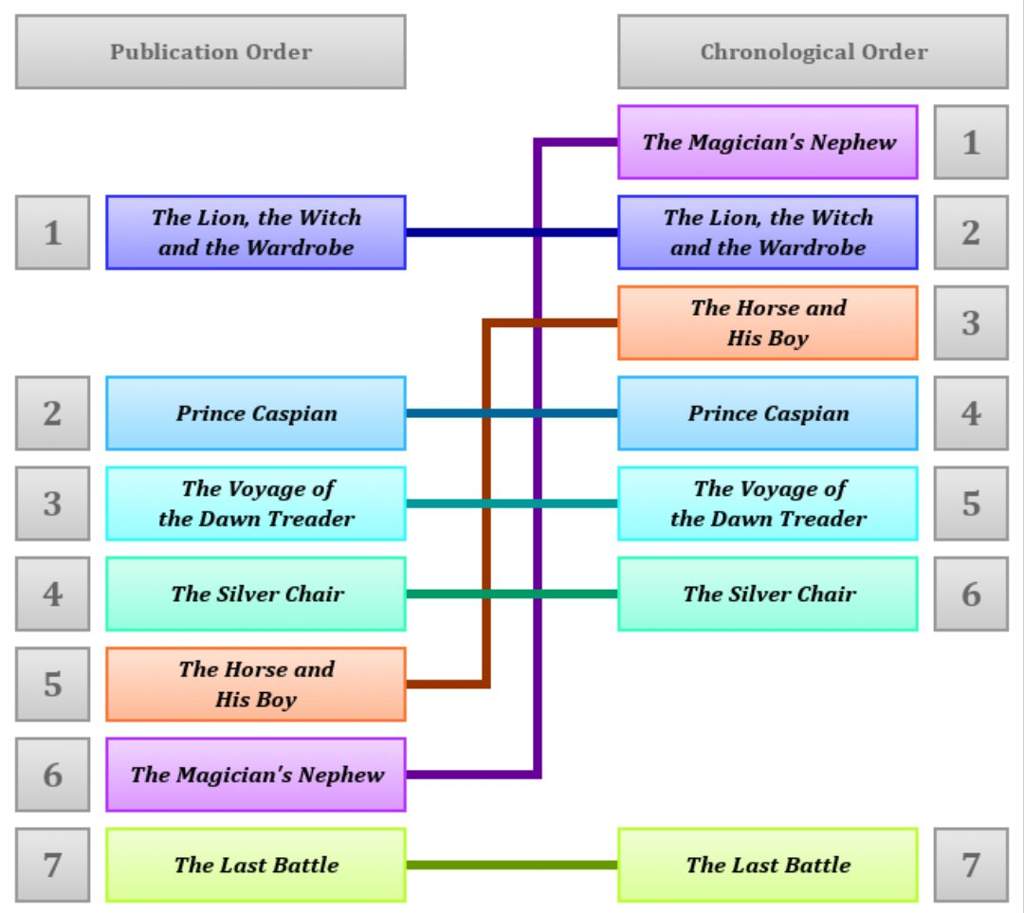 Image Via Amino Apps
When first published, the books were not numbered. The first American publisher, Macmillan, enumerated them according to their original publication order, while some early British editions specified the internal chronological order. When Harper Collins took over the series rights in 1994, they adopted the internal chronological order.
Well, that's confusing, and it's not just me saying that. Some scholars note the line in The Lion, the Witch and the Wardrobe where the all powerful narrator says that, "None of the children knew who Aslan was, any more than you do"—which is stupid if one has already read The Magician's Nephew.
Doris Meyer, author of C.S. Lewis in Context and Bareface: A guide to C.S. Lewis, writes that rearranging the stories chronologically "lessens the impact of the individual stories" and "obscures the literary structures as a whole."
Let's face it, that line exists because Lewis didn't know he would ever write a prequel, but it creates confusion over the order of which this series is suppose to be read. What order should we read these books?
Confusion, confusion, confusion.
Image Via Washington Examiner
Then we have Tolkien, who wrote The Hobbit in 1937, and the famous trilogy in 1954 and 1955. That's a long wait, Mr. Father-of-Fantasy. Granted he wrote a largely unrevised version of The Silmarillion at the same time, but his publishers didn't want to publish it. The Silmarillion eventually came out years after his death in 1977 and it's so big that that book should be registered as a lethal weapon.
Tolkien explains the Silmarillion / Image Via Biography.com
So even though I don't like how The Silmarillion jumps back in time, I can live with it. At least he doesn't jump back in time again, like a certain man named C.S. Lewis.
Score one for Tolkien!
Image Via Popular Science
Tolkien=2

Lewis=0
3-ability to welcome new readers
How are these books for new readers? Well, I'm not going to count the linear timeline of publishing against Lewis (I already did that) because you can put The Chronicles of Narnia and the Middle Earth books in chronological order.
With that out of the way, how do they stack up for new readers?
Well, Narnia stays consistent in tone. Challenging, exciting, but still suitable for kids. But Tolkien's Middle Earth series doesn't stay consist. The Hobbit, the book that introduced this hypothetical me to the series, is greatly different from The Lord of the Rings. Yes, I know Tolkien's kids grew up with the series, but kids today aren't going to get that. Picture this:
Kid picks up The Hobbit
Kid is happy
Kid then picks up the sequel, The Lord of the Rings trilogy
Kid wets himself.
Plus, Lewis's books are shorter and they are complete stories. There! I said it. Yes, The Hobbit is a complete story, but tonally it's more similar to this:
Whereas The Lord of the Rings is more like this:
Then imagine if a new reader, who has never heard of The Hobbit or The Lord of the Rings gets their tiny hands on The Silmarillion. Describe to me the plot of The Silmarillion in three, two, one…
No, saying 'it's a collection of stories' isn't a plot summary, it's an excuse. Yes, the descriptions are beautiful, yes, it fills out Middle Earth, but a new reader, a young reader, isn't going to fall in love with it the way they did with The Lords of the Rings or The Hobbit, while a new reader can fall in love with The Horse and His Boy just as much as a new reader can fall in love with The Lion, the Witch, and the Wardrobe.
The Silmarillion is for fans of Middle Earth, which can turn a new reader off if they pick it up first—assuming they can manage to pick it up.
Score one for Lewis!
Image Via Sports Illustrated
Tolkien=2

Lewis=1
4-Influence on Pop Culture
Image Via The Inclusion Solution
Lord of the Rings brought about a great trilogy that changed the face of movie making (possibly for the worse). More than that, the books have been adapted many times over for radio, video games, animation, and will be brought to television thanks to Amazon. The book series has also made a huge impact on music and pop culture. Several musical artists, including legendary heavy metal band Black Sabbath, are known to have songs inspired by the fantasy epic. A number of parodies were also created such as the VeggiTales children's cartoon episode, "Lord of the Beans," showing how much Tolkien's books have influenced not just fantasy nerds, but everyone who has come across it.
As far as films go, Narnia came to the big screen later on as a Lord of the Rings rip off. However, the book has a number of adaptations as well. Three times, The Chronicles of Narnia was brought to TV screens in the United Kingdom, and there will be a fourth when Netflix releases theirs. Narnia has also made it to the stage and radio a number of times. With music there is a great deal of inspiration from the books, mainly from Christian artists. As far as any pop culture influences, The Chronicles of Narnia was referenced in the adult comedy Epic Movie, aside from that, there are very few if anymore.
Fundamentally, Narnia is more influenced by things than it has influence.
Lord of the Rings draws from plenty of lore but creates an entirely new world, magical systems and all, while Narnia is greatly influenced by Christianity.
Ex:
Jadis=Judas
Aslan=Jesus
See the connection!
Tolkien scores!
Image Via Image Via Dick's Sporting Goods
Tolkien=3
Lewis=1
5-Impact On the Real World
You have to hand it to Tolkien, the man created an entirely new language. That's creative genius taken to a whole new level, and it has impacted the way we think of world-building in any kind of storytelling—ranging from writing novels to creating stories for Dungeons & Dragons.
However, Lewis also continues to have a great effect in people's lives. As a man of Christian faith, his writing speaks to the religion and therefore those who follow it. In fact, Lewis's name has become so big in the Christian community there is an entire foundation in his name. The C.S. Lewis Foundation is a nonprofit aiming to restore vital Christian presence throughout higher education, the arts, and the culture at large—they also have an annual retreat, where members meet to engage mind, spirit, and imagination in the tradition of C.S. Lewis.
Lewis scores!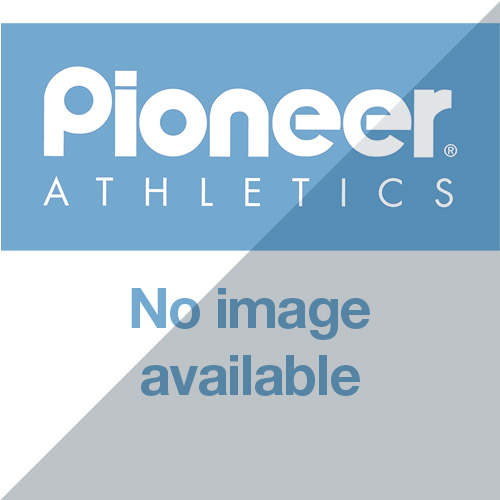 Image Via Image Via Pioneer Athletics
Tolkien=3

Lewis=2
Winner: J.R.R. Tolkien!
Now, how would this death battle play out in their fantasy world turfs, you ask? Hold my Turkish delight.
An invitation started the whole farce. If it weren't for the fact that they were such close friends, John Ronald Reuel Tolkien would not have answered to the call.
"My old friend, there is much that I have to discuss with you," says Clive Staples Lewis.
They meet in an open field of green. A lush forest just beyond the two men approaching each other on horseback with awkward smiles.
After all the formalities and "How are you"s are through, out comes the truth.
Lewis sighs as he slowly reaches into his greatly oversized red, satin bag, "I'm afraid that, friendships aside, I'm going to have to put an end to things. To you I mean." Swinging out a thin but piercing gold sword, Lewis attacks Tolkien in a flash. It is the sword, Rhindon.
Tolkien, with his army training coming back to him, jumps back in shock, and just barely misses being grazed by the sharp point. Upon realization that pleading with Lewis is futile, Tolkien leaps onto his steed, making way into the forest. Lewis follows on his horse, carrying Rhindon as well as a shield to protect him from harm.
Through a thicket in the forest, Lewis loses sight of Tolkien. Only a horse remains at the bottom of a large, rock incline. Lewis dismounts his horse, eyes shifting left and right for his foe, when all of a sudden an arrow flies swiftly into his sword bearing arm.
Tolkien rushes out from beyond the trees carrying a bow and several arrows, firing with great speed and intensity. Lewis, though in great pain, moves toward Tolkien, blocking every arrow with his shield. To Tolkien's dismay, Lewis' advances succeed, and standing before him stabs Tolkien with Rhindon.
Tolkien falls to the ground. Lewis relieved, falls himself to rest his weary body, dropping his sword and shield before him.
After pulling the arrow out of his arm, Lewis grabs from his petticoat Queen Lucy's Cordial, and lets out a relieved sigh. However, that relief fades as soon as he sees Tolkien rising from his assumed fallen state. Tolkien makes his way towards Lewis, intensity in his eyes and a golden ring in his hand.
Shocked cold Lewis shouts, "But how? I stabbed you with Rhindon!"
Tolkien scoffs, "What can I say, I was thinking ahead." The man opens his shirt, revealing a Mithril shirt. "I'm always about the smallest details after all."
As Tolkien charges at Lewis, Lewis haphazardly pours the healing solution onto his wounded arm. With fervor, he reaches for his sword to strike at Tolkien, but when he finally reaches towards it, Tolkien vanishes yet again.
Using the corruptible power of the One Ring to Rule them all, Tolkien vanishes, sneaking behind Lewis for a sneak attack punch and then vanishes. Lewis catches onto where the ring-bearer is, following his footprints. Slashing Tolkien indiscriminately he knocks him down again. Knowing that the ring won't fool him any more, Tolkien takes off the ring, returning back to visibility. In pain, Tolkien crawls up the rock incline. Heaving in his breath, Lewis follows.
Preparing his sword for one final blow, Lewis follows Tolkien to the very top of the rock.
Tolkien cries, "Why you? We have been friends for so many years! What is it that you hope to achieve?"
"You have it right in your hand", Lewis grins.
Tolkien looks to the Ring. Possessed by its call. Gripping it tighter, he shakes his head. "The Ring is mine to bear."
"Then here you will die," Lewis exclaims.
As he pulls back his sword, the Earth begins to shake beneath the two men. From far into the forest, a glowing green light moves steadfast toward Tolkien and Lewis.
The Dead Men of Dunharrow come charging to protect their creator, Tolkien. From the other end of the forest comes Aslan to protect Lewis from harm. But alas, the Dead Men of Dunharrow are ghosts and can flow through anything at will. Aslan is left useless in protecting his creator, and Lewis is knocked down the rock and plummets with a painful landing.
While Aslan battles the Dead Men, some of the others help Tolkien up, giving him Elvish bread to retain his strength.
Tolkien makes his way to Lewis, who is still on the ground in pain. The Dead Men provide Tolkien with the Legendary sword, Andúril, as Aslan reaches his end against the Dead Men. Tolkien raises Andúril, and ends Lewis with one final blow.
Nominate which literary juggernauts should go at it next in the comments!
Featured Image via Collage Maker