Celebrity hair collectors are in mourning today; leather jacket-clad professors, archeologists, and overzealous superfans bow their heads. Yet another treasure has been taken off the strand search list—none other than the long-sought-after braided lock of English novelist and poet, Charlotte Brontë. This news comes via an episode of Antiques Roadshow where a woman appeared on the show with a ring inscribed with the words "C. Brontë" on it (along with the date the writer died).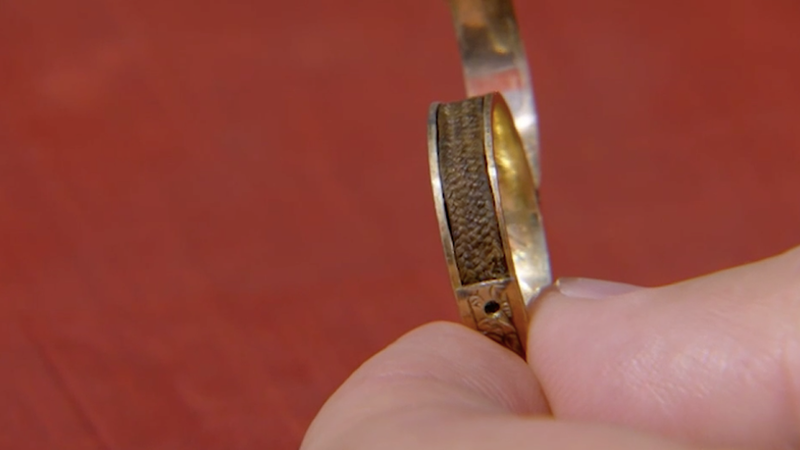 The show's appraiser, Geoffrey Munn spoke with a woman who found the ring in her late father in law's attic hidden inside a mysterious box. Clearly, the man was harboring something valuable—quest worthy. One can only imagine the adventure he experienced in search of hidden treasure. After rummaging through the attic and besting its Indiana Jones-esque booby traps, the unidentified woman found the key. Upon opening a hinge on the side of Brontë's ring the referenced treasure was found.
"Yess," Munn whispers as she describes the hair, clearly awed. "Yes!"
 [youtube https://www.youtube.com/watch?v=yEMDMuD6q6A]
Munn found no reason to question its credibility given the fact that hair collecting was an even more acceptable tradition back in the day (19th century).
"There was a sort of terror of not being able to remember the face and the character of people who had died, and so this is part of a tradition of making a true souvenir, an incorruptible fragment of the person that has died and to wear it. It wasn't uncommon."
The eldest of the Brontë sisters (all writers of the highest standard), Charlotte is best known for classic novels like Jane Eyre, Shirley, and Villette. Tragically, Charlotte never made it past the age of forty—she died in 1855. Although one never expects to have their hair or any other accessories to be sold centuries after they pass; the good fortune surrounding this discovery is a pleasant reminder that no one's story is ever really over.
Geoffrey Munn put the ring at £20,000, or around $26,000. Hmm, I thought the going rate for Brontë hair was more…
Featured Image Via Ft.com