This Sunday, His Dark Materials will premiere on HBO. Starring James McAvoy (Dark Phoenix), Dafne Keen (Logan), Ruth Wilson (The Affair), and Lin-Manuel Miranda (Mary Poppins Returns), the series is an adaptation of the fantasy series of the same name by Phillip Pullman that follows two children on their adventures through various parallel universes. But this isn't the first adaptation of Pullman's work.
Image Via San Jose Public Library
In 2007, New Line Cinema released The Golden Compass, based on the first book in the series, originally titled Northern Lights. It follows a young girl named Lyra who travels across a parallel universe in order to save children from a secret organization under control from a powerful church. With big names like Nicole Kidman and Daniel Craig starring in the film, a budget of $180 million, and coming from the same studio that made The Lord of the Rings, it looked like The Golden Compass could be the next big fantasy epic.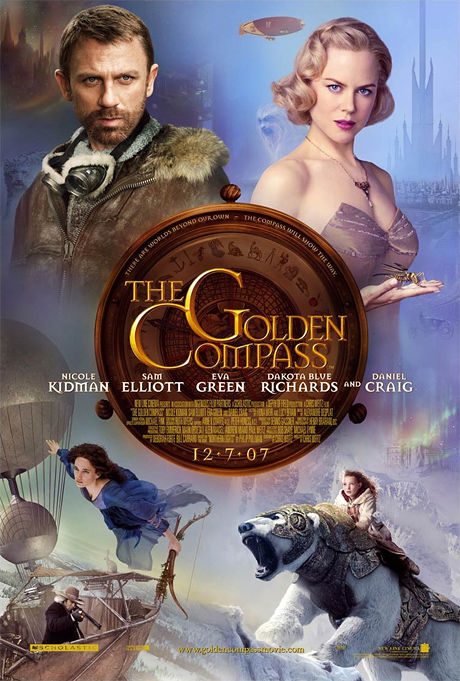 Image Via Steampunk Wiki
Unfortunately, the film failed to catch on with critics and audiences. Reviews for the film were mixed, praising the visuals but criticizing the story. The film also didn't make as much money as the studio hoped, with some believing that it was the reason New Line merged with Warner Bros. Quickly forgotten by the public, plans for a film trilogy were scrapped. So what went wrong?
It all came down to studio interference. His Dark Materials was already known for controversy from religious groups for its anti-religious undertones. New Line intervened, with executives ordering the darker elements and atheist themes to be removed and the story to be significantly changed. The director of the film confirmed that New Line interfered so much and ruined the whole experience.
Thankfully, it looks like the television adaptation will fare much better. Positive reviews point to a more faithful adaptation that successfully balances fantasy elements with complex themes.
Are you watching His Dark Materials?
Featured Image Via Vox