Recently, the movie Contagion has found renewed interest due to the coronavirus pandemic. Novels about diseases are also garnering increased interest. If you're hunkered down at home and have a dark sense of irony, try reading some of these pandemic-themed books.
image via amazon
This book is set in Algeria, Northern Africa, and is a powerful study of human life and its meaning when a deadly virus sweeps through a city and takes massive proportions of its population. It is essentially a parable of life, we can move forward and sometimes move backward again, find ourselves facing huge challenges yet clinging onto irrational hope, a stubborn refusal to quit, and the fact that we all share this struggle with everyone else.
image via amazon
This book centers around a deadly extraterrestrial microorganism, which threatens to destroy all human life. It starts with biophysicists warning the U.S. government that the way in which we sterilize probes from space doesn't guarantee that whatever may be on the probe is actually destroyed. There is a chance that the contaminant will enter our atmosphere. Two years later, a probe falls from space onto Earth in a desolate region northeastern Arizona. In a nearby town, the people of Piedmont are flung about and piled up with shocked faces, and no one knows what is causing this, thus putting in motion the potential destruction of the human race.
image via amazon
This book traces yellow fever, from it's beginnings in America, stopping in 1878 Memphis to evoke the horrors surrounding the disease, to the modern-day strain of the dangerous virus. Yellow fever has paralyzed governments, halted commerce, forced cities to quarantine, moved the U.S. capital, and even altered the outcome of wars. This book depicts three doctors being sent to Cuba to track how the yellow fever was spread, and the story is shocking.
image via amazon
A family that is struggling in Texas to make ends meet is rescued by a mysterious stranger, only for their world to be upended again by the arrival of another stranger nine years later. A teenager, Miranda, is introduced in the three parts of "Old Mortality" as she chronicles her journey of self-discovery, finding out truths in her family. Set in the time of the Spanish flu pandemic in 1918, Miranda falls in love with a soldier as both the flu and World War I loom.
image via amazon
The book is about the devastation of humanity from a virus named "Captain Trips," but it's only the beginning of the nightmarish scenario that the characters face. A computer error in a Defense Department laboratory, and one million infections, causes the deadly chain to kill 99 percent of the human population. With the majority of people dead, buildings emptied and places deserted, it is a bleak new world just one day later.
image via amazon
Fictional character Kirsten Raymonde witnessed the night Arthur Leander, the famous Hollywood actor, had a heart attack on stage during a production of King Lear. That was the night a devastating flu pandemic arrived in the city, and within weeks, civilization came to an end. Twenty years later, we see Kirsten moving between settlements with a group of actors and musicians in their new world. They are the Traveling Symphony, dedicated to keeping human remnants of art alive. There is a lot of moving back and forward in time, which is supposed to show what life was like before the pandemic and the connections it caused.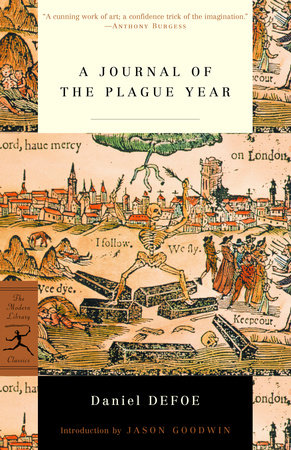 image via amazon
This book chronicles the bubonic plague returning to Britain and devastating the city of London in 1665 to 1666. Roughly one quarter of the population was killed in the span of eighteen months. Over fifty years later, Daniel Defoe writes a historical account of what happened during this time. His disturbing accounts, like families being forced into quarantine due to one infected family member, is terrifying and rather difficult to read.
image via amazon
This book covers over a century of history in Zambia, Africa, from the colonial era to present day. The narrative takes a turn on the devastating effects of AIDS on the country, with the author drawing directly on her knowledge of the crisis. The focus is on three Zambian families and their collisions and convergences over the course of the century, into the present and beyond.
image via amazon
The story starts with Tina Evans a year after her son, Danny's, death. One day, she finds a note in his old bedroom with two words written on the chalkboard: NOT DEAD. This book has become a little more popular recently due to the current coronavirus pandemic. A photograph of one of the book's pages begs the question of whether or not the author predicted the recent COVID-19 outbreak. In the novel, there is a deadly virus known as "Wuhan 400," which is described as a "severe pneumonia-like illness" that "attacks the lungs and bronchial tubes" and "resists all known treatments."
Enjoying Bookstr? Get more by
joining our email list!
Bookstr is community supported. If you enjoy Bookstr's articles, quizzes, graphics and videos, please join our Patreon to support our writers and creators or donate to our Paypal and help Bookstr to keep supporting the book loving community.
Become a Patron!
Featured image via The Verge