It's no secret that for centuries, women authors have been immensely impactful in the genre of horror. Their stories still dominate to this day and certainly are inspirations of modern horror. This brings me to the women we may or may not have forgotten. Black women authors, while some big names come to mind, are a collective forgotten group in the horror literary world. We, too, enjoy a haunting whisper in a darkened hallway, a ghostly touch in the middle of the night, trying to survive a zombie apocalypse and even a vampire's bloody-toothed kiss.
Black women have written such terrifyingly chilling stories, but only a handful are known and proclaimed among the masses of horror fans. Here, I bring seven Black women horror writers whose stories will keep you up at night and (hopefully) keep their names forever on your tongues.
1. Linda D. Addison
Linda D. Addison was the first African American to receive the prestigious HWA Bram Stroker Award in 2001 and has won it four times since. She solidifies herself on this list as a true prolific author of gothic horror, publishing over 400 poems, stories, and articles in horror, fantasy, and sci-fi. She is also an editor of Sycorax's Daughters, an anthology featuring horror-fiction poetry penned by African-American women. For this list, I give you her 2019 award-winning collection of dark, surrealistic poetry, written with fellow HWA Bram Stroker award recipient Alessandro Manetti.
The Place of Broken Things doesn't revolve around a unified theme but the idea of what it means to be forgotten, rejected, and shattered in mind, body, and soul. Addison and Manetti play off each other beautifully to craft poetry filled with dense lines that form eerily haunting images. Blood and brutality, the tears of the innocent, and predatory desires all creep through this collection filled with dark, whispering secrets.
2. L. Marie Wood
Talk about a Black mistress of horror. Blood and gore oozes from L. Marie Wood's pores. As she puts it, she has "been a psychological horror/ supernatural suspense/ always-in-your-head author for over 40 years." She's penned novels, novellas, screenplays, you name it. Wood has earned numerous achievements, including the Golden Stake Award for Literature at the International Vampire Film and Arts Festival, a three-time winner of Best Horror Screenplay at the Nova International Film Festival, and an HWA Bram Stroker award nominee. From magazines to comic books, Wood has been published in various print and online works. Her short story, The Ever After, is even featured in Addison's anthology Sycorax's Daughters. Yes, Wood certainly belongs on this list! If you want more of L. Marie Wood, you can check out her Speculative Fiction Academy.
In this chilling novel, Crescendo, a family curse haunts James Adams, a man who lived an everyday existence in the New York suburbs before the demons that dwell within him took over. Driven beyond the brink of insanity, Adams enters a realm where he can't control his actions or fear. The demons within him have awakened to prophesize his future destiny and have subjected him to unspeakable horror — strap in for a roller coaster ride of anger, anxiety, and eternal fear.
3. Nalo Hopkinson
Spurred by ADHD, NLD, and fibromyalgia, Nalo Hopkinson uses her "cognitive differences" to aid her writing. As an author of science fiction, fantasy, and speculative fiction, she has penned many stories, undefined by genre, that are simply "unreal, futuristic, unlikely, and impossible." Hopkinson, too, has weaved elements of gothic horror into her works and has received awards for doing so. She's earned the World Fantasy Award and the Sunburst Award for Canadian Literature of the Fantastic for her short story collection Skin Folk (see below). Within this collection of stories and others is an immersive blend of Caribbean folklore based on Hopkinson's Jamaican roots.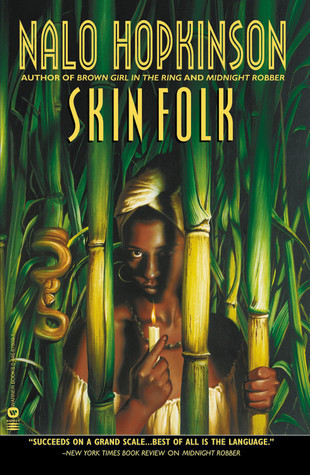 Between the pages of Skin Folk come works ranging from science fiction to Caribbean folklore, passionate love, to chilling horror. Here, you'll find narrative tales of coins and gems spilling from a woman's mouth whenever she tries to speak or sing, a disturbing story of a woman who undergoes elective surgery only to witness her former body boarding a bus, and a young woman that doesn't heed her intuition about her new husband's superstitions, with terrifying consequences to follow.
4. Dia Reeves
While it's with a heavy heart that Dia Reeves is no longer with us, this mistress of horror certainly belongs on this list. Not much is known about Reeves', but her works speak for themselves. Spinning, chilling weirdness, and surrealism that genuinely caused a suspension of belief and reality were her forte. As an introverted, intuitive, feeling, perceptive (INPF) personality, she was highly creative and idealistic, which may have contributed to how Reeves crafted her works. Through stories about strange towns, death and despair, secrets, killer siblings, and strange transformations, we get a complete picture of the hauntingly imaginative way Reeves wrote. In her eternal absence, may she rest in peace and her work live on.
In Slice of Cherry, Kit and Fancy are the daughters of the infamous Bonesaw Killer, so of course, they are ready to follow in their father's footsteps. While they aren't the most dangerous or the strangest around town, these blood-tied besties and accomplices are prepared to take Portero, Texas, by bloody storm. As they give in to their desires of slicing open and stitching up unsuspecting and "deserving" victims, their fascination with slice and dice becomes a gratifying murder spree. They are careful, though, unlike their father — the girls are careful not to leave a shred of evidence behind. So, when Fancy stumbles upon a door to another world, there are endless possibilities.
5. Jewelle Gomez
This queer feminist author, poet, playwright, and activist has undoubtedly made massive waves in the horror genre realm, especially in helping other queer horror writers feel seen. An HWA Bram Stroker Lifetime Achievement recipient, Jewelle Gomez has been cranking out novels, poetry, and plays for over forty years. This foremother of Afrofuturism is also a double Lambda Literary Award winner for her groundbreaking 1991 novel The Gilda Stories (see below), featuring a Black lesbian vampire who "takes blood, not life" as she feasts on her prey. In 1996, an adaptation of Gomez's novel Bones and Ash: A Gilda Story brought Gilda's gory tale to life in several performances by the Urban Bush Women company. Gomez most certainly seems quite smitten with the dark, haunting, and monstrous, which makes her erotic vampire novel perfect for this list.
The Gilda Stories takes place in the 1850s in Louisiana. Gilda escapes the terrible grips of slavery and ends up in a brothel, where she is initiated into eternal life with two of the women there. For the next 200 years, Gilda searches for a place she can call home. With hints of Anne Rice's Interview with the Vampire, Gilda's story allows a close-up view into her world in celebrating Black feminism, queerness, and vampires.
6. Alexis Henderson
With a penchant for dark fantasy, cosmic horror, and witchcraft, our number six Black mistress of horror gives us all the shivers in the best way with her fantasy horror books. A true gothic horror author, Alexis Henderson brings us eerily atmospheric stories of bloodmaids who share their blood with the debauched wealthy and the discovery of dark powers within. With three ghoulishly chilling books under her belt and a fourth one on the way, Henderson gives us more enticingly dark gothic stories to look forward to. So, get comfy and get to know more about this Black maiden of horror.
In The Year of the Witching, Immanuelle Moore lives in a rigid puritanical society where she discovers dark powers that dwell within her. In Bethal, the prophet's word is law. Bethal doesn't allow outsiders, but her mother has committed a blasphemous sin with an outsider of another race, disgracing her once-proud family's name. That sin is Immanuelle herself. She does everything she can to submit to the Father as one who follows the Holy Protocol. But when she's lured into the Darkwood, a forbidden place where four powerful witches were chased into and killed, their lurking spirits present her with her dead mother's diary. Immanuelle is fascinated yet conflicted about the diary's revelations that her mother had once sought sanctuary among the witches and her actual dealings with them. Soon, Immanuelle learns dark secrets about the Church, its history, and the real threat to Bethal.
7. Tenea D. Johnson
Tenea D. Johnson is an award-winning author, musician, and editor. Her poetry and short fiction have been published in various magazines and anthologies. Johnson's novel, Smoketown (see below), won the Carl Brandon Parallax Award in 2011, the same year she debuted. From dark stories surrounding a post-apocalyptic world where birds are banned to grim tales gathered together in her 2021 collection Broken Fevers, Johnson delivers horror with a touch of social commentary that terrifies and forces critical thought.
During Smoketown, a post-climate changes the US. The city of Leiodare has outlawed birds within its boundaries, and what once was a crater is now a tropical metropolis in Appalachia. The place Anna Armour chose to wait for the woman she's lost, the one able to save her from a troubled past and cloudy future. A passionate artist who works in a trade factory, Anna has special gifts, and when she uses those gifts to create life from thin air and desperation, she throws chaos into the mix. Lucine, a smooth-talking soothsayer; Eugenio, who has plans of his own; Seife, a star performer in the Leiodaran Cosmos; and Rory, one of the city's forefathers, are all unprepared for what happens next in these interlocking stories that string together the connection between rival magic and the cost of redemption.
---
If you're on the hunt for more stories about Black women, click here. For stories on female horror writers, click here.
Browse these books and more on our Bookshop Horror and Female Voices bookshelves.
FEATURED IMAGE VIA BOOKSTR / VPHAN