Welcome back, book lovers! It's 5×5 time again and I had the pleasure of speaking with five amazing new authors. As we are all well aware of/possibly saturated by, COVID-19 has upended every facet of life with which we are familiar. Amidst this new normal, how does one proceed with the release of their first (!!) book?
I spoke to five debut authors – that should have been coming to stores near you – to ask exactly that. They tell us all about their experience in the new release process, and how they've adapted to the times.
1. What was your experience (pre-covid crisis) in writing/publishing your debut novel? 
Andrew Zimmerman: I found writing the novel to be a therapeutic and joyful process.  I was able to use my imagination and escape from the stress and realities of running a company.  I was frustrated how long it took to write (seven years) but, of course, realistically I was writing on planes and in hotel rooms at night and on weekends.
Liz Lawson: Well, leading up to The Lucky Ones I wrote two other books! The first, I immediately shelved and hasn't seen the light of day since—very much my practice book. Then, I wrote one that I decided to take more seriously and queried it to no avail. I came close a few times, but it ended up on the shelf too. And then, while I was querying that book, I started writing The Lucky Ones. In retrospect, I can see that I absolutely needed to get through those first two books to grow as a writer and write something that was actually publishable. You really do learn so much with each new book. I queried, accepted an exclusive R&R with Writers House, and spent the next three months working on it as much as I could. And then I signed with my agent there!  Because my R&R was so extensive, there wasn't much more to do before going on sub, and once we went on sub, my book sold in a week (I was very fortunate). So it was very, very slow for a long time, and then very, very fast at the end!
Scott Rubin: I started writing my debut book, Naming Your Little Geek from Familius, more than five years ago.  My wife and I came up with the idea of a geek-themed baby name book while we were expecting our first child, and along with him came the massive project of building a database of characters, researching name origins, and writing.  I finished a complete A-Z draft in mid-2018, and then began querying publishers that accepted submissions without agents. Of course, that went nowhere, and so I began emailing agents in late summer. Amazingly enough I heard back from a few, and signed with the Knight Agency in September.  My incredible agent Elaine Spencer almost immediately had bites at a couple of publishers, and the deal was struck with Familius in November. Then came the typical hurry-up-then-wait of planning, editing, layout building, etc. The book was set for a late Spring 2020 release, and I had spent the end of 2019 and the first couple months of this year in final proofreading and then layouts, and that's when the pandemic hit.  It was a double whammy with things slowing down here as people adjusted to the new conditions, and much of the plans just went right out the window as the printer in China closed up shop for months. Thankfully we're now back on a new track and looking forward to a release in July!
Haley Shapley: I've been a writer my entire career, but working on a book was a novel experience. I typically write more than 100 articles a year, so for me, it was amazing to really take a deep dive into one topic, especially one as fascinating as the history of women and physical strength. I never tired of learning about the stories of athletic trailblazers and considering the related issues like body image, societal expectations, and autonomy. What was difficult was deciding what would make its way into Strong Like Her and what would land on the cutting-room floor — I could have kept researching and writing for several more years. One thing I loved was the opportunity to learn new skills, including coordinating the photo shoots of 23 athletes who are featured in the book (in conjunction with photographer Sophy Holland) and narrating the introduction and afterword of the audiobook.
Haley Shapley is the author of  Strong Like Her: A Celebration of Rule Breakers, History Makers, and Unstoppable Athletes, "a cultural history that pays homage to the formidable muscular women of past and present who've made important (and often surprising) contributions to society while pushing the boundaries of what it means to be strong."
haley shapley by Sophie Holland
James S. Bostwick: As a long-time trial lawyer, I had never considered writing a novel.  I had often expressed frustration that "legal thrillers" I read were usually only about criminal cases and seldom realistic. My wife suggested I give it a try and encouraged me by signing us both up for a novel writing class at the local university. The instructor was very talented and enthusiastic and soon we were meeting with a small committed group and exchanging our most recent chapters for review and criticism.
I mostly wrote in the evening when we put our new baby to bed.  Two years later, I had about 300 pages done, and our second daughter was born – but she wouldn't sleep!  That was the end of the writing for several years. About 10 years ago I decided to complete the book, but I didn't know what to do with it.  I couldn't find agents and didn't want to self-publish. Then a former client, who was a movie producer, asked to read it. When I didn't hear from him for years, I figured he must have hated it and didn't want to deal with giving me the bad news.  One day, out of the blue, he called me and said he had just read the book and loved it – he wanted to make a movie out of it!  
The movie producer got me to an agent, and I started getting the book ready to submit.  After a few rejections, my agent suggested I cut the book from 530 pages to 430. He said new authors are a big investment for publishers and 530 was a lot of pages.  I think he was being kind – I think he knew it needed to be tightened up. I must say, it is difficult to "kill your baby", but that process taught me a lot. There can be a lot of "fat" in that many pages and if each part isn't essential, doesn't move the plot forward, doesn't start fast and bring the reader in quickly, it needs cutting. Cutting out 100 pages was the best thing I could have done.  
The next publisher he sent the novel to grabbed it up and in 2019, Post Hill Press published it and Simon and Schuster distributed it. I am now in the process of working with a well-known screenwriter and movie producer to bring the movie to life on the big screen.
2. How have you changed up your promotional strategy? 
Andrew Zimmerman: At first, I thought this was a horrible time to launch a debut novel.  Retail is nonexistent and hardcovers take a long time to be delivered.  But, as it turns out, people have more time to read and ebooks are selling, particularly tied to a pricing promotion.  Also Zoom book clubs have taken off and we are promoting Journey for that audience. Today I looked at Journey's latest Goodreads review and it made me happy that my novel was coming out at this time.
Liz Lawson: Well, we've had to try to pivot as much as we can to doing everything online. My launch event is going to be on Instagram Live on the 7th, and I've done several Instagram takeovers and other panels via YouTube, etc. I'm also going to be a part of the Social Distancing Book Festival which is going to be held on April 25th. Lots of people are trying their best to keep publishing and book promotions going! 
Scott Rubin: Anything and everything in-person has been taken off the table.  I was set to appear at several pop culture conventions and of course those have all been cancelled.  We were in the middle of planning signings and launch events at local stores, which are now either closed or operating extremely limited pick up options so those are gone as well.  Meanwhile, the internet is wide open for promoting just about anything right now, and so we're signing up for podcasts and live video appearances wherever we can. With so many people stuck at home looking for content to consume we have some unexpected opportunities.
Haley Shapley: I'm now focusing more on connecting with readers through social media. It doesn't replace communing in person, but it's been wonderful to still have the opportunity to converse about the book's topics with people all over the world. I've also been doing virtual interviews through platforms like Facebook Live and Instagram Live.
James S. Bostwick: One of the wisest things anyone can do in unprecedented situations is surround oneself with experts with a proven reputation of proactive tactics, out-of-the-box creativity and unrelenting tenacity.  One of those components helping successfully maneuver Acts of Omission through the challenge is Allyson Wyles as well as Monique Moss and Zuzana Korda, the strategic team at Integrated PR.
I love meeting people and speaking with them at book clubs, bookstores, events and festivals, and libraries, but all of those "in person" meetups have rightfully come to a halt with stay at home measures due to COVID-19. Since meeting in person isn't an option, I'm leveraging social media to engage with readers and looking into a virtual paperback launch and Zoom author talks to help promote the June 9th paperback release of "Acts of Omission." The novel was recently nominated for the Harper Lee Prize for Legal Fiction, so if it wins the Prize (fingers crossed!), it should help to shine a light on the novel. While promoting the book is important, as a full-time trial lawyer, I have spent the majority of my time over the last 4-5 weeks supporting clients through these unchartered waters and working with the courts and the media to offer legal advice and opinions on how COVID-19 will impact the future of our justice system. 
James S. Bostwick is a nationally recognized trial lawyer with over forty years of experience representing catastrophically injured people across the US. His debut novel Acts of Omission follows a "brilliant and dogged young trial lawyer in San Francisco [who] risks everything he holds dear to bring the most dangerous legal adversary in town to justice."
image via Bostwick
3. Do you expect this to impact future projects for you? Has quarantine helped you brainstorm?
Andrew Zimmerman: Journey is the first book of a trilogy and I have written half of the second novel.  Unfortunately, I really don't have much time to write because, my company, frog design has had to adapt to a new way of working—from designer studios to work from home.  We have made a successful transition in fourteen studios in ten countries.  But being remote from one another and our clients actually requires me, as CEO, to do more communications, have more meetings, and deal with new challenges and opportunities every twenty-four hours.
Andrew Zimmerman has held senior executive roles at leading technology companies such as Accenture, idealab and PwC. He currently is president of one of the leading design and innovation companies in the world. Journey, inspired by Andy's personal experience, is an exploration of how to be spiritually authentic and a success in the material world. He currently resides in New York City. This is his first novel.
image via amazon
Liz Lawson: Honestly, I have no idea. I have another book slated for 2021 (entitled In Silent Seas We Drown), so I hope (!) that isn't impacted, but I don't think anyone knows much of anything right now. There's so much uncertainty about it all. 
Unfortunately, no. I haven't written anything since all of this started – it's been weighing on my mind so much that my creative impulses just aren't there at the moment. That said, I do hope they return soon!
Scott Rubin: I can only imagine a general slowdown in the book industry as publishers figure out how to get books produced and brought to market.  Even (or especially?) in tough times people like to read, so hopefully society will adjust and see that books are crucial. For my part, I'd love to say that I'm using my social distancing time to brainstorm and work on new projects, but entertaining and educating two young children at home is extremely challenging and time consuming.  When I do find the time, though, I am currently working on a couple of different pitches, and I'm optimistic!
Haley Shapley: I don't think anyone knows what the long-term impact will be. The publishing industry may very well be forever changed. Authors are often judged on how well their books do upon launch, but that metric doesn't seem applicable right now — I'm not sure if we'll all get asterisks by our names. So far, I've been in the camp where I'm just trying to get through my tasks and hold on to some normalcy. It hasn't, for me, fueled my creativity, but perhaps that will change once my book launch is behind me. 
James S. Bostwick: Quarantine has my brain firing on all cylinders. So much that I can't always sleep fully at night, but I do feel confident that we will get through this time and life will return to a "new" normal. For some that will be harder than others, my heart goes out to those that have been deeply impacted or lost a loved one. As for impacting future projects, the paperback release for "Acts of Omission" is scheduled for June 9th, so it's unlikely that we will have an in-person book tour or book release party. However, I do have back-up plans in place for a virtual paperback launch party, so stay tuned! 
4. What were you doing when you found out you were going to get published?
Andrew Zimmerman: I was at the New York frog design studio when I got the call.
Liz Lawson: I was at a business lunch! Luckily it was with someone who I consider a friend, so I could share the good news with her. It was SUCH an exciting day.
Scott Rubin: I confess I don't remember exactly, but I was probably changing a diaper!  I started writing the book when we were expecting our first son, and it's now coming out just after the second birthday of our second.  It's been quite a journey as I learn step by step and try to explain it to my young kids at the same time.
Scott Rubin is author of Naming Your Little Geek, a book described by Trisha Hershberger as "the perfect resource for parents who want their tiny humans to have a name that carries not only profound meaning and cultural relevance, but also a name that people associate with a story that in one way or another has moved them." Your little geek will LOVE their first foray into fandom from an early age!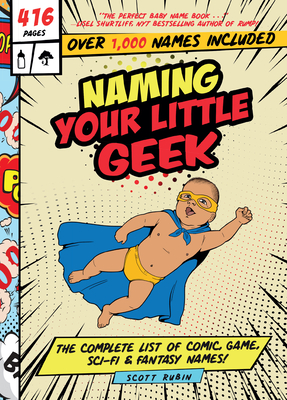 image via indiebound
Haley Shapley: I was at home, working, when I found out. I celebrated with my cat. I'm pretty sure he had no clue what was going on, but he played along anyway. I had a pretty good idea that my book proposal was on the brink of selling, but that didn't take away from the excitement when I got the official news.
James S. Bostwick: I was at my office preparing for a trial when I got word that "Acts of Omission" was going to be published. I was really excited and admittedly became distracted from the work in front of me. I called my wife and family and we went out to a nice dinner in San Francisco to celebrate. Writing "Acts of Omission" was a labor of love and a passion of mine for many years –it's loosely based on a true San Francisco case I tried in 1984, painting an authentic and gut-wrenching picture of the dangers, risks and rewards when a young, dogged lawyer goes up against one of the nation's most famous attorneys to seek justice for a teenager with a devastating injury. 
5. What are your quarantine reads/recommendations? 
Andrew Zimmerman: The Alchemist, Homo Deus and The Power of Now (Eckhart Tolle spent a year in Glastonbury when his car broke down in the village and then he began writing the Power of Now!)
Liz Lawson: I highly recommend a couple other April 7th YA releases – The Best Laid Plans by Cameron Lund and The Perfect Escape by Suzanne Park. They're both fun rom-coms and are really engrossing reads!
Liz Lawson is a music supervisor for TV and film, and the author of The Lucky Ones. Liz "resides in Los Angeles, CA, where she lives with an adorable toddler, a fantastic husband, and two VERY bratty cats. You can find her on Instagram and Twitter at @lzlwsn."
image via Liz Lawson
Scott Rubin: During this difficult time, I think everyone needs to find the things that will bring them the most comfort and joy.  While I've been catching up on reading some comics, one of my favorite "projects" has been co-reading Frank Herbert's Dune aloud on Twitch with another streamer friend of mine.  We read to a live audience, try to capture the right voices for each character, and discuss each chapter after we've read it.  It's a great way to celebrate and share one of my favorite books, and one that I've already read multiple times.
Haley Shapley: I confess that I've had a difficult time reading during this time period, as my attention has been focused on launching my book and my concentration levels haven't been where they normally are. I'm really looking forward to digging into books from other authors who are in the same boat, though — I feel a camaraderie, as if all of us releasing books now have become members of a club we didn't exactly want to join. Some books that look great: Why We Swim by Bonnie Tsui, The Herd by Andrea Bartz, and How Design Makes the World by Scott Berkun.
James S. Bostwick: Anything Michael Connelly. I just finished reading his new novel, "The Night Fire" and it was fantastic. I plan on reading his next novel, "'Fair Warning" that comes out soon. He's one of the best legal thriller novelists of our time. I also really enjoy novels from Peter May, an author from the UK. He's known for the "Lewis Trilogy" and, ironically, has a new novel "Lockdown" is just being released in Kindle though it was written years ago, that happens to be a pandemic thriller based in London.
feature image via authors//bookstr
Enjoying Bookstr? Get more by
joining our email list!
Bookstr is community supported. If you enjoy Bookstr's articles, quizzes, graphics and videos, please join our Patreon to support our writers and creators or donate to our Paypal and help Bookstr to keep supporting the book loving community.
Become a Patron!