Reading is an activity normally done alone, unless you're a parent reading to their child, or you're in class next to the class clown who forgot to bring in their copy. But since reading is generally a solo activity, people for whom it is a primary pass-time ultimately end up spending a lot of time alone, which can lead to social isolation.
Even if your goal in life is to just write for a living (or read for a living, the DREAM!) you will have contact with people. Editors, fans, sales people, etc. It is better to adjust to being around people. Human beings are social creatures by nature, so when we are isolated it does actually affect the brain and how we function.
According to the site psypost.org,
Yes, other people can be irritating. But they are also our greatest source of comfort, and an impressive amount of psychological research underscores the importance of human contact.
Now I don't want to nag or bore anyone here with science, unless science is your thing, which in that case please read on through the links! The main point is that being social is good for us, so why not try to bring that into our reading, and our writing as well! This is why we've compiled a list of ways to share our reading and/or writing, with others.
1. Book Clubs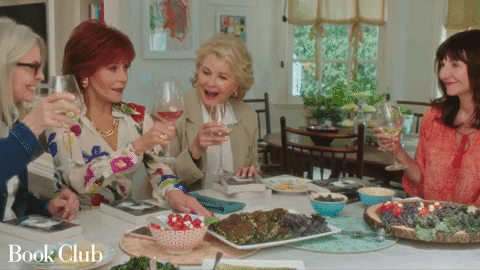 Image via giphy
Grab some friends, pick a book, and meet to talk about the latest chapter you all read! It doesn't have to be anything so in-depth. Just a few minutes or more of sharing, whether you have an itinerary or not. Especially if you're all good friends a conversation will start naturally.  Just have fun with it!
It doesn't have to be an official type of club that meets at the same place and time every week. You and your group could just grab a cup of coffee (or wine) and talk about the book for a few moments, then move on to something else. The purpose is to be sharing and interacting socially! On the other hand, if you wanted something a little more official and extensive, but can't find anyone you know who can make the time, there are groups that organize book clubs.
So if you're up for meeting new people, look online or ask your local library or bookstore to see if there's anything close to you! What's great about a book club is that you're socializing with people in person sharing what you love, and for a writer, it can be a way to take your mind off work, but perhaps find some inspiration while making time for people.
2. Conventions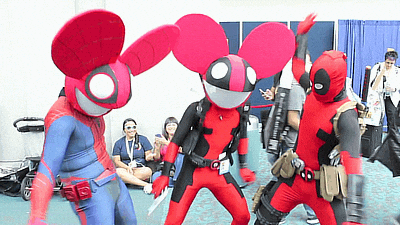 Image via Giphy
If you want to mix vacation with books and meeting people, go to a convention! They are a great way to step away from the daily grind, meet new people—including authors—and celebrate books. Trust me, nine times out of ten, it feels like a party, and there is always something going on to keep you busy.
Aside from the ever-popular Comic-Con, both in San Diego and New York, there's also Necronomicon, which is a Science Fiction, Fantasy, and Horror Convention that usually happens late October in Florida. A few of the unique events they have held are a masquerade, a film festival, and an ice cream social! Conventions are also a great opportunity for aspiring writers!
Every con has a "Dealer's Room", a separate area for shopping. Many tables sell original novels in the hopes that someone will buy the book, love it, and tell all their friends about it!
Even if sales don't go as planned, going to a book convention can be a great networking event! Now you probably won't be able to show George R. R. Martin you're latest manuscript, but you can find artists and other writers who may be able to help in your writing endeavors. You never really know who you could meet. Many attendees have made such close friendships that they meet every year to spend time with their out-of-state friends.
And if you're a shy or introverted person, have no fear! There is no pressure, and everyone that attends are typically very polite and may be in the same boat as you. Conventions are meant to be fun at the end of the day! Especially when you cosplay!
3. Book Stores and Libraries
Image via gif-free.com
If travel is not in the budget, look to your local bookstores and libraries! Barnes & Nobles for example holds many events for reading groups, children's activities, and author signings.
Even if you don't go for an event and just want to read in their café, it's definitely better than holing yourself up at home all the time. You never know when a good conversation might strike. Public Libraries also have group events. The one thing I wouldn't recommend though is trying to start a conversation outside of an event! You will most definitely be shushed!
4. Writing Workshops/Taking Up a Course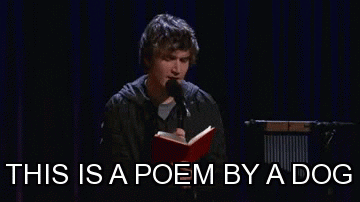 Yup, no need to take things so seriously. |  Image via Giphy
This option is more so for those who are writing, but it's not limited to the people aiming to make it their career. You could just be doing it for the fun of it.
There are many types of workshops for writing as well. You can give writing poetry a try, or even pick up a class on a unique topic like Supernatural Gothica!
5. Leaving Your Bedroom/House
Baby steps, I guess. Image via Odyssey
Plainly said. You don't need to be at a particular event or a special spot for books to talk about them. Sometimes just getting out of the house, or even just your room is enough to becoming more social.
You could come across someone wearing a t-shirt from a book-based film that you love or be hanging out with a friend because the two of you finally found time. Just talk about the books or related book events that you're excited about, the worst thing that could happen is that they won't want to talk about it then. That shouldn't happen with your friends though, because let's be honest, if they weren't into talking about books, how could they be your friends in the first place! If you do write, definitely share it! It can be upsetting to hold a story in, with no one to enjoy your hard work. Show it off!
All in all, books can be a great way to escape reality. But they are that much sweeter when shared with another!
"That was when I realized, as terrifying and painful as reality can be, it's also the only place where you can find true happiness. Because reality is real."
― Ernest Cline, Ready Player One
So let's share our reading and writing with one another! One book at a time.
Featured Image via Tatyana Tomsickova/pixels